REFLECTING THE ARRIVAL OF A NEW BABY IN ETCHE CULTURE!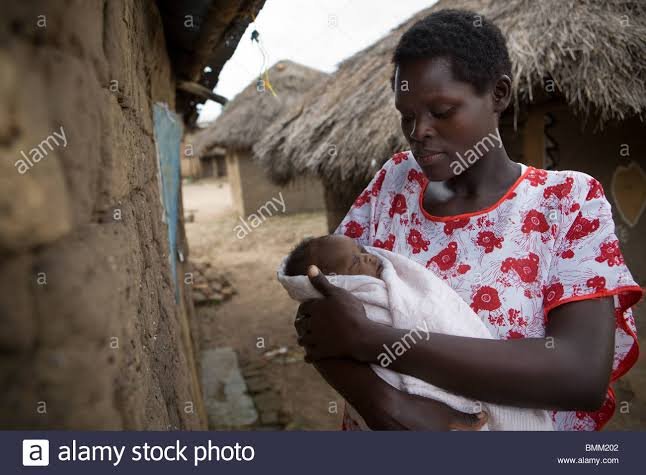 Source
The Etche's are a socially and culturally diverse people who make up the second largest population in Rivers-state, Nigeria.
They believe that childbearing is a sign of womanhood, and that failure to procreate is a sign of womanhood failure.
In my part of etcheland, pregnancy is not revealed until after twelve weeks of gestation, at which point they seek the assistance of a traditional birth attendant (TBA) for care and counseling. A new baby's arrival is usually a happy occasion. There is always a happy welcome music playing and the woman who delivered the new baby will be
greeted with Nnoo and other different types of greetings like Ekele
diri Chukwu (thanks be to God), Chukwu Emeka (God has done
great), Chi di Ebere (God is merciful).
As soon as the news of a safe delivery of a baby is broken, the ladies in the region would assemble and begin singing songs of delight and gladness,for example:
Erimeri na adi mma erimerie x2,
Onwu egbule nwayi n'afo ime ka omuora anyi nwa,
tara okporo, nuru mmii ngwo.
In translation, merrymaking is good,
let death not claim pregnant women, so that they can deliver
babies,
So that we can eat and drink..
Another popular song to greet the arrival of a baby is:
Onye muru nwa na ebe akwa,
Chioma (depends) muru nwa na ebe akwa.
Tewe uzuza, tewe oso,
Ka umu mmadu racha ya.
In translation: Who delivered the baby that is crying,
Chika delivered the baby that is crying,
Prepare uzuza and pepper soup,
for people to enjoy.
These are some of the interesting birth traditions in etcheland:
- The application of nzu
The child is welcomed into the world with immense excitement and jubilation and the women will assemble and begin singing loud and cheerful songs before entering the house and rubbing nzu on their necks as a sign of heart purity, goodwill and the welcome of
new baby.
delicacies
A delicious uzuza soup and
Pepper soups will be prepared for the newly delivered mother using special herbs, spiced with
uziza, utazi and lots of pepper and dried fish. These delicious soups work together to loosen and wash blood clots from the new mother's body.
Omugwo(post partum care)
Omugwo is an essential component of etche birth customs.
It takes into account the fact that a new mother may be overwhelmed and require assistance and care after giving birth. The mother,mother-in-law, or any close female relative of the family comes over to care for the new mother and her newborn for at least 6 months or more, according to the etche tradition.
During omugwo, the visiting mother is in responsible of cooking spicy yam pepper soup, hot water massages, and nighttime baby care so that the new mother may get some rest.
Naming ceremony
The naming ceremony is normally held between the 9th and 15th day after the child's birth. This is a manner of formally introducing the child to his family, friends, kinsmen, and the entire community.The officials are the paternal grandparents, whose job it is to deliver the child over to his or her father. Following that, kola nuts are broken and prayers are said on behalf of the kid. The prayers are an appeal to the gods to assist the kid on his or her life's path.
Names have great value and power in etche culture.
"Etche names are expressions of the nature of that which they stand for, not merely tags to identify one thing or person from another." While etche names might simply relate to the circumstances of birth, such as a child born to infertile parents or the day of birth, they are more typically used to convey a theological message or a powerful reminder of a certain expected virtue to be ingrained in the child.
Circumcision
The foreskin that covers the penis is removed in this tradition.In etcheland,this is usually done around the 4th day.
Thanks and hope you learn something about the culture of etche people.
So I want invite @weirdestwolf @ebingo @bhoa @hokulor to participate in this contest.
---
---