A passenger in her heart

The last few days have been a whirlwind of events around me. In a term of three days, my mother fell, broke her humerus, had her arm immobilized, and was diagnosed with a heart block requiring a pacemaker.
We spent days of anguish. She fell last Thursday, and that day, her physical condition deteriorated a lot. She was walking with great difficulty and only with help. That night when we measured her heart rate, we were alarmed to see that it was 40. The next day, when we rushed with her to the hospital, it was 25.
Getting sick is not easy anywhere. But in Venezuela, the situation is aggravated since the public health system is in a deplorable state, and private medical insurance costs a lot, especially for the elderly, and because of their age, the insurance companies do not accept them. This was the case with my mother.
So to the anguish, we added the uncertainty. But fortunately, there are good doctors with mystique, and there are still some left in the country. Many have left, and no one can blame them. And with the guidance of the doctors and the help of the family, we were able to solve the situation, and my mother already has a pacemaker and is in my house.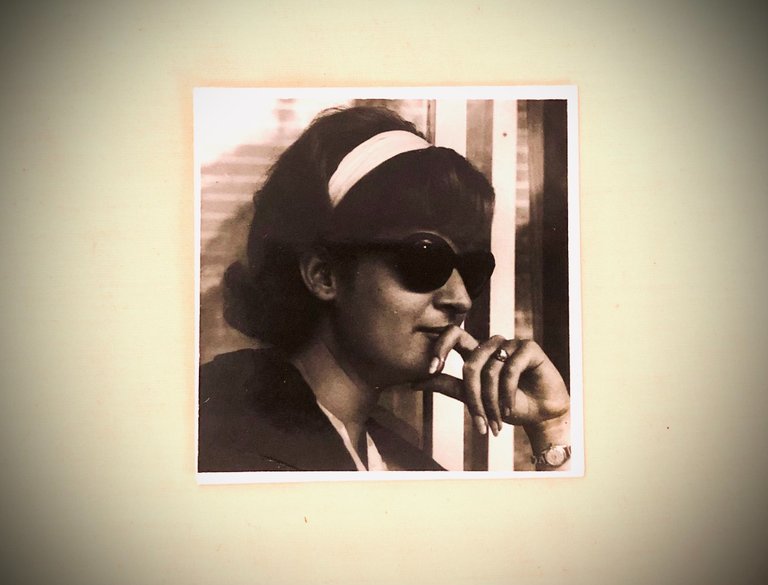 This morning, I was arranging a drawer to make room for some of her things, and in a notebook, I found this photo of when she was young in the 70s. Probably when that picture was taken, I was a baby.
Now, thanks to the pacemaker, she is back to her old self, and I would even say repowered. Despite the immobilized arm due to the fracture, she is once again the strong woman she has always been.
And since the day she got the pacemaker, I have made fun with her by singing the Hombres G song that I used to listen to so much in the 80s. And said that phrase "Marta tiene un pasajero en su corazón" (Marta has a passenger in her heart). And now Eliana, my mother and I have the same name, has hers too.
Life has given her a new ticket. Another chance and we are grateful for that. The fall and the broken arm seem to have been more of a wake-up call for all of us. Maybe if she hadn't fallen, we wouldn't have known in time that she had a problem with her heart.
For the moment, we are adjusting to a provisional routine. It won't be easy. She and I have similar characters, and we tend to clash a lot. But I am so grateful to have the chance to have some occasional arguments with her.
So despite the storm clouds of the last few days, the outlook for us has cleared up. And even though I'm exhausted, I'm happy about it.
Thank you for reading.
All images and writing are my own unless otherwise stated.
© CoquiCoin
October 31, 2022
---
---