A Viva Colombia edition for ttt #69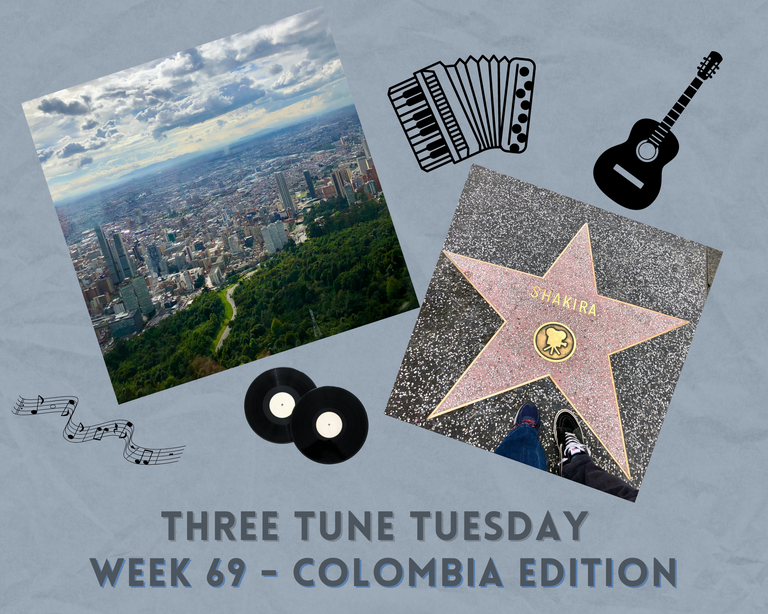 Bogotá view from Monserrate Cable Car - Shakira Star on street 109 Bogotá
Images are my own and edited with Canva
---
Hello Hivers and music lovers!
For the last ten days, I have been in Bogotá, the capital of Colombia. We have come to do some paperwork with my son, who is moving to study abroad. And also, we have taken the chance to have a short family vacation these days.
It is not my first time in Colombia, but it is the first time in many years. I have not been to Bogotá since the beginning of 2000, and I like what I see. The city is still a bit chaotic. Bogotá is huge, it is the fifth most populated city in Latin America, but it is also a city that has attracted a lot of foreign investment. I have read that it is the second city in Latin America at the moment that attracts the most foreign capital. There is construction everywhere, restaurants for all tastes, and the friendliness of the Colombians has not changed.
So as it is Tuesday, the music day at Hive, I invite you to discover or listen again some songs of Colombian artists, in the Three Tune Tuesday initiated by @ablaze, which every Tuesday let us listen to songs that were in our memory or discover some new ones.
But before going into the matter for those of you who are not familiar with #ttt, let me tell you what it is about. In the words of Ablaze:
The jist is as follows
Every Tuesday I'm going to share 3 songs which I like to listen to and I invite your feedback in the comments below. Better still, why not have a blast of your own Three Tune Tuesday and mention me in the post and I'll come and find the post and upvote it. If you could also use #ttt or #threetunetuesday tags that would be great. It'll be a sweet way for us all to discover new music. You'll also be in with a chance of winning the prize - more on that later.
You can find out more at ablaze's post for this last Tuesday with his recommendations for last week.
So getting back to the point, and still being in Bogotá today, I thought it would be a good time to share some Colombian music. Colombians are happy people who like to party, music, and dance. So I'm going to share three songs that come to mind when I think of Colombia.
Without further ado, these are the three songs I choose to share this week #69 of the #ttt initiative.
Tune 1 - La Bicicleta - Carlos Vives and Shakira
In the first song, one of the singers doesn't need much of an introduction. For sure, everyone has heard Shakira with the Waka Waka, which was the official song of the World Cup in 2010. But as today is about presenting some songs that showcase Colombian music, the first song I have chosen to share is a collaboration of Shakira with Colombian singer and musician Carlos Vives.
La Bicicleta is a mix of vallenato and reggaeton, which is very catchy and was a big hit after its release in 2016.
Tune 2 - La Gota Fría - Carlos Vives
The following song is a Vallenato, which is a musical genre from the Caribbean coast area of Colombia. La Gota Fría is a vallenato from 1938, but the version with which I knew it was the one by Carlos Vives.
In the early 90s, Carlos Vives released an album called Clásicos de la Provincia with new versions of some traditional Colombian songs, especially vallenatos. From that album, I remember liking Matilde Lina and La Gota Fría, which was one of the most listened to and the one I have chosen to share.
Tune 3 - La Camisa Negra - Juanes
The third song is by the Colombian singer Juanes, who is also a reference when I think of Colombian singers and Latin music. His genre is pop fused with other rhythms, like rock and reggae. The song I have chosen is La Camisa Negra released in 2005 which is part of his album Mi Sangre.
This is all for today.
Thank you very much for reading!
Enjoy the music, enjoy life!
All images and writing are my own unless otherwise stated
The YouTube videos shared are not owned by me. I am just sharing them to enjoy and share the music
© CoquiCoin
September 20, 2022
---
---