Amazing Skies
A few days ago, I read a couple of posts by Hivers that I regularly follow, and it struck me that both were written in a new community called Photo-Essay.
I liked the premise of the community: Tell us a story using a minimum of 5 photos and 150 words.
So I'm going with my first post in Photo-Essay with two short stories about a couple of amazing skies I have recently contemplated.
The Sunset
A few days ago, we were driving to take my mother back home after she had spent a couple of days with us during the long weekend. It was the first of May, to be precise.
The afternoon was falling. My husband was driving, and we took the mountain roads. Even though there was no traffic for the holiday and we could have gone on the main avenue.
You know that feeling of being in the right place at the right time. Well, I felt that way when we reached the highest point of the route and watched the sunset.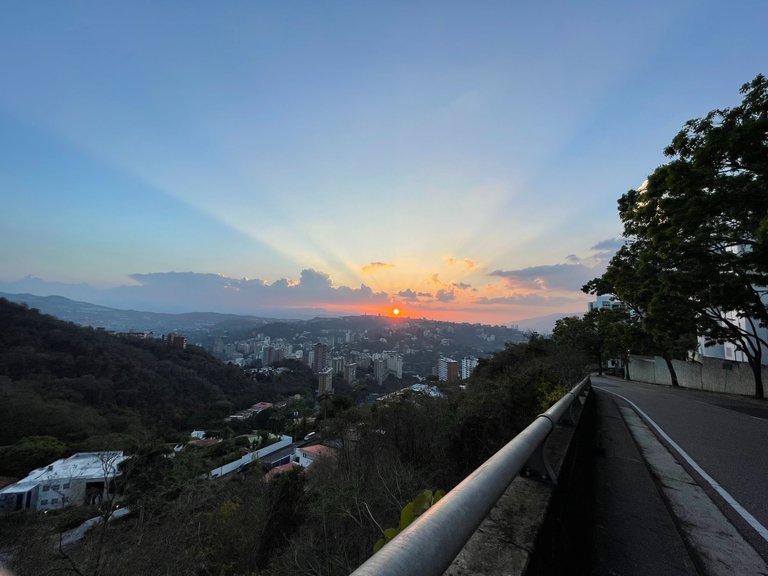 Caracas often offers beautiful sunsets, but they pass very quickly, So we felt so lucky.
The husband stopped the car, and I got out in a hurry to capture the moment.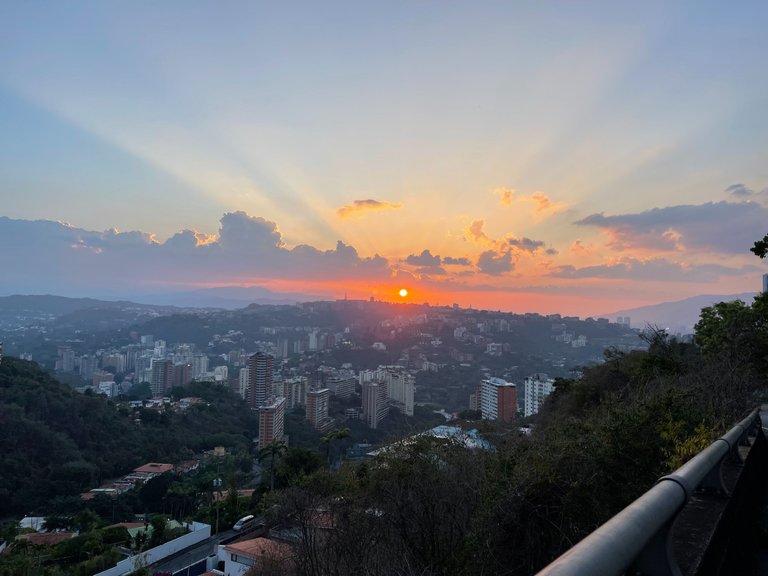 I approached the road defense to take some pictures.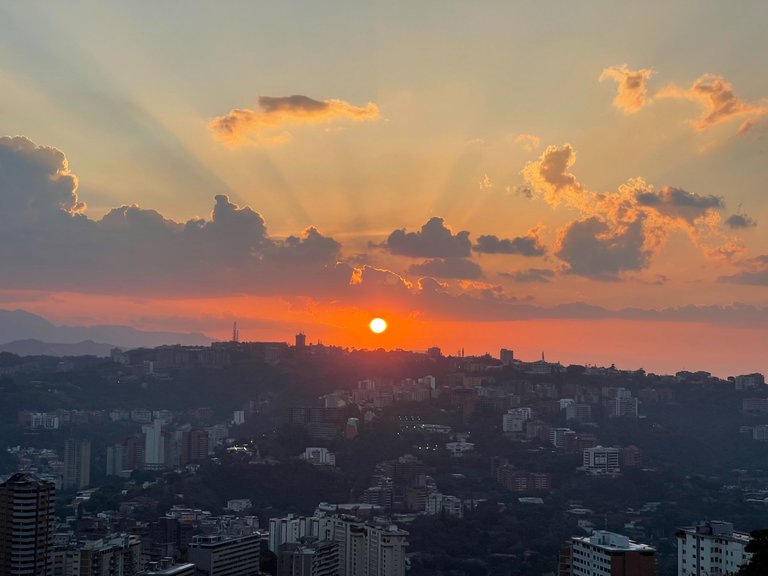 A couple of zoom-in to capture the sun and the sky in their splendor. And fill me with the vibes of the moment.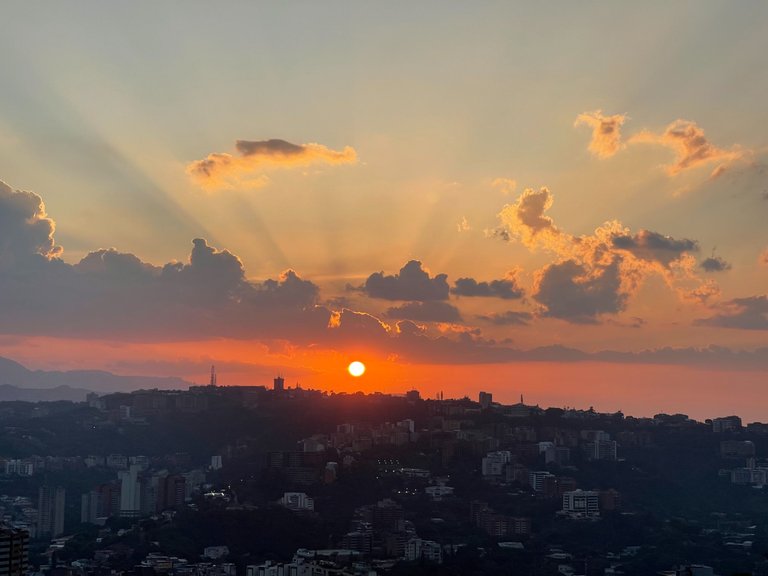 In a few minutes, the show would be over. But we went on our way with the feeling that we had captured a magic moment.
But that magical sunset was not the only amazing sky I have captured in the last few days.
The Clouds
A few weeks ago, on one of my hikes to the ecological reserve called Parque La Fila, we stopped at one of the viewpoints. We usually spent some time there admiring the view. From there, you get the best views of the mountains.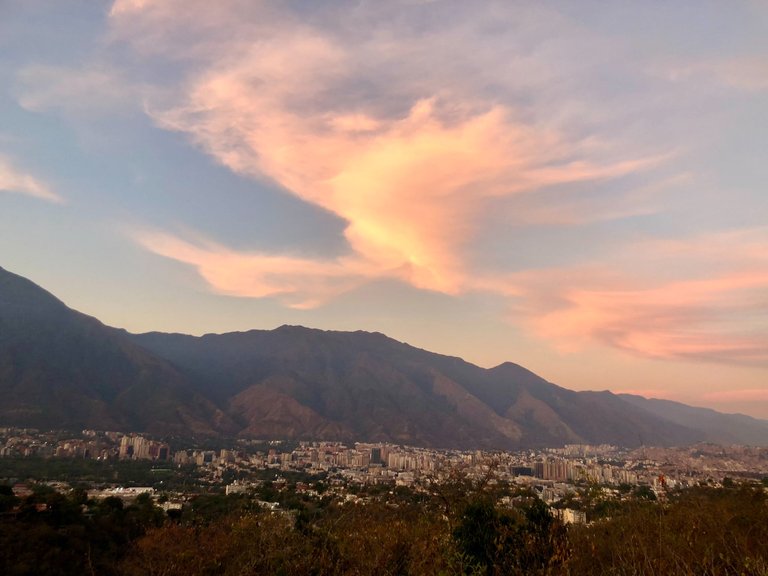 On that day, there were some clouds in the sky. But the mountains looked clear. The clouds looked like cotton candy flakes as they seemed to be a light pinkish color.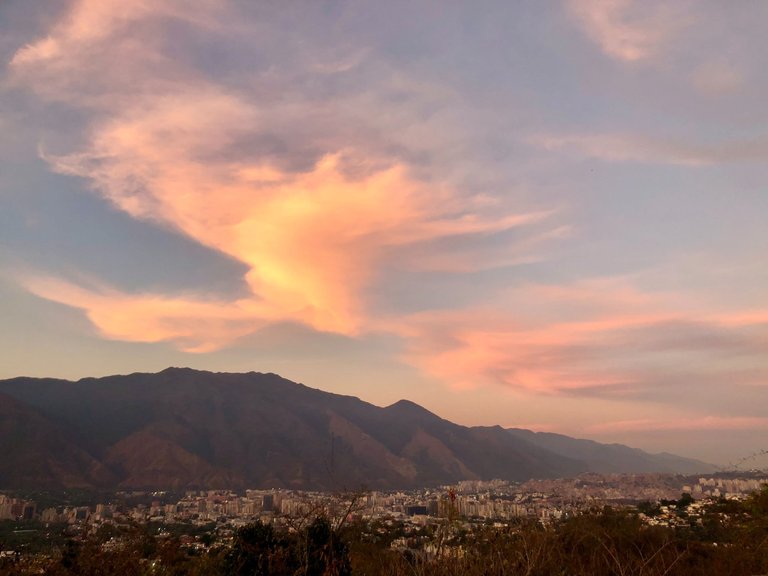 It was like a picture painted in pastel shades.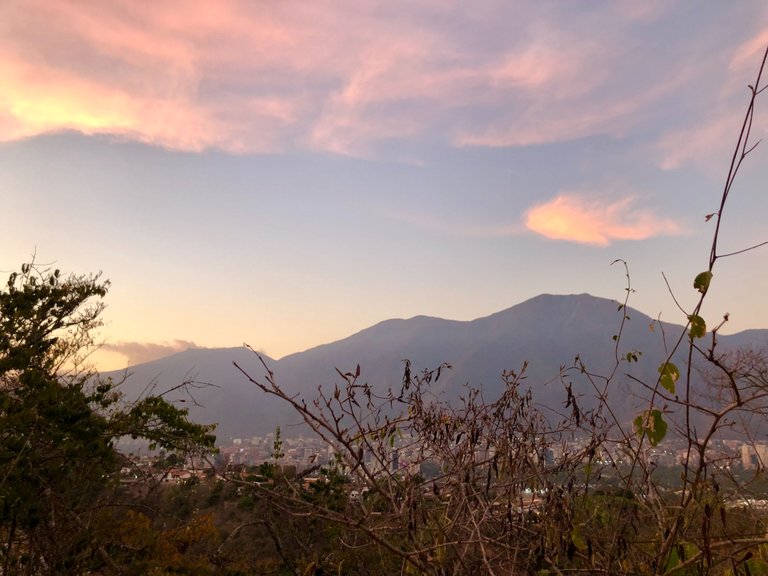 I love to look at clouds and guess some shapes on them. Like the one that seems a fish floating over the top of the mountain. Can you see it?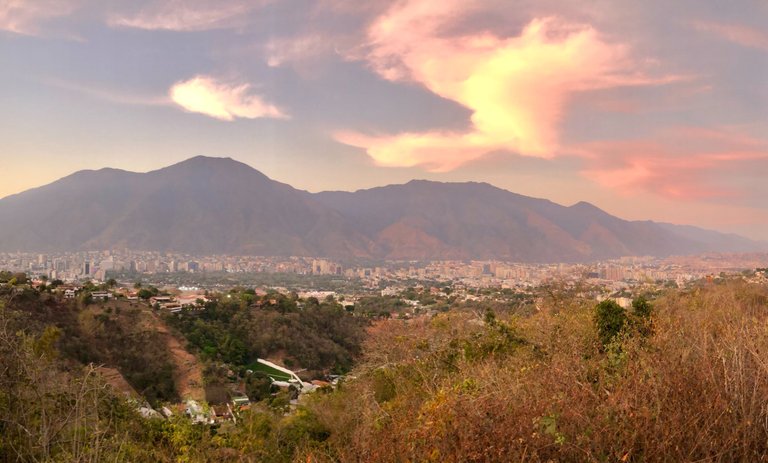 We stood there for some time, contemplating the view and chatting.
Then we went on our way, but not before I took a panoramic pic of the moment. It looks like a paint. Don't you think?
Thank you for reading!
All images and writing are my own unless otherwise stated.
© CoquiCoin
May 4, 2023
If you're reading this and you are not on Hive yet, I invite you to join through my referral link. And I could delegate some Resources credit to help you get started.
---
---