Despeinada for Three Tune Tuesday week 92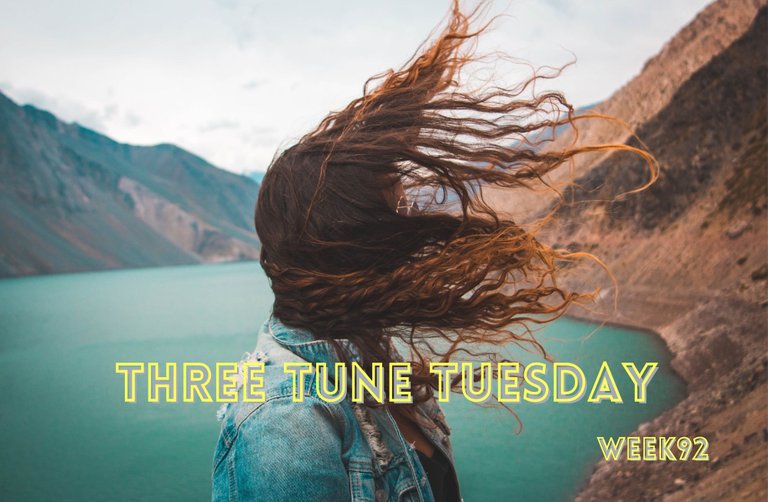 Photo by Cristobal Baeza on Unsplash edited with Canva
---
Hello, Hivers and music lovers!
Tuesday is to share some music on Hive thanks to the #threetunetuesday initiated by @ablaze, which makes us discover new tunes and rhythms, listen to all-time hits, or travel back in time to listen to some oldies.
And speaking of oldies songs, I've had one stuck in my mind since yesterday when I exchanged some comments with @ifarmgirl. We talked about something I mentioned in a post about my visit to the Archbishop's Palace in Caracas. In my post, I mentioned some of the popular beliefs of the colonial era that I learned about during the visit. One of those beliefs was that if you didn't comb your hair on Fridays, you would avoid bad luck. Cj agrees on not combing our hair on Fridays, just in case, lol. And since then, I can't stop humming an old song I used to listen to as a child.
But before I get into the tunes, let me give you a little background for those of you who aren't familiar with #threetunetuesday. In the words of @ablaze, who started the initiative.
The jist is as follows
Every Tuesday I'm going to share 3 songs which I like to listen to and I invite your feedback in the comments below. Better still, why not have a blast of your own Three Tune Tuesday and mention me in the post and I'll come and find the post and upvote it. If you could also use #ttt or #threetunetuesday tags that would be great. It'll be a sweet way for us all to discover new music. You'll also be in with a chance of winning the prize - more on that later.
You can find out more at ablaze's post for this Tuesday with his recommendations for this week the #92.
So without further ado, let's go with the three tunes for today.
Tune 1 - Palito Ortega - Despeinada
This is the song that hasn't left my mind since I exchanged comments with @ifarmgirl about not combing our hair on Fridays. Despeinada is by the Argentine artist, musician, and composer Palito Ortega. The song is a Twist and was a hit in the 60s. I remember listening to it a lot at home as a child in the 70s.
Se paran de punta como un puercoespin
Parece la estatua de san peluquín
Ni tres peluqueros te alcanzan a ti
Con peines de acero y sierras sin fin
Tú tienes
Una sonrisa contagiosa
Pero tu pelo
Es una calamidad
Ah, ah-ah, ah-ah-ah, ah-ah
Ah, ah-ah, ah-ah-ah, ah-ah
Ah, ah-ah, ah-ah-ah, ah-ah-ah-ah (¡vamos!)
Despeinada
Twist, twist, twist
Despeinada
Twist, twist, twist
They stand on end like a porcupine.
It looks like the statue of St. Hairpiece
Not even three hairdressers can reach you
With steel combs and endless saws
You have
A contagious smile
But your hair
Is a calamity
Ah, ah-ah, ah-ah-ah-ah, ah-ah
Ah, ah-ah, ah-ah-ah-ah, ah-ah
Ah, ah-ah, ah-ah-ah-ah, ah-ah-ah-ah-ah (go!)
Despeinada
Twist, twist, twist
Despeinada
Twist, twist, twist
Tune 2 - The Beatles - Lend Me Your Comb
Searching for songs that had to do with combing or hair, I came across this The Beatles version of a song from the 50s. To be honest, I had never listened to it before, and it's called Lend Me Your Comb.
Tune 3 - Gloria Trevi - Pelo Suelto
The third song is from the 90s, since we are in week 92 of #ttt, and it is by Mexican singer and songwriter Gloria Trevi. The song is called Pelo Suelto.
A mí me gusta andar de pelo suelto
Me gusta todo lo que sea misterio
Me gusta ir siempre en contra del viento
Si dicen "Blanco" yo les digo "Negro"
A mí me gusta andar de pelo suelto
Aunque me vean siempre con enredos
Me gusta todo lo que sea sincero
Yo soy real y no tengo reverso
I like to wear my hair loose
I like everything that is a mystery
I like to always go against the wind
If they say "White" I say "Black".
I like to walk around with my hair down
Even if I'm always seen with tangles
I like everything that is sincere
I'm real and I don't have a reverse side
Thank you very much for reading!
Enjoy the music, and enjoy life!
All images and writing are my own unless otherwise stated
Image credit on the caption and edited with Canva
The YouTube videos shared are not owned by me. I am just sharing them to enjoy and share the music. And there is no intention of any copyright infringement.
© CoquiCoin
February 28, 2023
If you're reading this and you are not on Hive yet, I invite you to join through my referral link. And I could delegate some Resources credit to help you get started.
---
---