Sinatra, a tattoo, a promise and my cuddle cat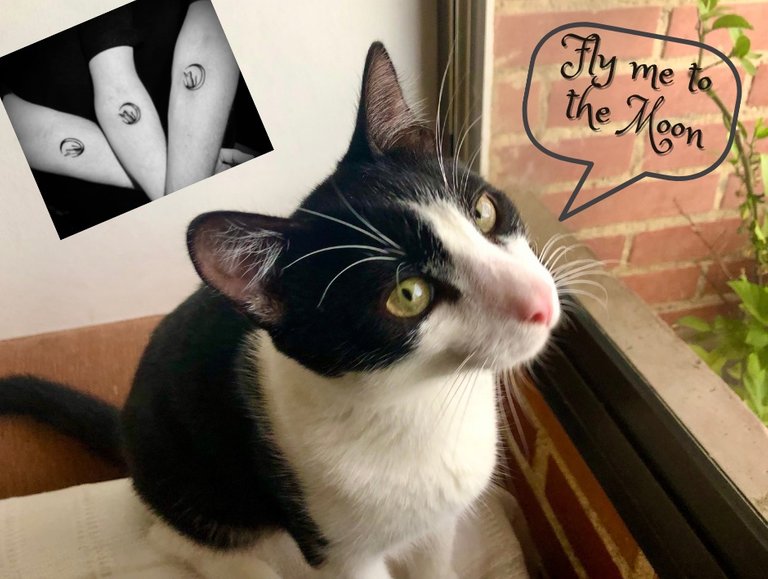 ---
Hello Hivers, silver bloggers, and music lovers!
Today is Tuesday, and it's the day I usually join the #threetunetuesday initiated by @ablaze. But this Tuesday, although I will join the #ttt, it will be a bit different, and that's why I've decided to publish this post on Silver Bloggers.
Those who follow me know that these days are a carousel of emotions for me because my son, thanks to a scholarship, is about to go abroad to study.
A promise we had made to each other some time ago, when we didn't know he would be leaving so soon, was that we would both tattoo a moon in the same place.
Why a moon? I used to have a CD in the car with some Sinatra songs when my son was about 9 years old. He loved to listen to that Cd, but especially Fly me to the moon. He would put it on loop, and we would both sing it while listening to it over and over again in the traffic on our way home.
One afternoon during the pandemic, we were talking about that time. He hadn't finished high school at the time, but we were talking about how he would eventually leave home. We laughingly promised each other that we would always remember those days when we used to listen to Fly me to the moon all the time and that we should get a tattoo of a moon when he left home. The day is coming, and I am a woman of my word. The husband used to roll his eyes when he heard the plan, but at the last minute has decided to join us, and he also got a tattoo.
But the promised moon became a moon with a cat because life evolves. Our family has a new member, the little Grogu. He can't be tattooed but was an inspiration for the tattoo. And the moon became a moon with a cat.
The tattoo
I must say that this is my first tattoo, and I was a bit nervous about the idea. But it hurt less than I thought it would, and although I wouldn't get another one, I'm glad I did it.
And although we don't need a tattoo to know that our bond is unbreakable despite the physical distance, I know it will be nice to be able to look at our arms when we miss each other.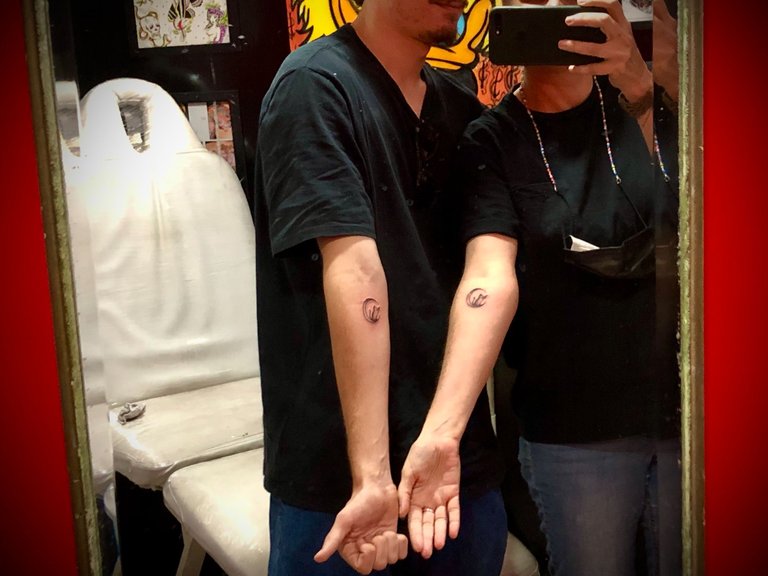 The Three Tune Tuesday
And of course, you don't have to guess to know that today I'm going to share some Sinatra songs in this #ttt. For those of you who don't know about #ttt, let me tell you what it's all about. In the words of Ablaze:
The jist is as follows
Every Tuesday I'm going to share 3 songs which I like to listen to and I invite your feedback in the comments below. Better still, why not have a blast of your own Three Tune Tuesday and mention me in the post and I'll come and find the post and upvote it. If you could also use #ttt or #threetunetuesday tags that would be great. It'll be a sweet way for us all to discover new music. You'll also be in with a chance of winning the prize - more on that later.
You can find out more at [ablaze's post for this Tuesday](https://peakd.com/hive-193816/@ablaze/best-of-1967-for-three-tune-tuesday-week-67 with his recommendations for this week, the #67.
So without further ado, here are my three tunes for today.
Tune 1 - Fly me to the Moon - Frank Sinatra
The first one is Fly me to the Moon, and you already know why. This song is from the 1950s, and the original name was In other words. Sinatra's version was released in 1964.
Tune No.2 - Come Fly with me - Frank Sinatra
I'm sure you've heard this one many times before. Come Fly with me was written for Sinatra and his album of the same name in the late 50s. But I'm sure you remember it from the movie Catch Me If You Can, starring Leonardo Di Caprio.
Tune No.3 - Nothing But The Best - Frank Sinatra
And to close, I'm going with this song that I've always found very optimistic, Nothing but the best.
And we all deserve the best, right?
So here are my recommendations for today. From this Silvery, who from today is a Tattooed Silvery ;)
Thank you very much for reading!
Enjoy the music, enjoy life!
All images and writing are my own unless otherwise stated
The YouTube videos shared are not owned by me. I am just sharing them to enjoy and share the music
© CoquiCoin
September 6, 2022
---
---