[ESP-ENG] Agarra ollas elaboradas con tela de jeans. | Grab pots made from denim fabric.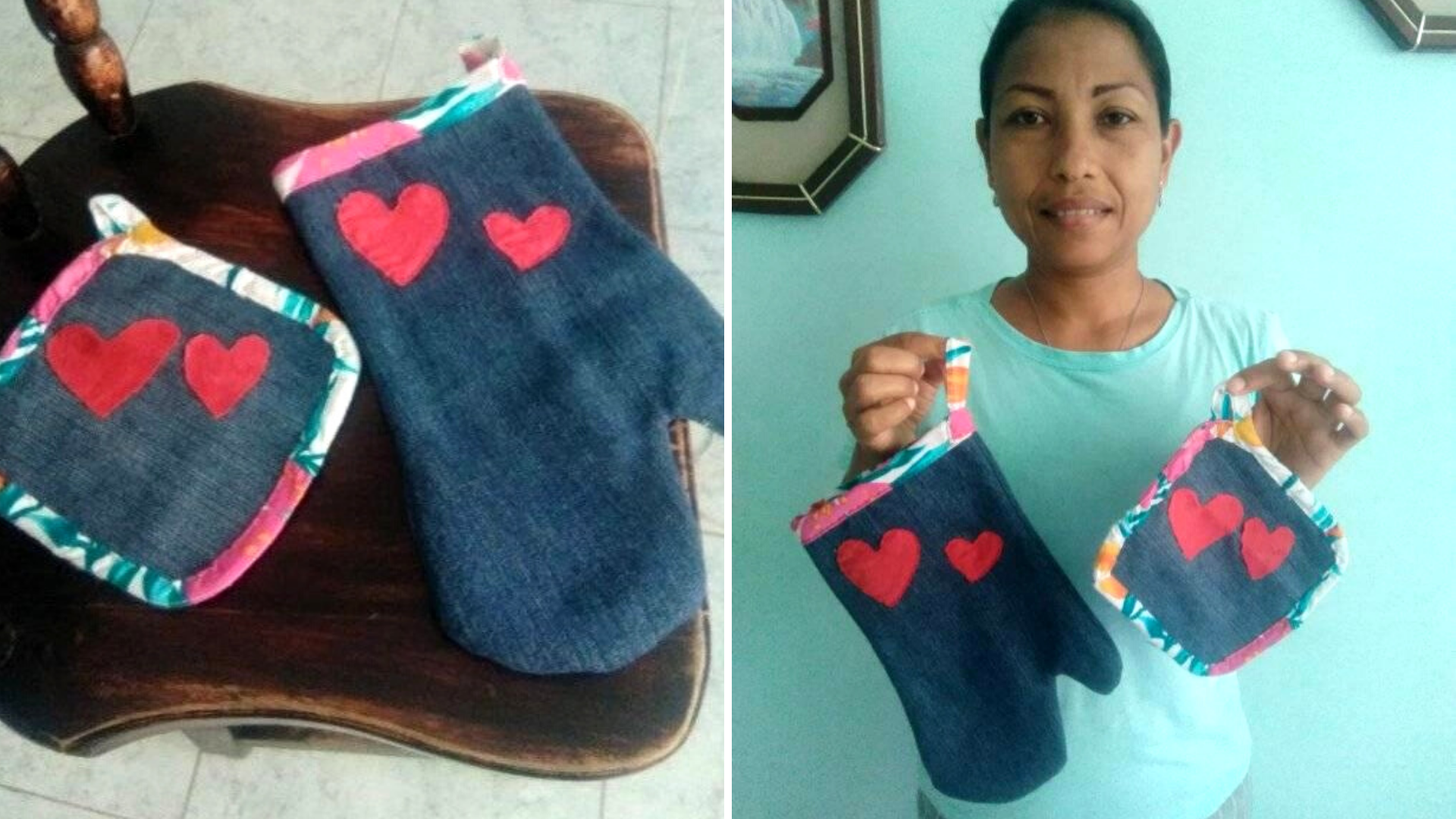 Feliz fin de semana hermosa familia Hive, muy contenta de estar nuevamente con ustedes, hoy les voy a enseñar como hacer unos agarra ollas, una manopla con su complemento, elaborado con dos mangas de un pantalón jeans que ya no usaba y decidí reutilizarlo. Comencemos con la elaboración.
Happy weekend beautiful family Hive, very happy to be with you again, today I'm going to show you how to make a pot holder, a mitten with its complement, made with two sleeves of a pair of jeans that I no longer used and decided to reuse it. Let's start with the elaboration.
---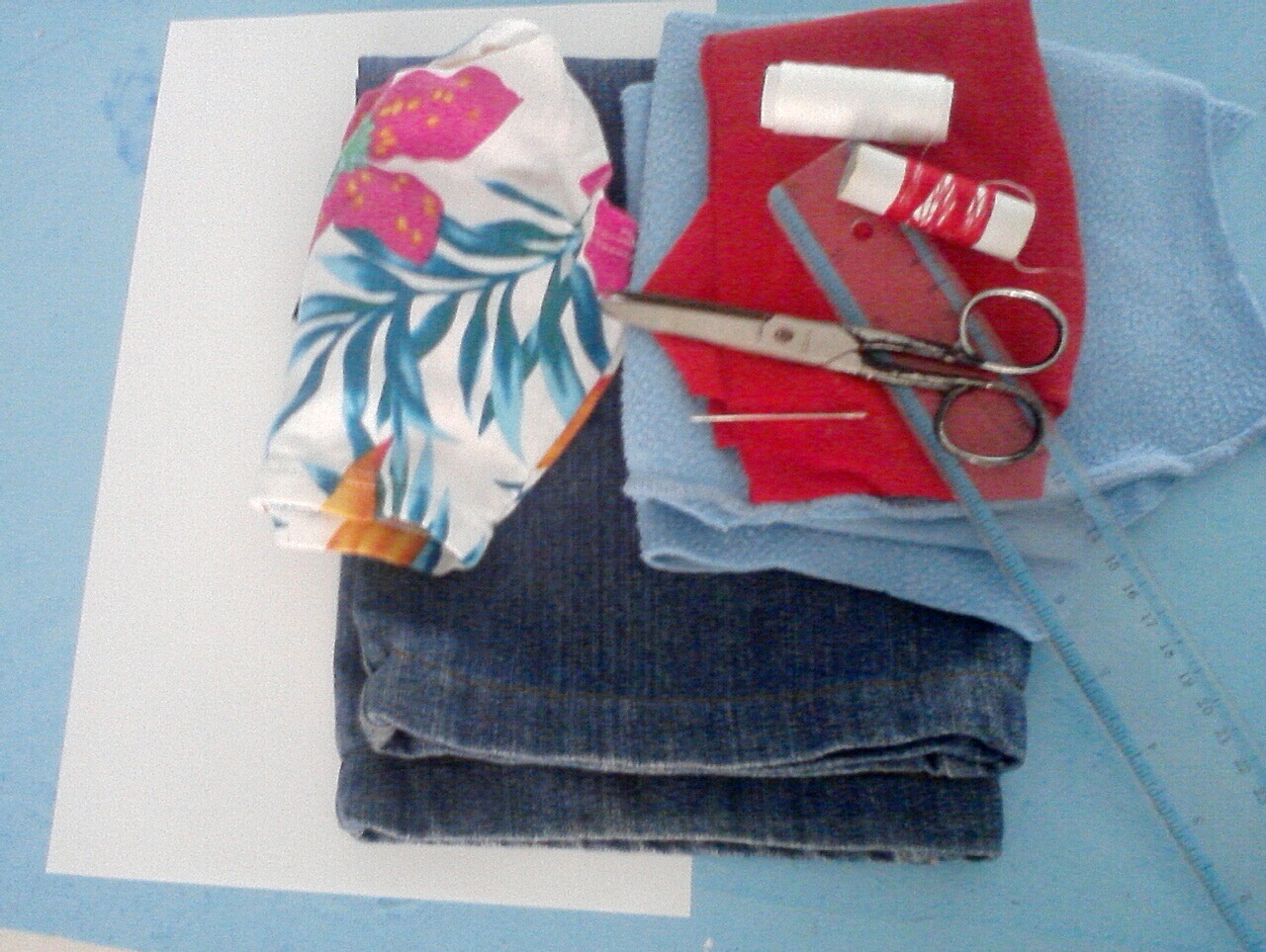 Español:
Materiales:
(2) mangas de un pantalón jeans.
Retazo de tela (roja, estampada y azul).
Hilo de coser rojo y blanco.
Aguja.
Tijera.
Regla.
(1) hoja de papel.
English:
Materials:
(2) sleeves from a pair of jeans.
Piece of fabric (red, printed and blue).
Red and white sewing thread.
Needle.
Scissors.
Ruler.
(1) sheet of paper.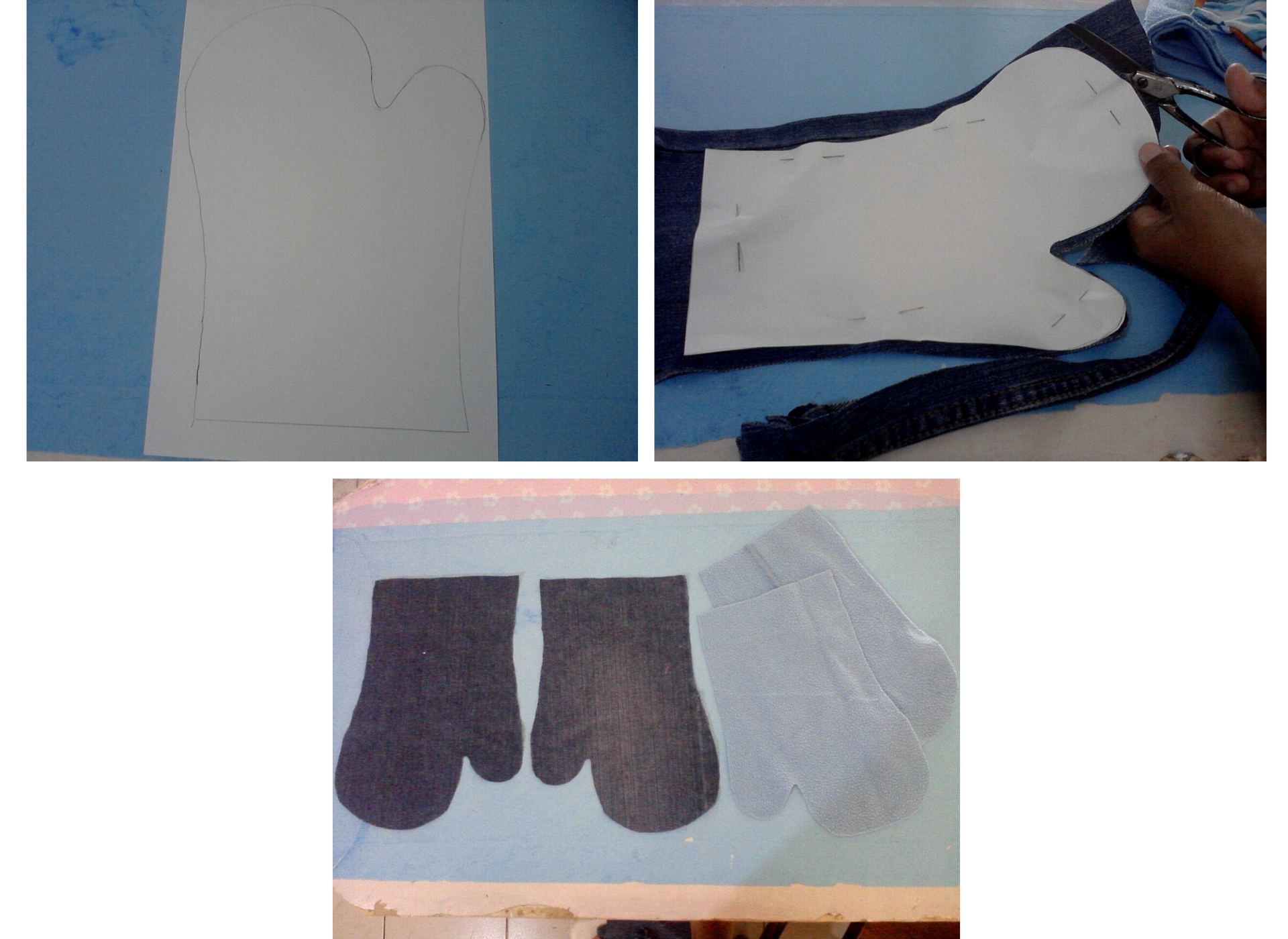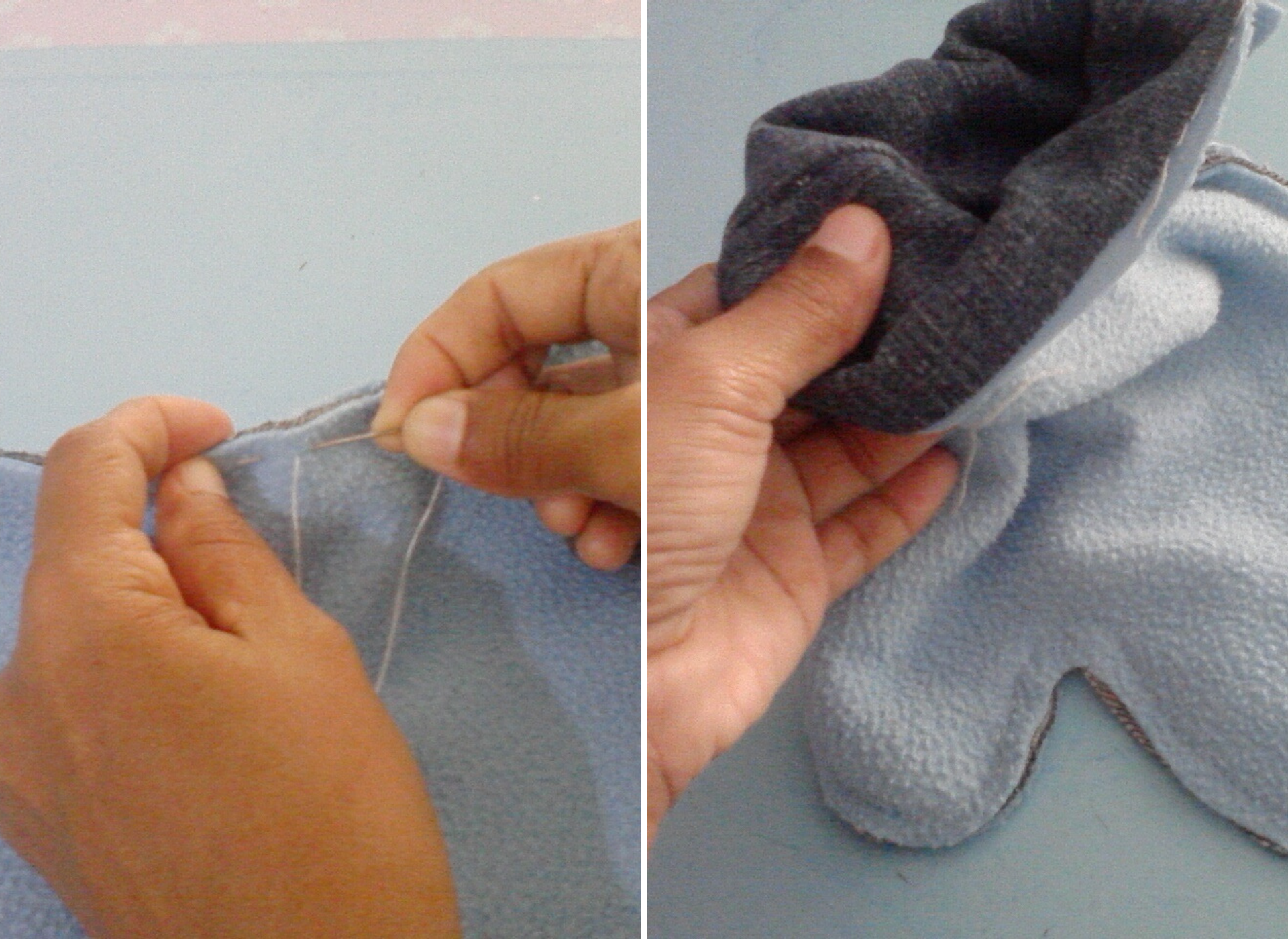 Español:
Paso: 1
Dibujamos la manopla en la hoja de papel, para sacar el patrón la fijamos a la manga del pantalón y cortamos con la tijera, obteniendo los dos lados de la manopla, luego realizamos el mismo procedimiento con el retazo de tela azul, así obtenemos las (4) piezas de la manopla, la azul que va quedar por dentro de la tela de jeans para protegernos la mano de lo caliente, ahora procedemos a coser las (4) piezas colocando una encima de la otra dejando la de jeans en medio y del lado al revés, luego volteamos al lado derecho.
English:
Step: 1
We draw the mitten on the sheet of paper, to get the pattern we fix it to the sleeve of the pants and cut with the scissors, obtaining the two sides of the mitten, then we do the same procedure with the piece of blue fabric, so we get the (4) pieces of the mitten, the blue one that will be inside the jeans fabric to protect our hand from the hot, now we proceed to sew the (4) pieces placing one on top of the other leaving the jeans one in the middle and the other side upside down, then we turn to the right side.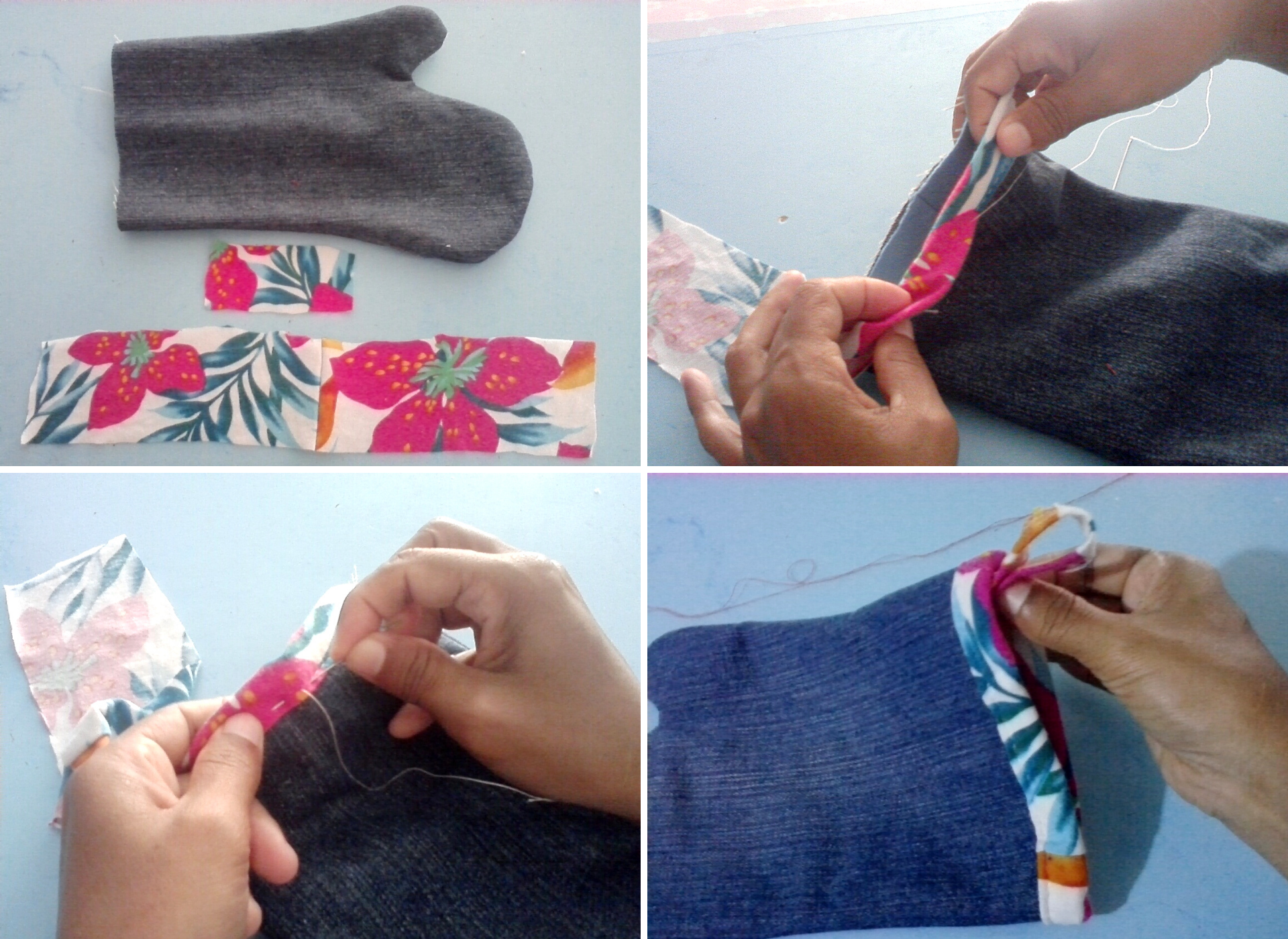 Español:
Paso: 2
Cortamos una tira de 4 cm de ancho, y una tira mas pequeña para coser y hacer la tira de colgar la manopla, con la tira mas larga la cosemos por todo el borde de la abertura de nuestra manopla.
English:
Step: 2
We cut a strip of 4 cm wide, and a smaller strip to sew and make the strip to hang the mitten, with the longer strip we sew it around the edge of the opening of our mitten.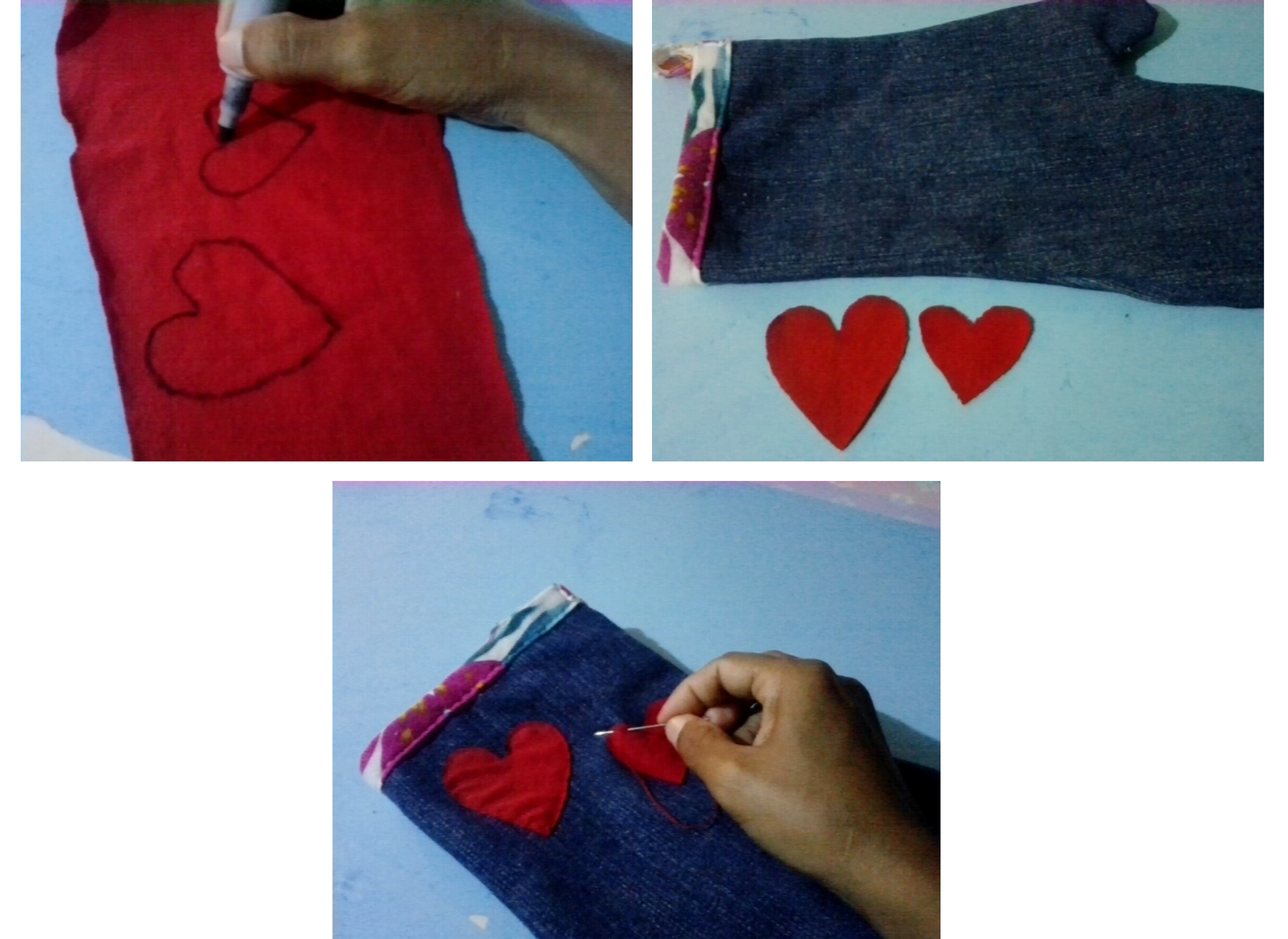 Español:
Paso: 3
Para terminar con la manopla dibujamos en la tela roja (2) corazones, lo recortamos y luego cosemos como detalle.
English:
Step: 3
To finish with the mitten, we draw hearts on the red fabric (2), cut it out and then sew it as a detail.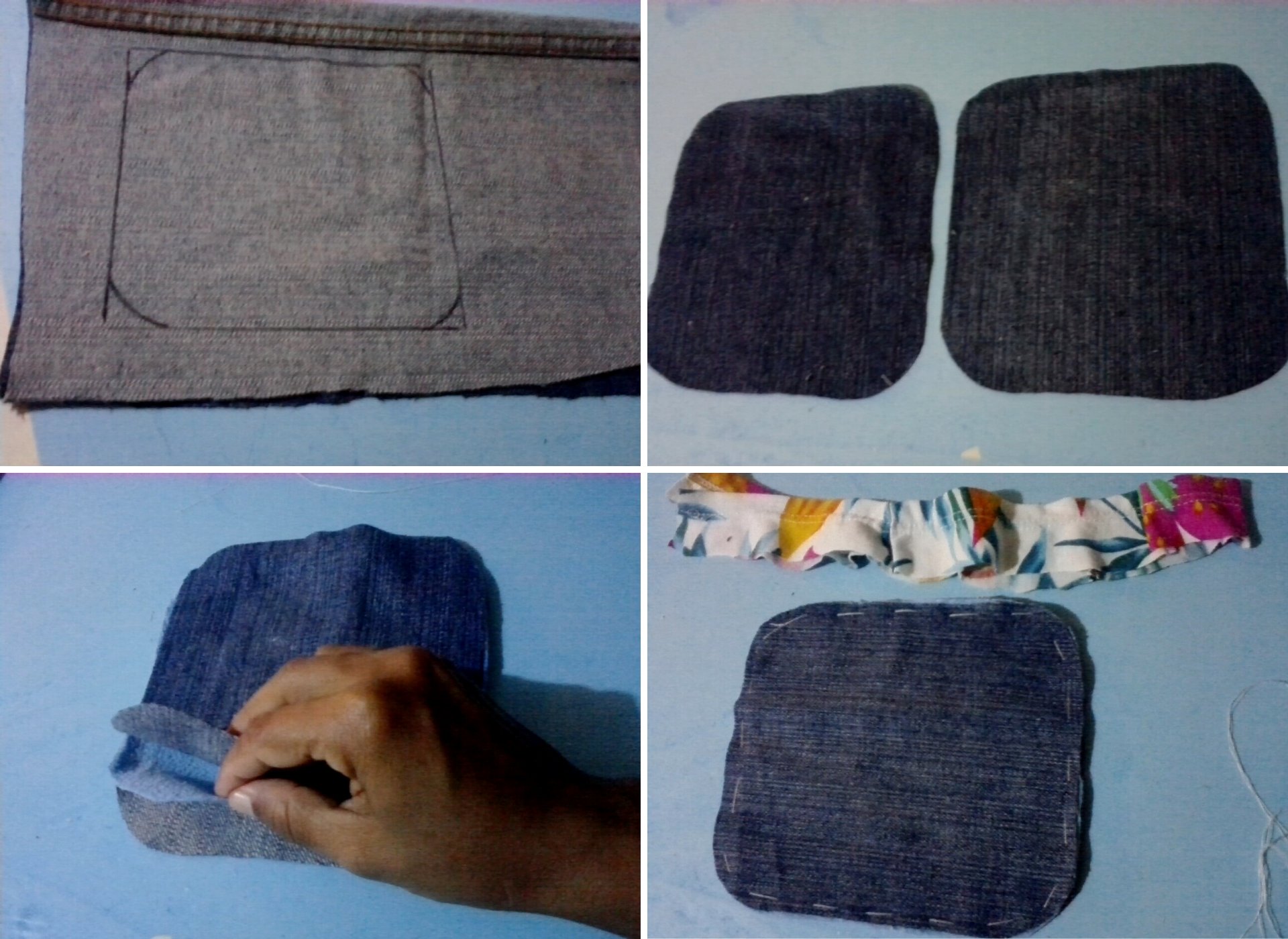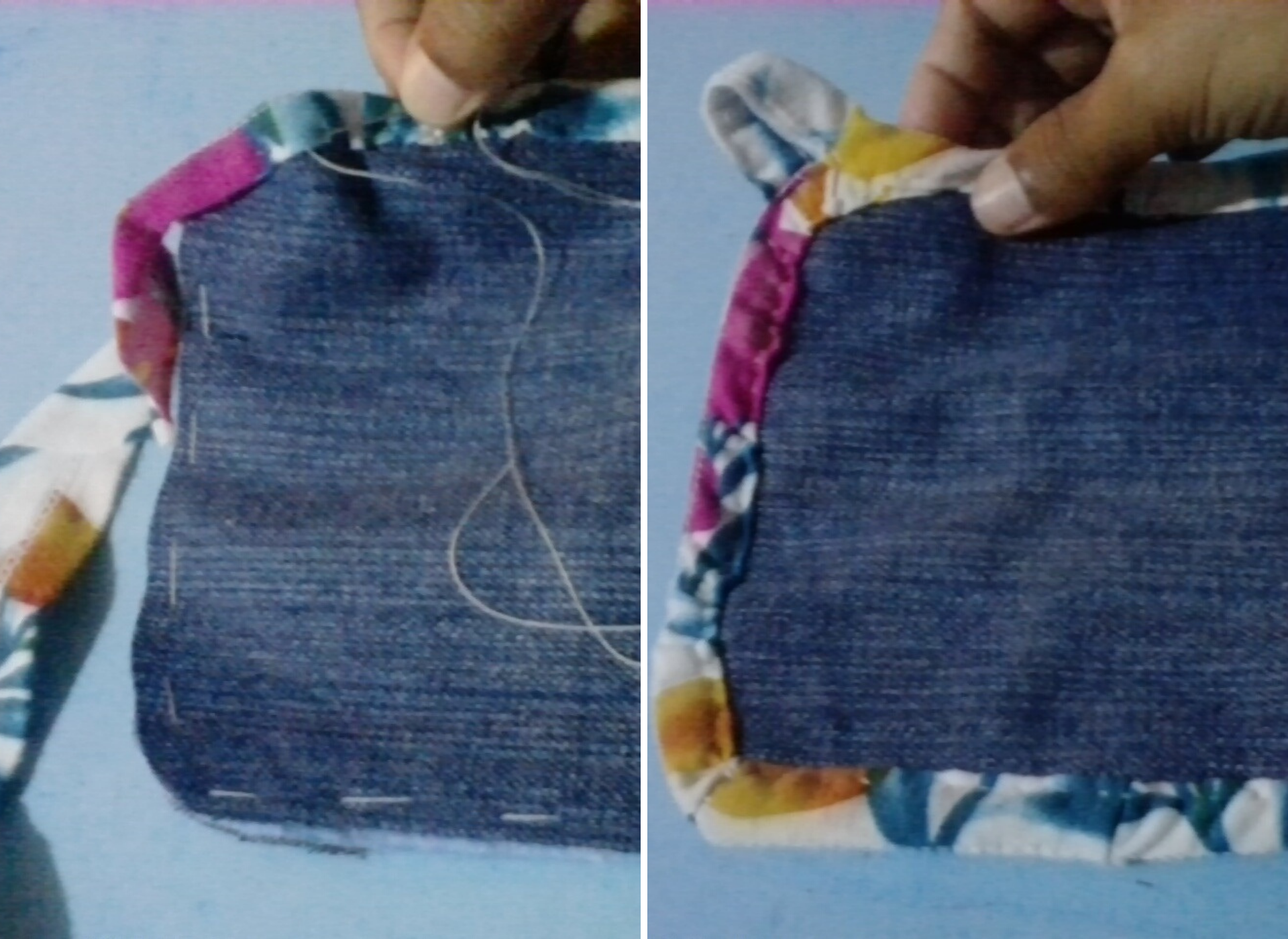 Español:
Paso: 4
Ahora comenzamos a elaborar el complemento de la manopla agarra ollas, con la otra manga del pantalón jeans, marcamos del lado al revés un cuadro de (16)cm por ambos lados, recortamos y sacamos otro cuadro también con la tela azul, luego la colocamos en el medio de la tela de jeans, basteamos con el hilo blanco, cortamos una tira estampada, cosemos todo el borde dejando el pedacito para colgar, y procedemos de igual manera con la tela roja sacamos los corazones y lo cosemos con el hilo rojo. Así terminamos la elaboración de nuestro conjunto de agarra ollas.
English:
Step: 4
Now we begin to elaborate the complement of the pot holder mitten, with the other sleeve of the jeans pants, we mark on the wrong side a square of (16)cm on both sides, we cut and take out another square also with the blue fabric, then we place it in the middle of the jeans fabric, we baste it with the white thread, we cut a printed strip, we sew all the edge leaving the little piece to hang, and we proceed in the same way with the red fabric we take out the hearts and we sew it with the red thread. Thus we finish the elaboration of our set of pot holders.

Este es el resultado final.
This is the final result.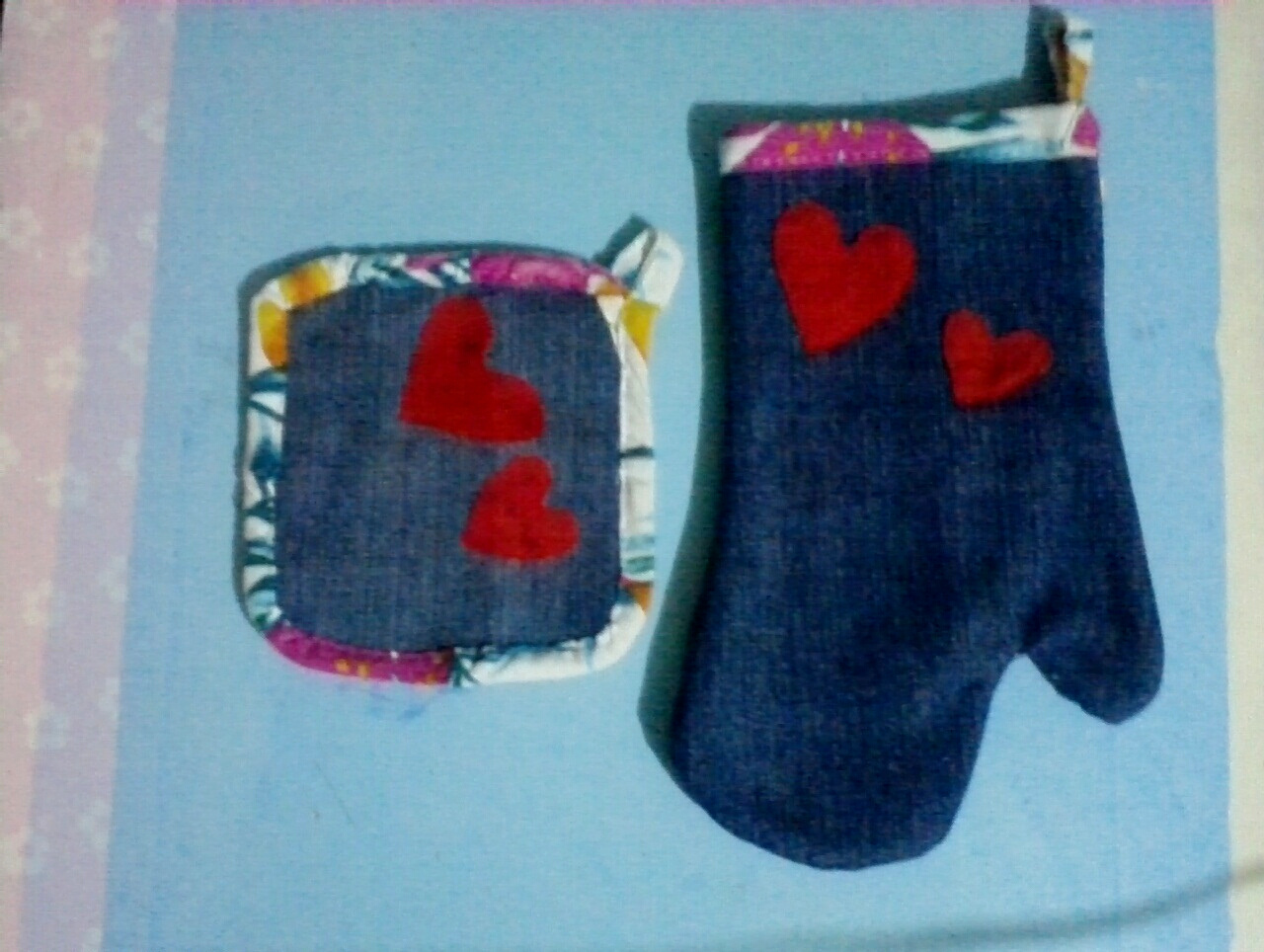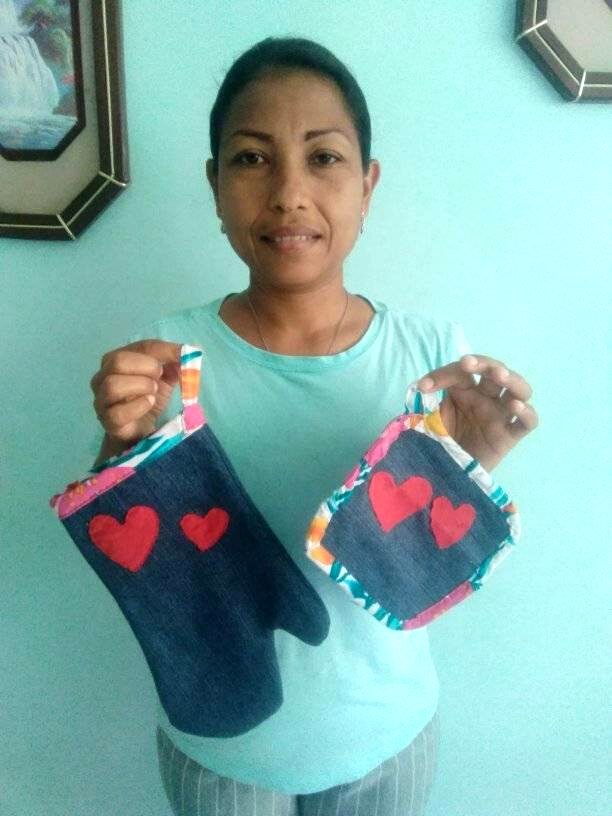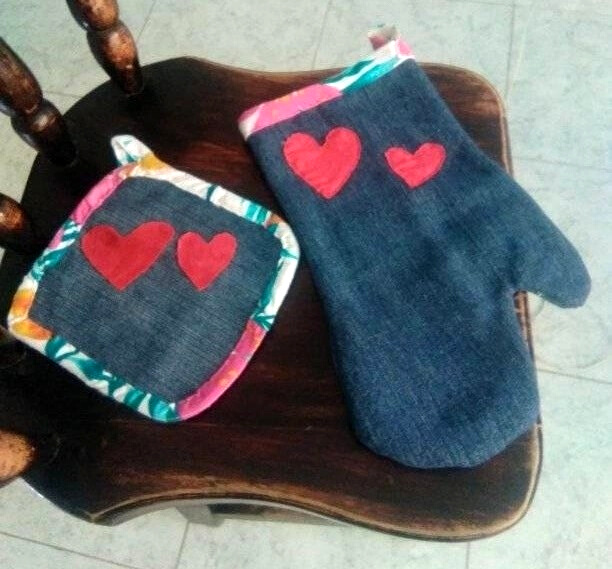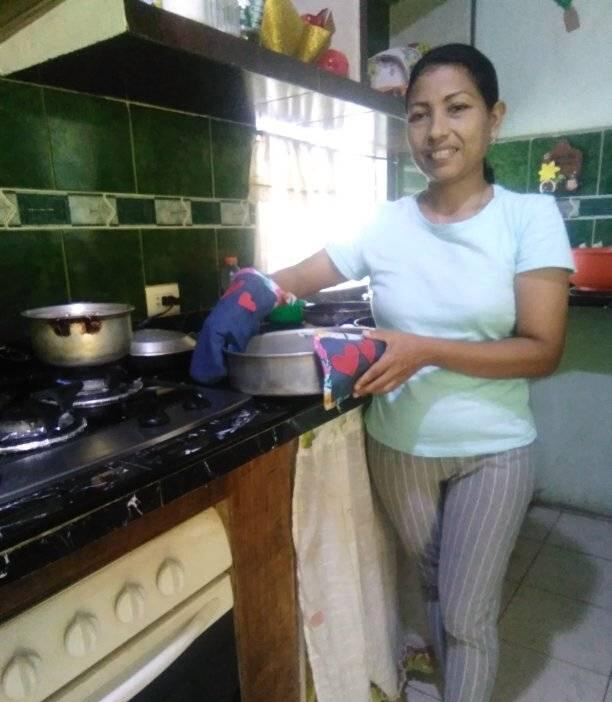 Todas las fotos son de mi autoria y editadas con Canva.
All the photos were taken by me and edited with Canva.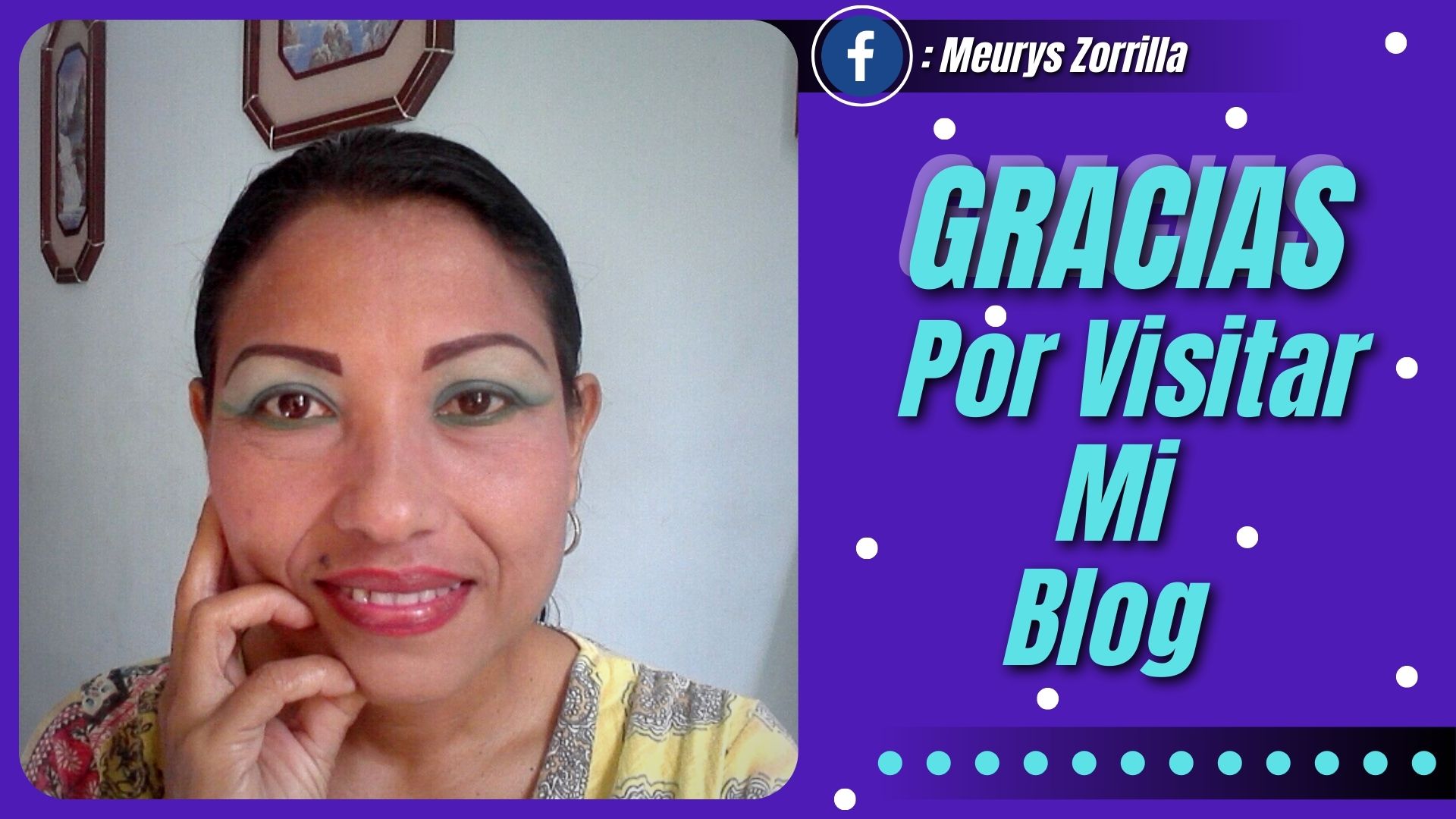 ---
---