Crypto Coins I'm looking to Accumulate...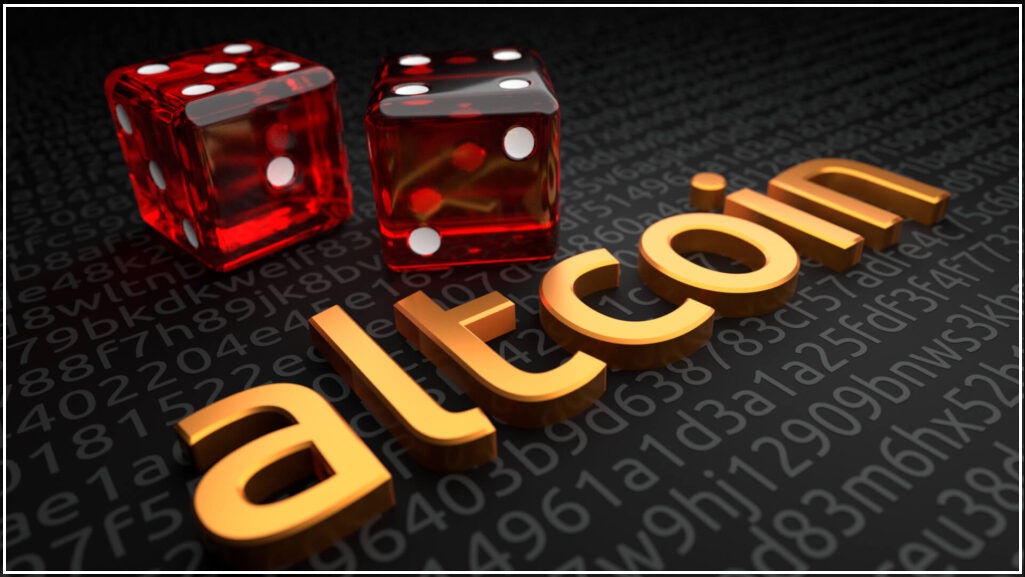 After being in crypto for around 5 year, I continue to be in accumulation mode just getting as much as I can while re-investing nearly everything that I earn which has been quite a winning strategy. These are some of the coins I want to accumulate more of...
---
By now I kind of completed my portfolio of Gambling Dapp Coins that payout Dividends (See Latest Report) and I'm looking to move on to buying some higher risk and high reward coin with no guarantee whatsoever that they will succeed. I'm mainly looking at what they do along with the overall valuation and upside price potential. They are ranked in no particular order.
---
EWT is one of those coins I can see potentially getting really big. The basic idea of the world transforming into an energy grid with a couple big producers toward many people having their own small green energy power plant all powered on the blockchain is a pretty ambitious one. Many of the big energy companies are also partnered with this project. Right now it is still pretty centralized but that is looking to change. The only big YouTuber that is shilling this coin is Chico Crypto which I'm not sure is a good or bad thing. The market cap is pretty low compared to many of the other coins and for as far as I know they don't really have any competitors aiming to do the same. I see this as a project that potentially could change the world and like the risk-reward ration as if they succeed it should turn out into wild upside. My aim is to just buy and hold while staking once that is possible
Right now the price is 5.56$ and I currently own 250 EWT (1390$), I aim to accumulate more to hold 1000 EWT so around 4170$ more to accumulate to reach that goal.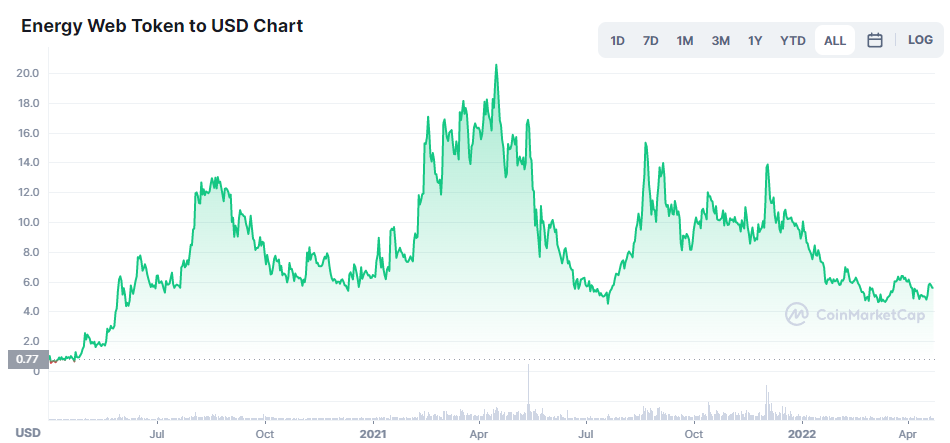 ---

Insurance on the blockchain is not a sexy topic but at one point it should become much bigger. What I like about Etherisc Decentralized Insurance Protocol is that they are officially partnered up with Chainlink and the Fully Dilluted Market Cap is only 43 Million. They also have a working product already allowing people to take insurance on Flight Delays which is one of their first products (Crop Insurance / Hurricane Protection / Crypto Wallet Insurance / Collateral Protection for Crypto-backed Loans / ...) are also in the works. I don't think many people are using it right now though also because it runs on Xdai / Gnosis and they have a long way to go. However, taking should go live somewhere this year sooner than later which could increase demand. This one I would say has a high chance of never going anywhere but the slightest bit of hype could make the price go up a lot quickly.
DIP is only really available on Uniswap which makes sucks for gas fees. Right now, the price is at 0.0432$ and i'm holding 40k DIP (1728$) wanting to get that up to 120k so around 3500$ more to buy at current price. In case it would pump I would sell 20k to recover the initial investment and keep the rest.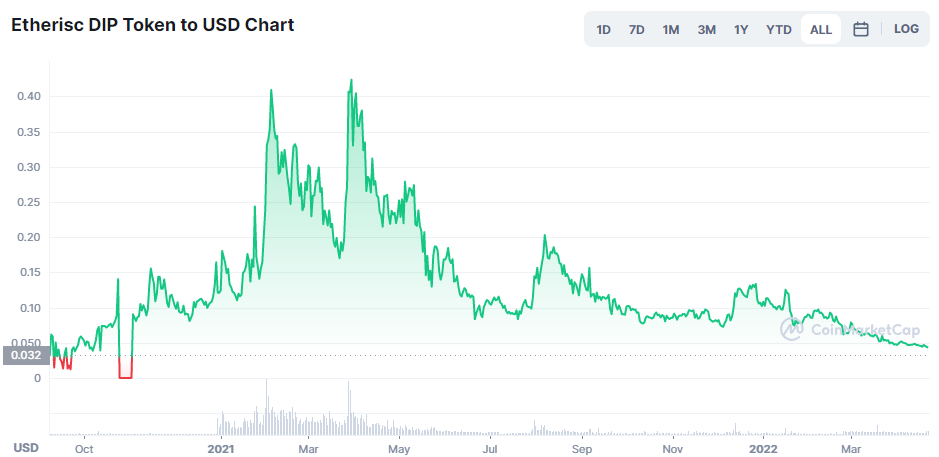 ---

Decentralized Stable coins are the main narrative right now in crypto with Terra Luna leading the way. Tron also recently announced that they will have a similar mechanism where USDD can be created by burning/locking TRX with an incentive program to hold & use USDD that brings +30% annual yield. Haven Protocol has the same burn/mint mechanism to hold a peg on a stable coin with the main feature that they have a monero style privacy feature integrated in their coin which is something that is highly needed in the crypto space. This privacy feature can be turned on or of and it is possible to provide a viewing key in case the government or anyone else needs to view the transactions. This is the main shill coin of CTO Larsson on Youtube and his videos kind of sold me that it's worth the shot as there for sure is a lot of upside potential. XUSD will also become the main stable coin on Thorchain soon which they partnered up with.
Right now, the price is down around 90% compared to the all-time high at 3.88$. I only hold 20 XHV right now as part of my small Crypto Earnings Altcoin Investment Portfolio but I would like to accumulate around 500-1000 XHV.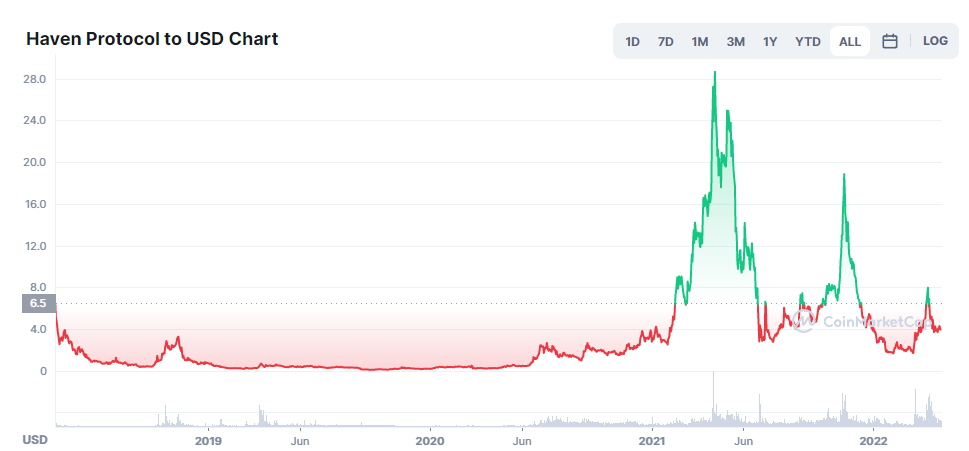 ---

Even though I don't think Wagerr is the platform that will end up revolutionizing the Sports Betting industry and there are some fundamental issues with the model at the moment. Sharp Sports Bettors are actually winning making the token inflationary at the moment instead of deflationary which is the idea. I do like the 5 Million Fully Dilluted Market Cap while the team is clearly still developing things bringing improvements. In the past there were multiple spikes where the price went x4 out of nowhere and I would be surprised for this not to happen again at some point. They are also seeing increased betting volumes which should be followed by the price going up and more Masternodes being deployed.
The price right now is 0.02$ and I'm holding around 56k WGR (1120$) looking to get that up to at least 120k taking the initial investment out scaling down to 100k in case there is a big pump. I'm also actually using WGR to place bets on occasions so that also is a good sign.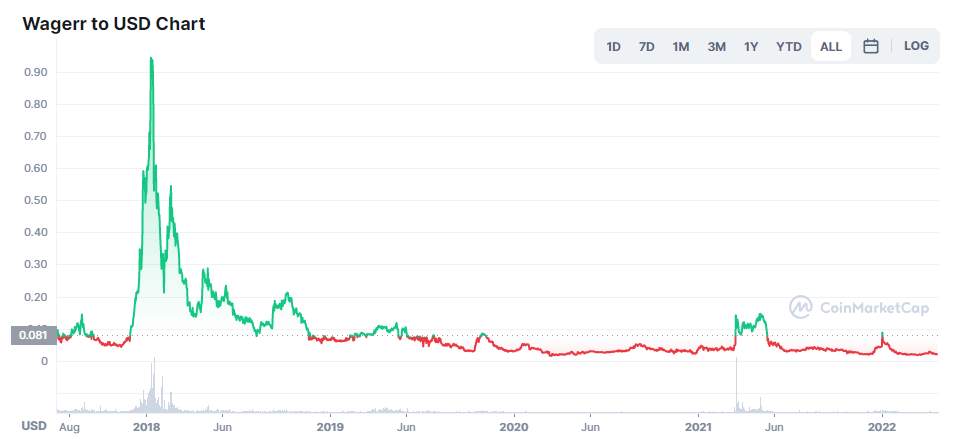 ---

This is another gambling related coins I am keeping a close eye on for multiple reasons. The main one is the release of their own sportsbook based on betterbetting technology which I liked and used a lot when that project was live. They will also have a bridge to Polygon which will solve the gas fees and the token itself is fully dilluted with a burning mechanic. They also have an actual userbase on Freebitco.in and a listing on Binance making the coin quite liquid.
I currently have around 135k FUN tokens (1464$) and want to get it at least up to 250k FUN.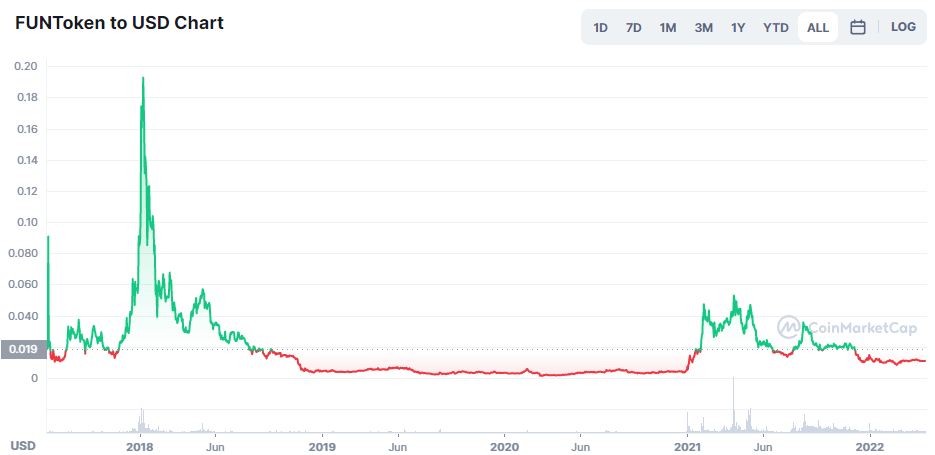 ---

My first reaction when it came down the HEX and Richard Heart back in the day when you could claim if you were holding BTC was that it was the most obvious scam coint that would collapse hard. As I put my feeling aside looking more into it, everything actually started to make sense and I actually like what it is doing along with the overall approach. My main issue remains the total Diluted Market cap of 82 Billion even though that is totally inflated by the original address (Richard Heart wallet) holding a ton which is unlikely to ever move. I had a lot of fomo resisting at the 0.4$ range and now it's back fown to 0.13$. I currently hold no HEX but I did sacrifice some for both Pulse & Pulsex. There soon will be a snapshot for Pulsechain where HEX will be doubled to making everyone double their holdings and kind of an uncertain situation where the project will perform the best. On the one hand I want to get some now so I get it on both chains but I would be surprised the fork was not followed by quite the dump of old Hexians wanting to take a ton of profit which the market likely won't be able to absorb. So overall my hands are somewhat tied even though I would like a position in this coin. 10k HEX would be where I start before the fork. For now I'm still waiting.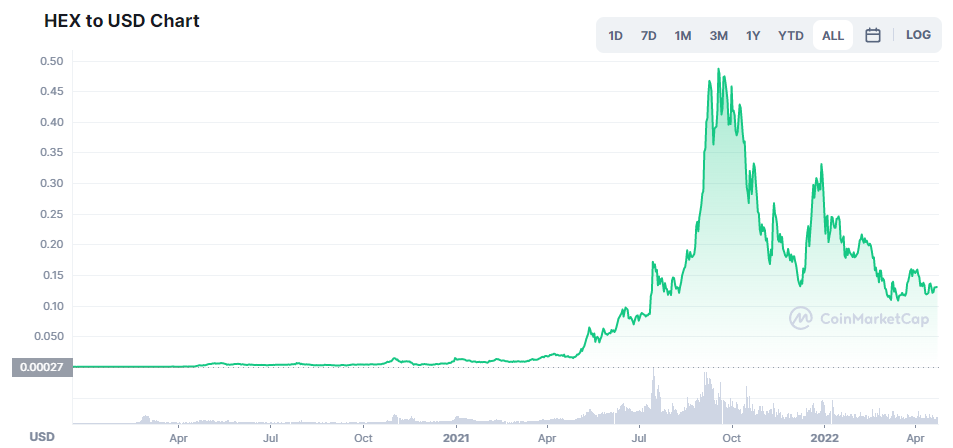 ---
Conclusion
The hunt for crazy gains in Crypto remains quite addictive and I might be blinded by wishful thinking. Yet I like the risk-reward propositions of these coins on one way or another where I'm willing to gamble a small part of my portfolio on them. Especially at current prices which are down a lot on average compared to the all-time highs. This is pretty much the way to potentially make a lot of money getting in while there is no hype or short-term reason for the prices to pump. I likely will get back to this post a year or more from now just to see of any of them did amazing things making it worth the gamble or if all of them just crashed and burned hard never getting anywhere.
Play2Earn Games I'm Currently Playing...
Posted Using LeoFinance Beta
---
---