Gambling Dapp Dividends Report | Up From Here?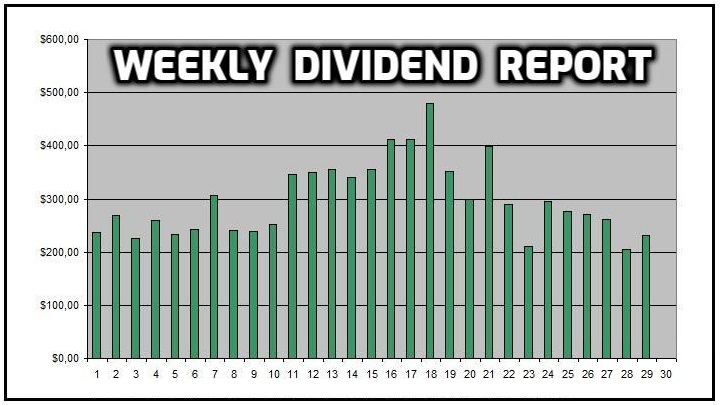 I am keeping close track of my Gambling Dapp Portfolio that includes BFG (Betfury.io), WIN (Wink.org), SBET (Sportbet.one), and also SX (sx.bet) while regular updates on how exactly they are doing showing what can be expected for those interested...
---
There was a +13.6% increase in dividends last week thanks to both SBET and WINK who had better weeks while BFG continues to be in a decline on absolute returns due to token inflation. I made a chart of my total portfolio value and the combined expected dividends on a yearly basis. This shows an average expectation of 51% return from all projects combined which actually is quite solid. I have been accumulating so the portfolio value doesn't represent the actual price of the tokens.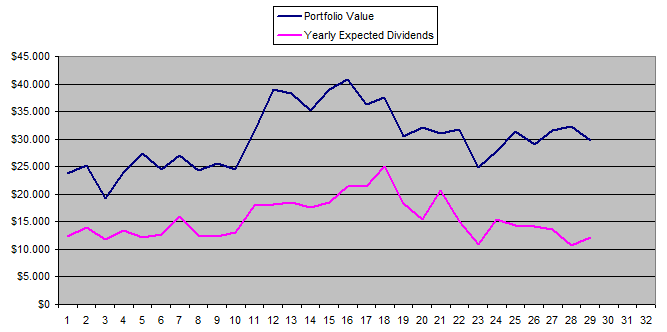 ---
I'm expecting most from SBET going forward as it is the platform mostly focused on Sports Betting with all the major Football Leagues set to start again soon. This should bump the overall volume which increases the dividends as they ar calculated based on that.
EOS jumped in price at some point to 1.24$ which made someone take profit on SBET as around 580k was sold on defis.network by a top10 holder.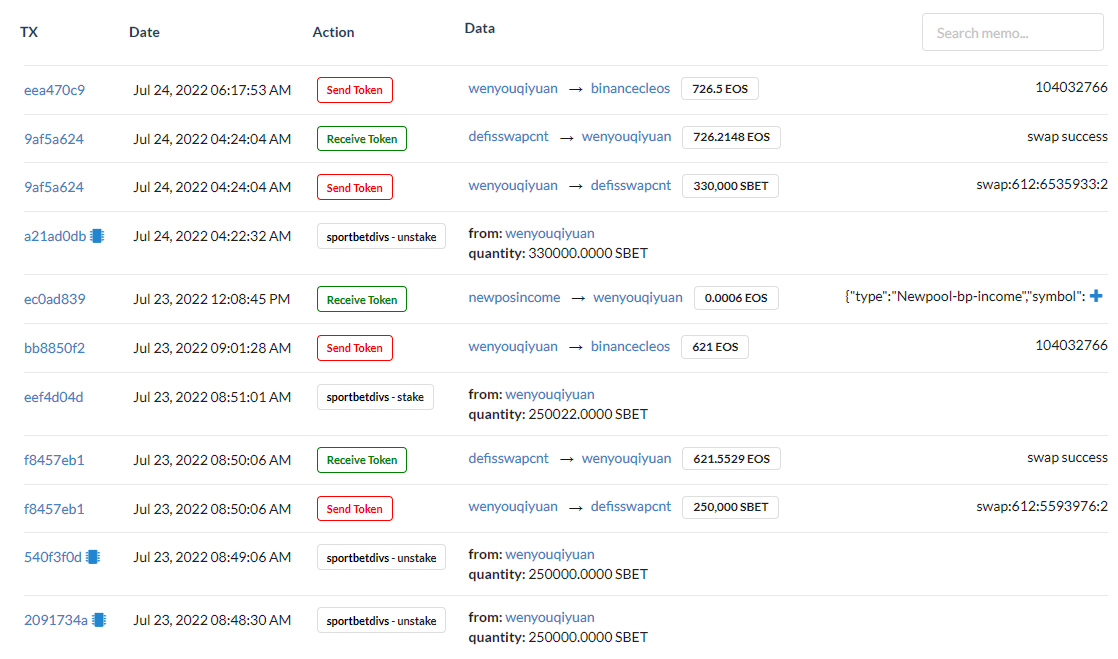 This is nothing out of the ordinary as the combination of Dividends backing up the price of SBET and EOS constantly falling in price during the bear market increased the price in EOS Drastically (See Chart below, a lot of that was my cost-average accumulating)

This sale made the price drop a lot in EOS while EOS also dropped again to 1.1$ by now and the market cap of SBET is now back below 1 Million which for me is a buying zone that I might use to accumulate some more even though I already kind am overly invested. I however would like to see the number of weekly users actually go up at least back to the highs as this has been rather flat for quite some time.

---
Another increase again for Wink from 3.472$ to 12.36$ and now 19.032$ this week in absolute dividneds for holding 30M WIN. Things are still quite far away from the highs and I would like to see this trend continue so the 100-day moving average can actually start reversing after a major downtrend. I'm still using the wink.org sportbook myself to place some bets and will continue to do so going forward.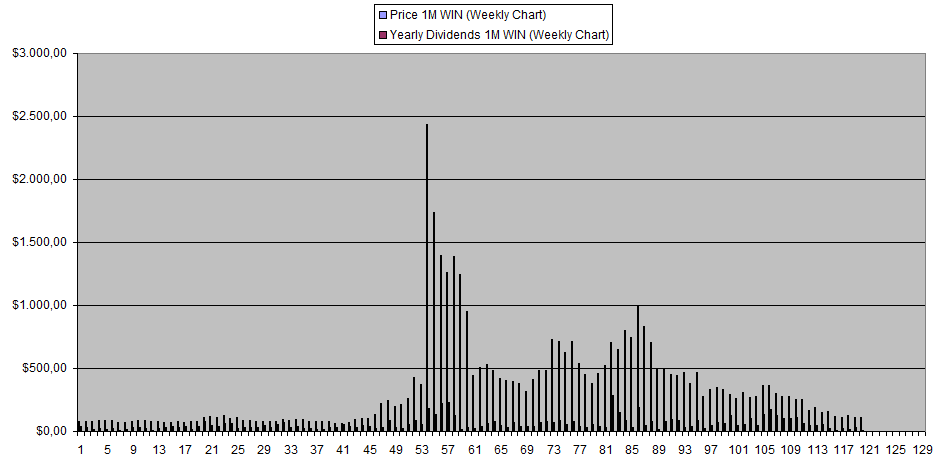 While the price at the peak for 1M WIN was close to 2500$, right now it is going for just 120$. The low point in week 27 of 2021 was below 40$ so there certainly is potential to retrace some more down. I need a real spike in dividends at this point before I would buy more.
---
The downfall of BFG somewhat continues as the dividend pool is not able to keep up with the inflation with a lot of the farming coins now being staked putting more pressure on the dividends.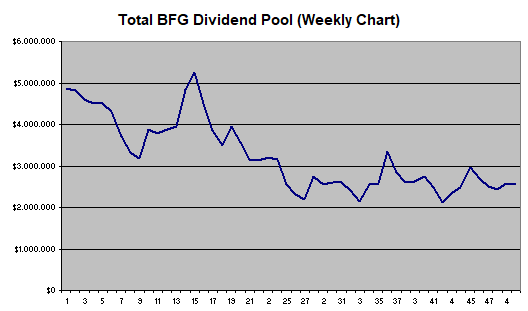 Despite all this, the dividends are still solid in % returns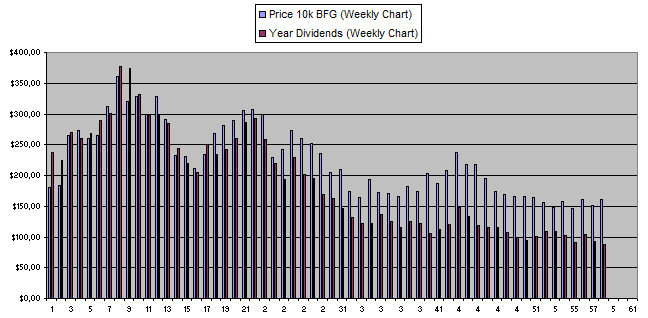 The overall decline was inevitable and I have been talking to it from the start that the returns had to come down compared to the price and I assumed this was calculated into the price. Insead of seeing lower returns in % around 30%, they are still well above 50% mainly because the price fell down along with the dividends. At this point, I don't think BFG is too expensive as I see a good future for the platform. In case the dividend pool spikes a lot with the price not directly following, I would buy some more. The price now is holding up well around 0.015$-0.016$.
This is the 3nd week of me owning SX and It's still very unclear to find where exactly the SX is distributed from and how much. While in the previous 2 weeks I saw an increase of 1.52 & 1.51 SX, this week it was 3.99 SX. I guess there is some kind of delay to SX earned from winning bets that is earned. The treasury fund however seems to be growing at a nice pace from 52k to now 3 weeks later 130k (ETH & USDC combined). I'll continue to run the numbers and start making charts once I have more data.
---
APY Based on Current Price and Dividends from the last 7 days
All these numbers are based on prices of Monday
Note: Token prices going up or down have a major influence on the actual returns going forward either amplifying them if they go up or destroying them when the price goes down.
---
Personal Gambling Dapp Portfolio
Another week where I managed to earn over 200$ worth of Dividends. I'm currently holding 30M WIN / 7M SBET / 550k BFG / 10k TRX / 79 LIVE | 2271 RAKE / 1007 SX which combined is worth around 30k Dollars. I am looking the diversify more looking for good gambling dapps that pay the losses or fees from the gambler to those holding a token, so if you have one on your radar make sure to let me know...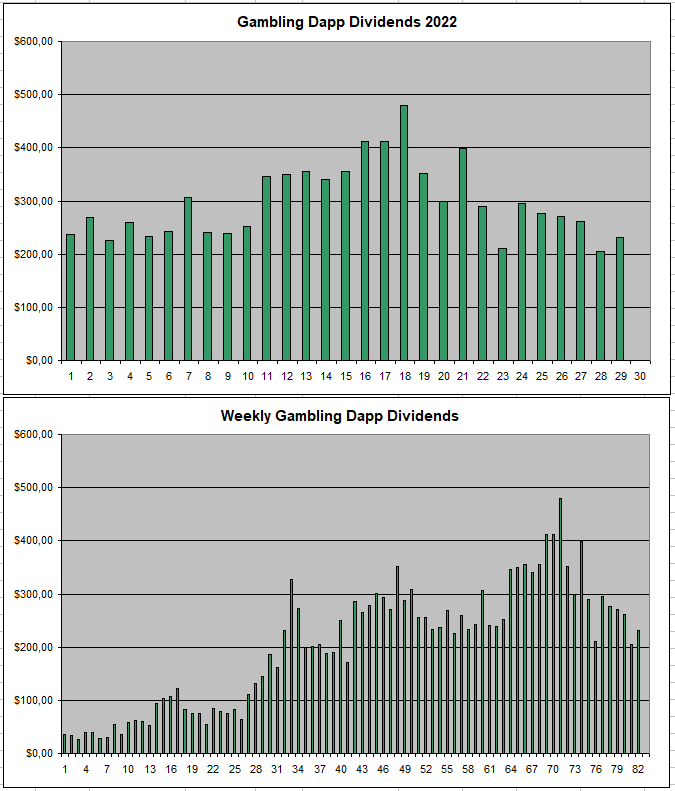 ---
Crypto & Blockchain-Based Bookies and Exchanges that I'm personally using as they allow anonymous betting with no KYC or personal restrictions...
---
I'm once again looking forward to what the next week will bring and I'll make another report 7 days from now...
---
Play2Earn Games I'm Playing & Social Media Links...
Posted Using LeoFinance Beta
---
---