Hive | My New Goals & Objectives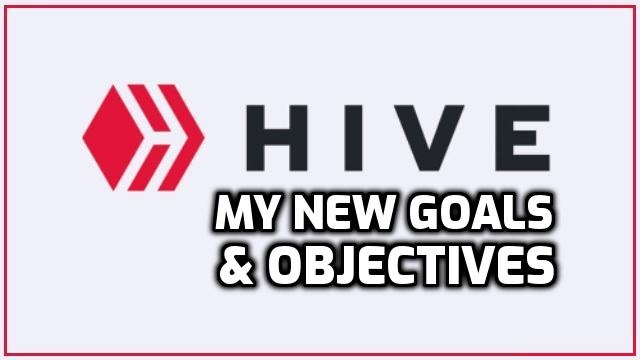 I have been blogging on Hive for about 5 years now consistently and it's time to step up my game a bit by setting some new goals and objectives...
I have really enjoyed my journey writing content about things I'm personally doing (Betting / Play2Earn Gaming / Crypto Investing / Building Passive Income / ... ) which mainly earned me money as it helped me to stay sharp but less so because of the actual post earnings which for sure have been a nice bonus. The overall time investment has been pretty crazy though and I am able to keep it up only because I'm also having fun with it. There are however some aspects I'm looking to improve upon still.
---
1. Overall Engagement
It's an understatement to say that I'm not the most social person in the world and this is no different in the digital world. I'm actually surprised how many people I managed to connect with thanks to my blog even though most of this happens outside of the Hive ecosystem on Discord though. I do understand that a big part of personal success on Hive goes hand in hand with social engagement and has not that much to do with actual content. It also can be crazy time-consuming browsing the website trying to find content that actually brings some added value to me while manually curating it. Still, I aim to spend at least 20 minutes a day from here on out browsing content and finding new accounts on Hive I somewhat can relate to also making some comments along the way if I have something to add while also doing some manual upvotes.
---
2. Sorting My Follow List
There is still a lot of incentive to make 'shitposts' on Hive which quite shows in my feed of people that I have followed over the years and the minority I would say consistently brings worthy content that has enough effort put into it. So I plan to start unfollowing quite some accounts the coming weeks to clean my feed from a lot of nonsense like actifit posts for example (unless I'm somewhat closer to the persons behind those accounts that do post them)
---
3. Optimizing Auto-Voting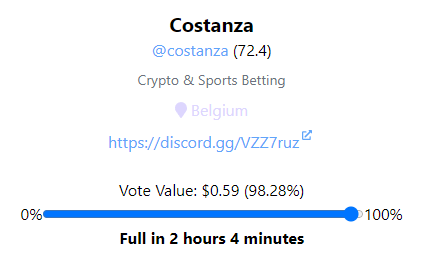 Hive.vote
has been a really useful tool for someone like me who isn't the biggest on manual curation. Some that I have on there stopped posting and it looks like my Voting power at times just sits at 100% which is quite bad for my overall curation returns. I'll be looking in the coming weeks to add quite some accounts to it that I like or that also upvote my posts even though I'm not crazy about pure upvote4upvote. It is what it is though and in the end, I rather upvote someone back than have it go just 1 way unless the content or person really is worth it (which for me rarely to never is the case)
---
4. Try to Increase my average Post Earnings
Right now without Splinterlands upvotes, I would say the average payout of a post is between 4.5$ and 10$ of which only 45% is the actual post payout. While I'm quite happy with anything that I'm making, I know it could be a lot more in case I engaged more on the platform. My goal is to get my posts on average to the upper range of 10$ going forward which likely will take some time.

---
5. Continue Consistently Post
I religiously try to stick to 1 post each day avoiding quick shitposts at all cause. I do like to make a series of posts which really helps me in what I'm doing to stay consistent and also requires less creativity. I personally also like this style of posting and will keep this up hopefully adding some new series of posts about things I'm doing along the way.
---
6. Keeping It real
One of the things I never liked about Hive / Youtube / Social Media, in general, is that it pays to be overly optimistic and a perma-bull moonboy. The success formula pretty much is to write about the platform and how great it is jumping on the latest hype. Deviating from this for sure hurts my overall earnings but I just can't do it as I always want to keep it real writing about things the way I see them in reality. I don't like the extreme Pay2Win aspect of Splinterlands and will continue to be vocal about it, I don't understand the value or use-case of something like Polycub and won't join the hype train just because I know there will likely follow a big upvote, ...
I consider myself a very rational person who goes by facts and that is what I will stick to always keeping things real both with the good and the bad.
7. Upvote and Engage in Comments more
Even socially engaging with comments on my own posts often feel too social to me which often makes me procrastinate and that isn't optimal in any way. I do have the upvote to at least give a couple of cents to comments and my intention is not to wait to reply from here on out.
---
Conclusion
The past 5 years have been very fun running my blog on Hive but there are still a lot of things I can improve upon which I aim to start doing right now. I'm for sure in it for the long run and will continue writing posts on an almost daily basis going forward also trying to increase my overall engagement quite a bit.
*** Please feel free to mention some great accounts to check out and follow in the comments below!
---
Play2Earn Games I'm currently Playing...
Posted Using LeoFinance Beta
---
---