Jupiler League Week 1 Friday Preview | Standard vs Racing Genk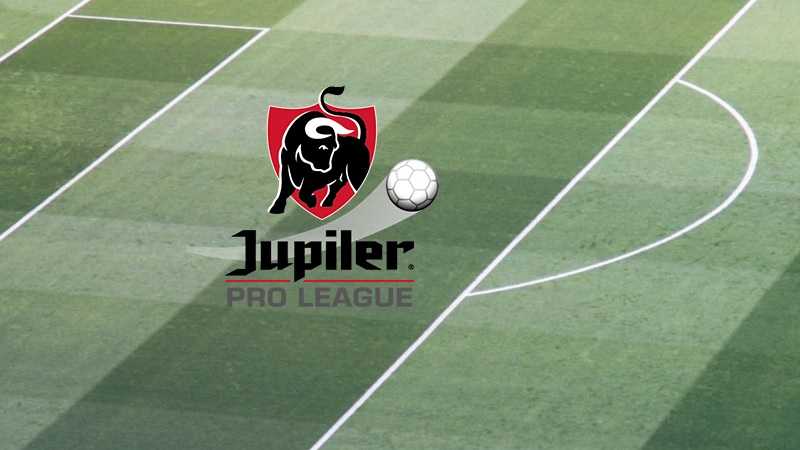 These are previews from matches involving Belgian Teams with all the latest on team news, player form, injuries along with my personal betting angles, ...

The Super Cup last week turned out a very limited loss with a half win and half loss, making good use of the Asian handicaps. Today the regular Season starts again and I'm really looking forward to it. Some fans will be allowed back into the stadiums and this will increase the coming weeks so home advantage should be a bit bigger again. Last season daw an all-time high of 37.87% away victories. The seasons before this was set at 29% / 30% / 30% / 26% / 28% / 30% / with less than 40% home wins. Even though the lines were adjusted, it still resulted in +3.58% ROI on closing lines when betting the away team against the Asian handicap on every single match. While It can be expected home teams will do better again, it might take some time to fully revert back to the mean.
I increased what represents a 1 unit stake by +60% compared to what it was last season mostly because this will allow me to bet more in-game. I'm still balancing things out seeing how it all goes for now.
---
Standard vs Racing Genk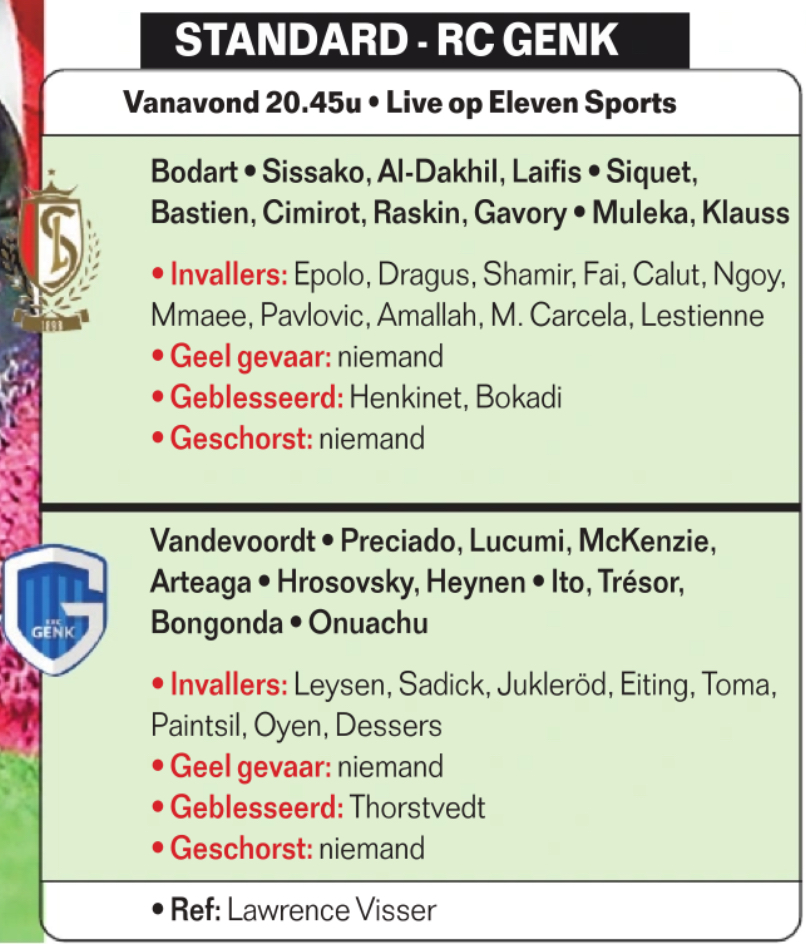 Genk who I saw play last week in the Supercup played ok but pretty much gave it away in a short timeframe just before and after half-time allowing Club Brugge to score 3 times. Club Brugge was the team in charge overall in the match but didn't really manage to create all too much aside from those 7 minutes while Genk actually got the better chances. Lucumi will be back for them in defense but Cuevas and Munos are still not back in defense and Thostvedt is still injured. Their offense still looks very strong with everyone so far still being with the team even though their form isn't yet at 100% which is normal at the start of the season. Overall I like Genk as a team and am still similar to last year mostly eying the team total over bet. I'm not sure I trust them enough in defense at this point. Standard had played a poor season and is a team that lacks financial power at the moment. They lost Vanheusden, Balikwisha, Cop, & Jans without really getting new players in return. Their offensive duo Klauss & Muleka showed some good promise last season but overall mot that much is changed aside from maybe the home support they will fully have back over time. Standard lost the cup against Genk so it might be a revenge spot even though I doubt this early in the season this extra motivation adds all that much. Overall I see Genk as the better team over 90 minutes where I see them around 57%-43% on the Draw No Bet Line. I took a careful initial bet (0.2 units) on
Racing Genk +0 @ 1.859
looking to possibly take extra in-game on the Genk Team total over 1.25 line or maybe even the Over 2.5 line once that hits 1.80+ since I see both teams capable of scoring. Genk is not the team that tends to create all too many corners while Standard plays at home and generally does better. The
Standard Corners +0 @ 1.846
is also an initial tiny bet (0.1 unit) I got into as I was unable to take more due to really low limits. I also took a first crypto bet of the Season on
X2 & Over 2.5 @ 2.50
over at
Wink.org
for 1000 TRX. Should be an interesting opener!
---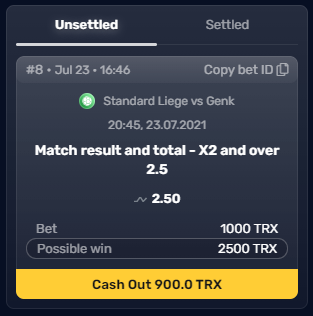 Late info might change my view on what is written in these previews. I will cover these matches live in our SBC Discord Channel. All my bigger pre-game & Live bets can automatically be followed on Copytip.
---

I take all my Pre-Game & Live bets with my Betting Broker Sportmarket Pro who always provide the best offers on the market with a 1 click solution and don't limit winning players offering high limits. For more info check my Sportmarket Pro Review
Season 2021-2022 Crypto Bets
| Date | Bet | Stake | Odds | Result | Betslip |
| --- | --- | --- | --- | --- | --- |
| 23/07/2021 | Genk X2 + Over 2.5 | 1000 TRX | 2.50 | TBD | Wink.org |
---
Full Guides to Decentralized Crypto Bookies I personally use where no KYC is required allowing anonymous betting from any location without individual limits for winning players...
Sportbet.one

Wagerr.com

Wink.org

Betfury.io

| Month | Bets | Won | Lost | Push | Staked | Profit BTC | ROI |
| --- | --- | --- | --- | --- | --- | --- | --- |
| 2021 | 4 | 1 | 2 | 1 | 0.0250 | -0.002845 | -11.38% |
| 2020 | 1 | 1 | 0 | 0 | 0.0100 | +0.01271 | +127% |
| 2019 | 59 | 24 | 27 | 5 | 0.5900 | -0.02199 | -3.7% |
| 2018 | 136 | 65 | 64 | 7 | 1.233 | +0.112687 | +9.14% |
| 2017 | 70 | 34 | 34 | 2 | 0.658 | +0.006912 | +1.05% |
| Total | 270 | 125 | 127 | 15 | 2.516 | +0.107474 | +4.27% |
---
---