Jupiler League Week 3 Sunday Previews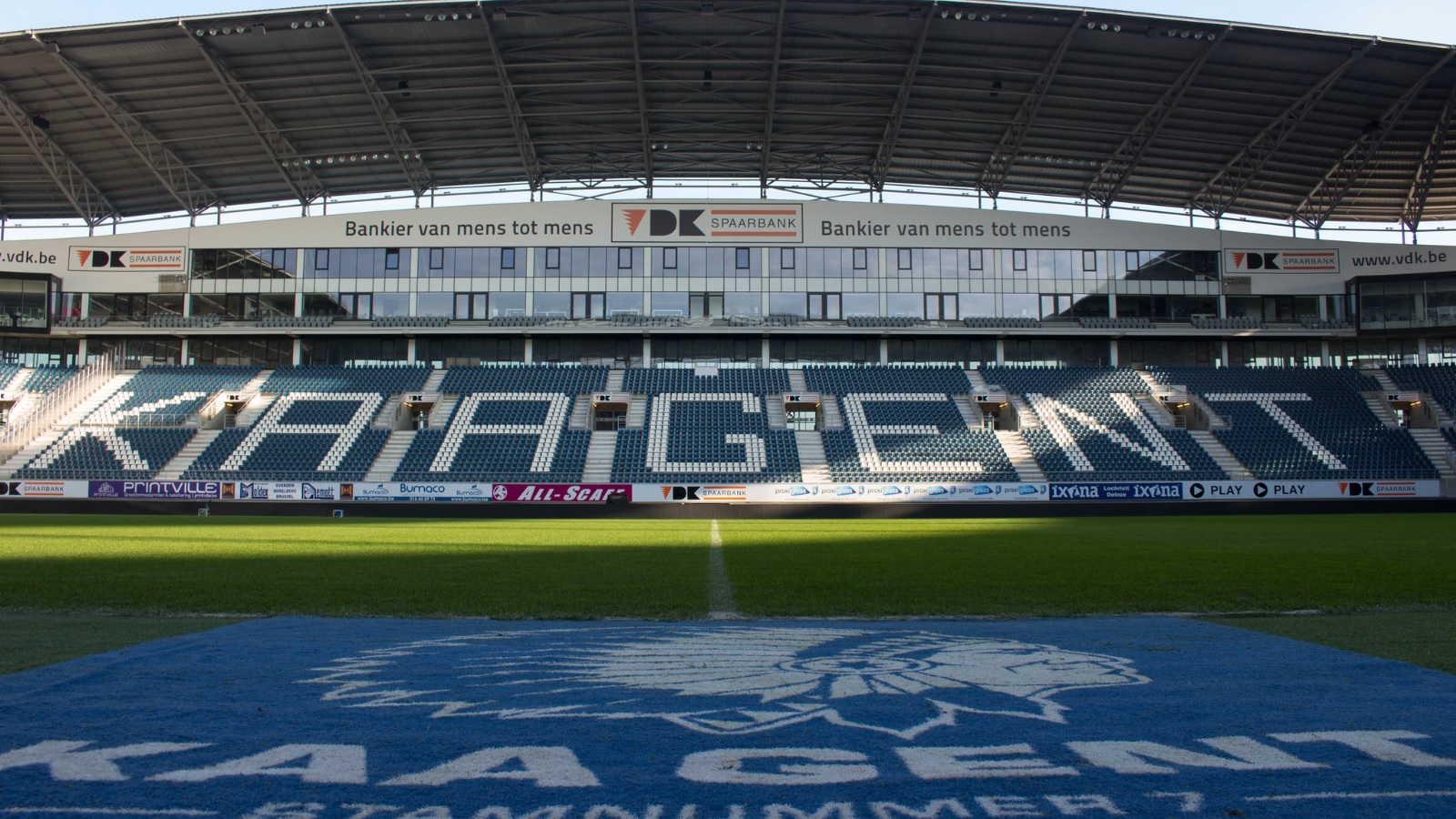 These are previews from matches involving Belgian Teams with all the latest on team news, player form, injuries along with my personal betting angles, ...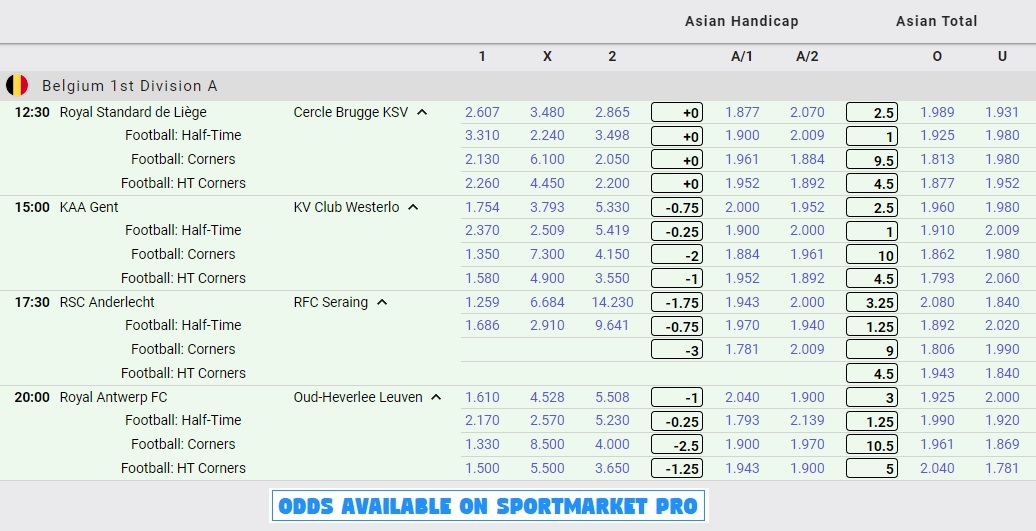 It was a solid Saturday with only 1 lost bet because of a goal in minute 96'. Overall I'm in a good flow (lucky streak) but I'm still having problems to really pull the trigger on bigger bets. Maybe in one of the 4 matches today I will succeed in this...
---
Standard vs Cercle Brugge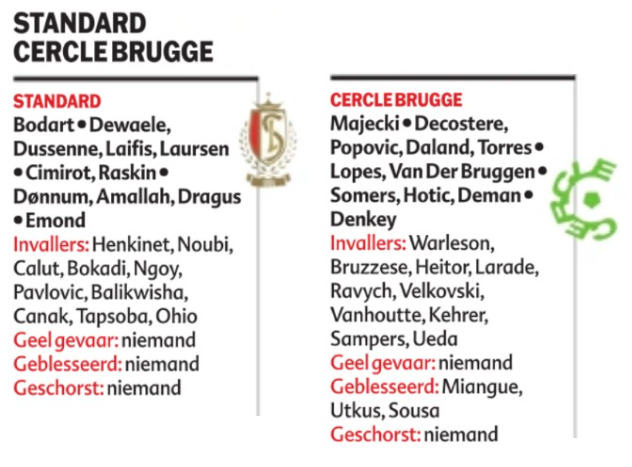 Standard so far has been quite respectable taking a rather lucky draw at home against AA Gent after getting a red card already in minute 15'. Last week they lost 3-1 away in Genk which is just a better team. Overall they have been not good enough but also not horrible and they certainly have some fighting spirit in them with their fans still standing behind them. So I would say they are not as bad as last season but nowhere close to their glory days of being a top team and their odds also much more reflect that these days. Cercle Brugge lost to Westerlo in week 1 after getting a red ward in the 1st half and they clearly missed Matondo on the offense. In week 2 they took a deserved 1-0 home win against Anderlecht who fell with 10 in the 1st half. I would say at the moment, Cercle Brugge is the slightly better team of the 2 and a clear home win would be more of a surprise than a clear away win. Most likely though it will be a close encounter as in the end it still remains a home match for Standard. The only real pre-game bet I was considering is Cercle +0 as the underdog or Cercle +0.25, the odds however have been going up and down on it now being quite a bit below my target. For now,
No Pre-Game Bets
---
AA Gent vs Westerlo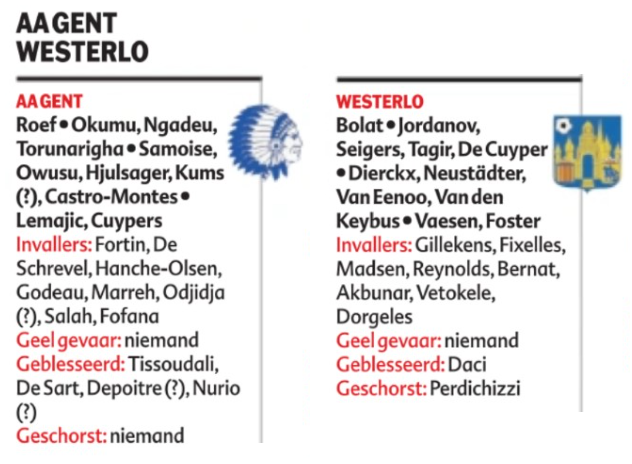 AA Gent easily could have had 6 on 6 so far this season without even playing that great but a lack in focus combined with bad luck of having the ref against them got them stranded with 2 draws. All this with some key players like Odidja, Depoitre, De Sart, & now also Tissoudali injured. I would argue that the replacement players they have are close enough to a similar quality for this not to be a major issue. Westerlo is the promoted team with potential and good players but they seem to be similarly hyped & valued to Union last year while so far they haven't really made true that promise. They won at home with 2-0 against Cercle who played with 10 most of the match and they ended up losing away against OH Leuven who I don't even rate that high. In a similar fashion to last week, I'm taking the high odds gamble of a clean home win which was a bet that easily could have won. 0.2 units on
AA Gent -1.5 @ 3.039
is the initial bet I took along with 0.1 unit on
AA Gent 1H -0.25 @ 1.890
and I will be looking to add to these positions. AA Gent team total over is also an option and I took a tiny beer bet on
Lemajic to score @ 2.75
. He will be their main deep striker replacing injured Tissoudali.
---
Anderlecht vs Seraing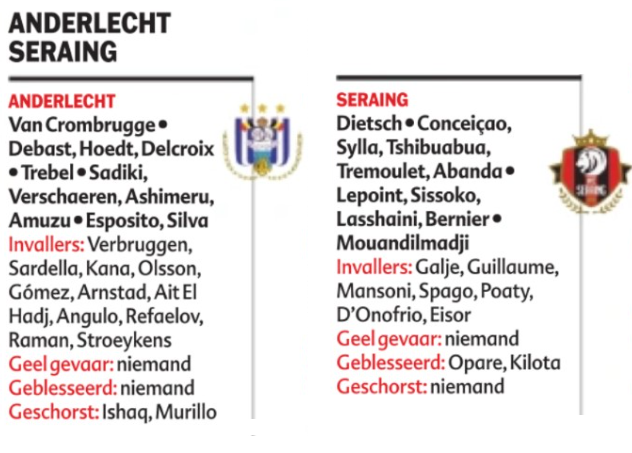 Seraing so far has looked like the worst team in the league. In their first match away against Zulte-Waregem, they put everything on the defense which eventually got them a 2-0 loss as they only had 2 attempts with 0 on target. in the 2nd match against Kortrijk they hit the post and also missed a penalty early on soon after to get the 11 vs 10 advantage as Kortrijk got a red card. The pace was out of the match afterward as Kortrijk focused on the defense and Seraing having no answers even getting 0-1 behind early in the 2nd half against play which stayed the final score. So overall it's just not enough what Seraing has shown. Anderlecht nowadays under Mazzu switched to being a results-oriented counter-style team. They have potential in their team but so far have not impressed yet with a 2-0 win at home against Oostende and a deserved 1-0 loss against Cercle where they played with 10 most of the match. They did have a mid-week travel taking an easy straightforward win against Paide with another match coming on Thursday. The way I see this match playing out is for Seraing once again building a wall which eventually Anderlecht should be able to break. Most likely they will go in energy conservation mode and likely once again get counter opportunities late in the match. Betting Anderlecht is the only real option even though I'm not fully convinced on them. Generally, I put lines in matches like this at -1.5 @ 1.80-1.85 range as acceptable and it is just below that. Anderlecht on the corner handicap in the 1st half is an option I will look at (Zulte was 7-0 in their match against Seraing). I'm also leaning toward the under but if the lock gets broken early on it easily could become a big score. Basically, I have no rush to getting into this match and will wait both for confirmation and better lines at the risk of missing out.
No Pre-Game Bets
---
Antwerp vs OH Leuven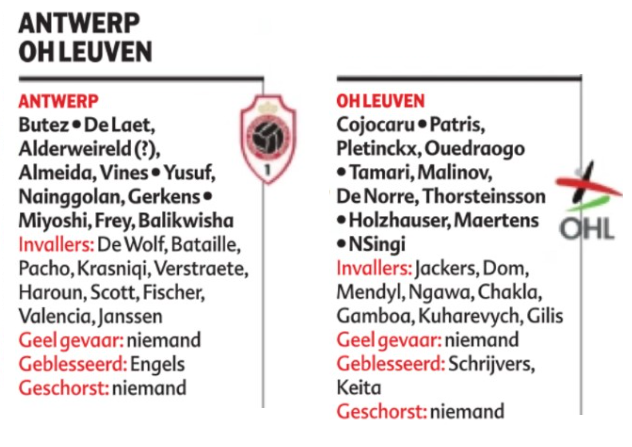 Antwerp so far this season I would say has been more smart than impressive. They had difficulties against the Drita defense in the conference qualifier match still winning over 2 legs just because the massive gap in budget, they won with 0-2 against Mechelen who were pretty poor, They took a narrow 1-0 at home against Zulte in a match of 2 halves where they only were slight better in the 2nd where Zulte also got a red card. They put up a solid but not spectacular performance now in the mid-week against Lillestrom winning 1-3 where some players started to have cramps near the end. Fatigie for sure might be a factor in this match. OHL also took 6 on 6 even though they did not seem fully ready with their homework yet lacking real strikers. They were outplayed in the 1st half away against Kortrijk but kept it at 0-0 and recovered in the 2nd half taking a deserved win over 90 minutes. Against Westerlo at home, they scored the 1-0 early to afterward be more dangerous on counters which turned into a 2-0 win. Overall I would say they have been generously rewarded with 6 points and I don't see them as a contender for Playoff 1 or even as a possible revelation this season. However the good streak potentially could continue as Antwerp yet has to reach their best form and might have fatigue issues. Fact is that Antwerp just has superior quality which still makes me lean toward them. Not enough to take it up as a bet so
No pre-Game Bets
---
Late info might change my view on what is written in these previews. I will cover these matches live in our SBC Discord Channel..
---

I take all my Pre-Game & Live bets with my Betting Broker Sportmarket Pro who always provides the best offers on the market with a 1 click solution and doesn't limit winning players offering high limits. For more info check my Sportmarket Pro Review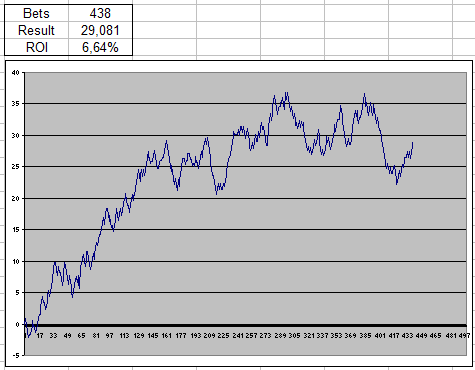 I share many of my pre-game bets in all my preview posts as bold selections which are all counted as 1 unit flat bets. See these just as info and not as actual betting advice. If you do make sure to shop around for the best odds.So far this season, I had 16 of these bets good for +5.67 units profit or +35.44% ROI. This brings the total at 438 bets for +29.081 units and +6.64% ROI since the 2020-2021 Season.
---
Season 2022-2023 Crypto Bets
| Date | Bet | Stake | Odds | Result | Bookie |
| --- | --- | --- | --- | --- | --- |
| 14/08/2022 | ZWA vs GNK O 3.25 | 500 TRX | 2.400 | TBD | Wink |
| 14/08/2022 | Genk -0.5 | 1000 TRX | 1.790 | TBD | Wink |
| 06/08/2022 | Genk -1 | 0.005 BTC | 1.800 | +0.004 BTC | sportbet.one |
| 31/07/2022 | Genk -0.75 | 1000 TRX | 1.700 | +700 TRX | Wink |
| 24/07/2022 | KVM vs ANT O2.5 | 60 USDC | 1.663 | -60 USDC | sx.bet |
| 23/07/2022 | CHA vs EUP U3 | 0.002 BTC | 1.810 | -0.002 BTC | sportbet.one |
| 23/07/2022 | ZWA +0 CK | 700 TRX | 1.800 | +560 TRX | Wink |
---
Crypto & Blockchain-Based Bookies and Exchanges that I'm personally using as they allow anonymous betting with no KYC or personal restrictions...
---
Previous Crypto Bet Results & Record
| Year | Bets | Won | Lost | Push | Staked | Profit BTC | ROI |
| --- | --- | --- | --- | --- | --- | --- | --- |
| 2022 | 56 | 27 | 25 | 4 | 0.115 | +0.0166 | +14.45% |
| 2021 | 4 | 1 | 2 | 1 | 0.0250 | -0.002845 | -11.38% |
| 2020 | 1 | 1 | 0 | 0 | 0.0100 | +0.01271 | +127% |
| 2019 | 59 | 24 | 27 | 5 | 0.5900 | -0.02199 | -3.7% |
| 2018 | 136 | 65 | 64 | 7 | 1.233 | +0.112687 | +9.14% |
| 2017 | 70 | 34 | 34 | 2 | 0.658 | +0.006912 | +1.05% |
| Total | 326 | 152 | 152 | 19 | 2.631 | +0.124074 | +4.72% |
---
---