Jupiler League Week 4 Sunday Previews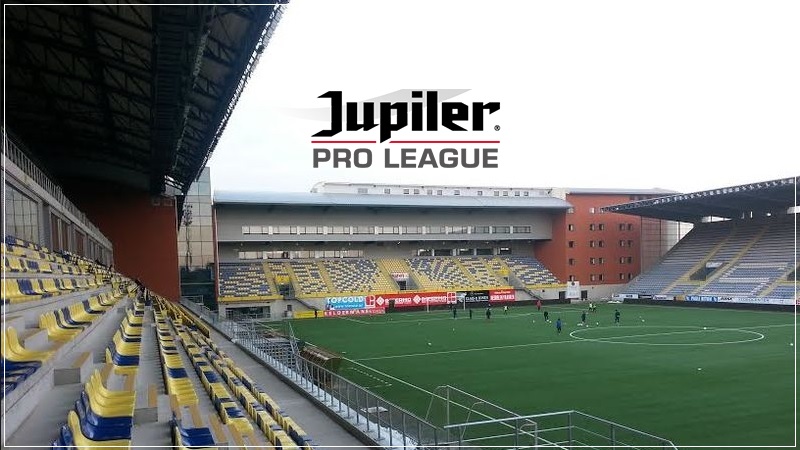 These are previews from matches involving Belgian Teams with all the latest on team news, player form, injuries along with my personal betting angles, ...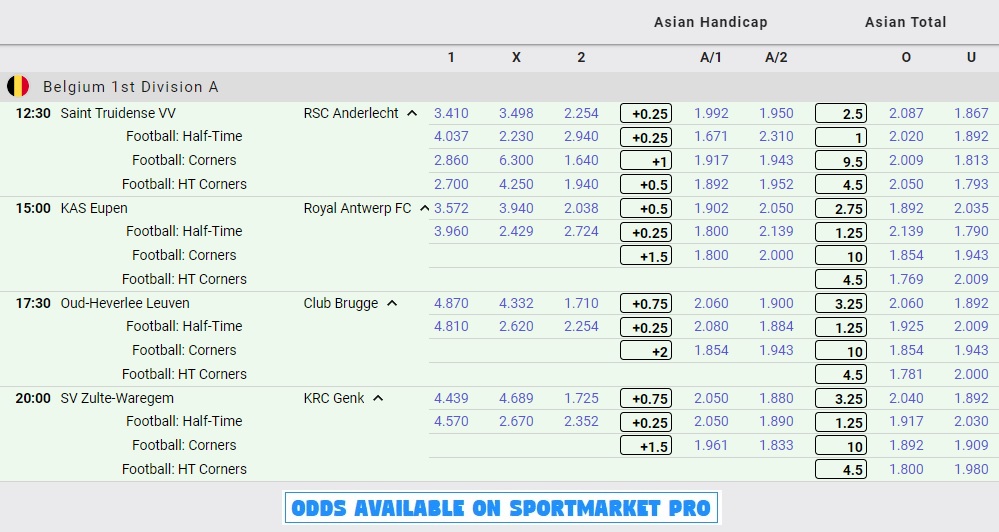 None of the 4 pre-game selections yesterday ended up a loser but I still ended up making a -0.26 unit loss overall on Saturday in one of those days where things could have gone much better or much worse depending in 1 single goal going in or not. It's the long-term that counts so I'm back today with more betting action to build that overall volume evening out any kind of luck.
---
Sint-Truiden vs Anderlecht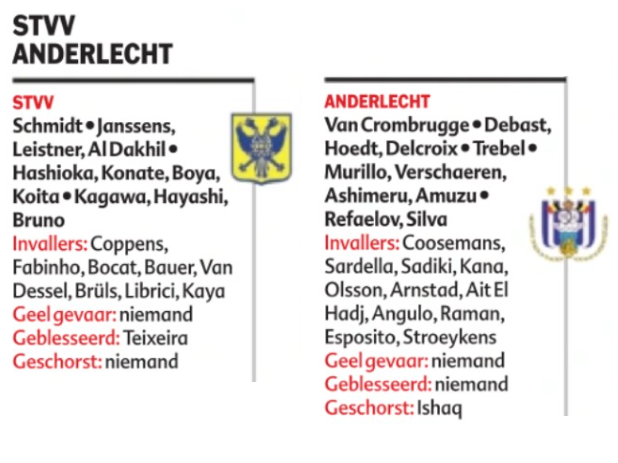 Anderlecht feels very similar to last season where overall they don't have enough sheer quality to really be a contender and they are very unpredictable in their performances. They are capable of the worst just not creating anything at all or the best especially after scoring the first goal which often opens the flood gates for more goals to come. This was also seens in the mid-week European match where Silva & Refaelov came in and made the difference in the 2nd half after a really poor 1st half where they gave too much away. So Anderlecht right now is a bit of a guessing game and I don't trust them before I see them play. Stvv is a team with good potential who brought good energy in their first match at home against Union especially in the 1st half and the match ended in a 1-1 fair result. They got rather lucky away against Gent to go home with a point and didn't give anything away or create much against the away 0-0 vs Kortrijk last week. So 3 draws gets them at only 3 points and in 17th place. I wouldn't be surprised with both scenarios where Stvv overall is the better team in the match or if it turned into a win for Anderlecht. My gut feeling says there is/was value on Stvv and that sharp money will hit it which is why I took a 0.1 unit bet on
Sint-Truiden +0.5 @ 1.837
yesterday evening (now 1.728). I also took 0.167 units on
Sint-Truiden 1st Half +0.5 Corners @ 1.880
and 0.08 units on
Sint-Truiden +1 Corners @ 1.900
. Anderlecht in their previous away match against cercle lost their corner matchup with 8-1. Stvv did go 0-5 previously at home but a lot was because they took the lead against a better team. They did win both their away corner matchups.
---
Eupen vs Antwerp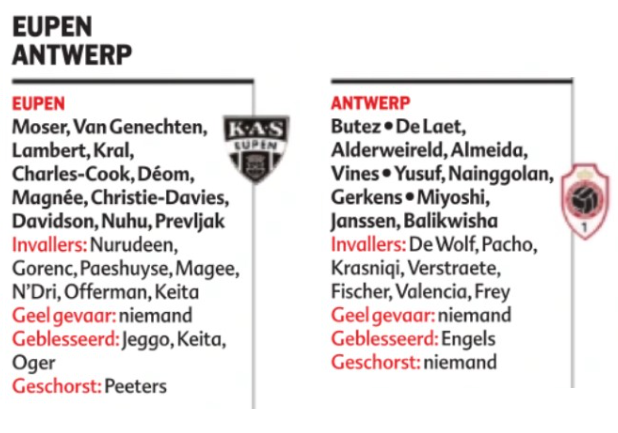 Antwerp has taken 9 on 9 this season and have been growing in their overall from. They have a wide bench with a lot of quality so fatigue should not he the issue after having played many matches yet. They have shown good defense and are experienced being able to make a match dead when it's needed in the last 20 minutes. They do have an important match coming up next Thursday and the question remains how much this will already be in their head. Eupen showed not good enough away against Charleroi (who turned out not to be that great), the played an excellent how match showing willingness to go forward winning deserved with 1-0 against Club Brugge. Last week against Genk they lost 4-2 in the end never really being shaken up after getting behind. Key Player Peeters also got 2 yellow cards and will be suspended today. I understand how Eupen gets a lot of credit based on their strong home match against Club Brugge, but at the same time, they are missing Peeters, were not that good against Charleroi and showed vulnerability in their defense and leading the standings on the number of attempts on target they get against. They do play with nothing to lose which makes them an over team but I still hesitate since Antwerp has been solid in defense. I was looking to take a big bet on Antwerp -0.25 @ 1.800 but the odds dropped to 1.7 while making up my mind during the writing of this preview. Instead I spread my bets taking
Antwerp Team Total Over 1.5 @ 1.800
(I also took this as a crypto bet for 0.002 BTC @ 1.810 odds over at
sportbet.one
), I also took 0.1 unit on
Antwerp -0.25 @ 1.709
& 0.1 unit on
-Antwerp 1st Half @ 2.073
. I'm leaving plenty of firepower to potentially do some more live bets.
---
OH Leuven vs Club Brugge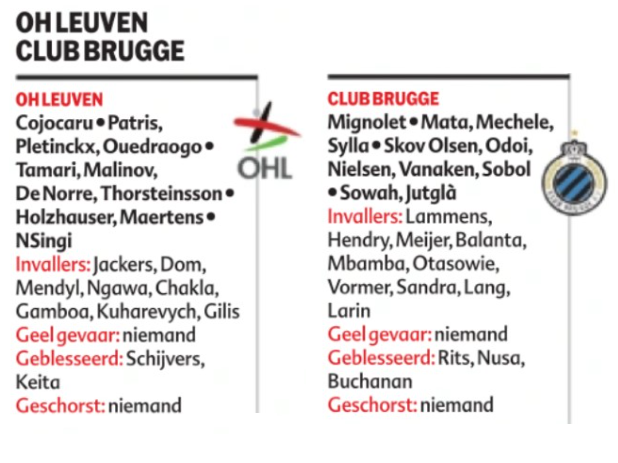 Club Brugge so far this season has been the top team that has not reached their potential just playing plain bad most times with no idea behind it all. They are 1W-2L in their Asian handicaps with luck against Genk. OHL on the other hand has been one of the surprise teams despite not seeming to be ready yet and lacking strikers. They took a 0-1 narrow away win against kortrijk after a poor 1st half but a good 2nd half. They took a 2-0 win against Westerlo at home showing that they are dangerous on counter after getting 1-0 lead early on out of nowhere. Last week they played a good first half and took a deserved 0-1 lead in minute 26' but were unable to keep this against Antwerp who were overall just the better team. So the question today mostly comes down to what Club Brugge will show up. The odds are just slightly short for me to really oppose Club Brugge. OHL +1 @ 1.80 is the bet that I would be willing to take a 0.3-0.4 unit gamble on. Now I'm just sticking with 0.15 units on
OHL +1 @ 1.760
and I will stick to just that pre-game.
---
Zulte-Waregem vs Racing Genk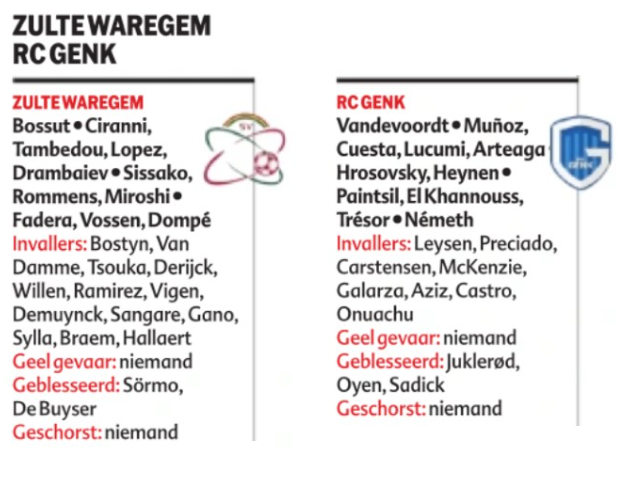 Racing Genk has been the team stat stood out so far this season and Vrancken has done an excellent job so far getting in the winning mentality in his team. I didn't hesitate to take bets on
Genk -0.5 @ 1.840
for 0.3 units &
Genk 1st Half -0.25 @ 1.990
for 0.2 units early on just blindly backing what I see as an underrated team in a great flow. Right now, the odds sit at 1.735 & 1.890 but also their best scoring striker Dessers left the team this week. After Bongonda & Ito already leaving this might be the player too much also because Onuachu has not played for a while and likely will start on the bench while Oyen got injured for a couple months. So far the other players like El Khannouss, Tresor, Paintsill have stepped up and showed good replacements. Zulte-Waregem was a relagation candidate at the start of the league but their new coach Leye also has done excellent work bringing that fighting spirit back in the team. They showed enthusiasm in the 1st home match against a very defensive Seraing winning 1-0, Followed that up by a narrow 1-0 loss against Antwerp playing just ok and taking a 1-1 draw last weekend in Club Brugge in what was an open match. I rate this team as good against poor opponents but just not good enough against top teams that are in form regardless if it's a home or away match. I also took crypto bets for 1000 TRX on Genk -0.5 @ 1.790 & 500 TRX on Over 3.25 @ 2.400 both on
Wink.org
. For now, I will keep it at what I took early and look for potential more in-game entries.
---
Late info might change my view on what is written in these previews. I will cover these matches live in our SBC Discord Channel..
---

I take all my Pre-Game & Live bets with my Betting Broker Sportmarket Pro who always provides the best offers on the market with a 1 click solution and doesn't limit winning players offering high limits. For more info check my Sportmarket Pro Review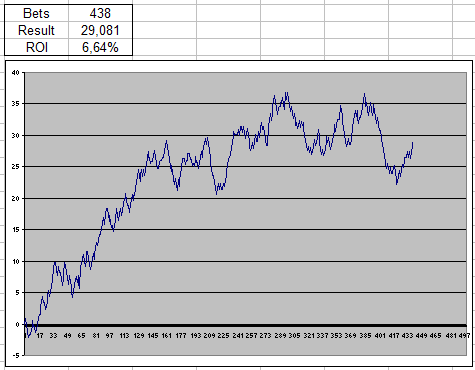 I share many of my pre-game bets in all my preview posts as bold selections which are all counted as 1 unit flat bets. See these just as info and not as actual betting advice. If you do make sure to shop around for the best odds.So far this season, I had 16 of these bets good for +5.67 units profit or +35.44% ROI. This brings the total at 438 bets for +29.081 units and +6.64% ROI since the 2020-2021 Season.
---
Season 2022-2023 Crypto Bets
| Date | Bet | Stake | Odds | Result | Bookie |
| --- | --- | --- | --- | --- | --- |
| 19/08/2022 | Eupen -0.5 | 1000 TRX | 1.800 | TBD | Wink |
| 14/08/2022 | ZWA vs GNK O 3.25 | 500 TRX | 2.400 | TBD | Wink |
| 14/08/2022 | Genk -0.5 | 1000 TRX | 1.790 | TBD | Wink |
| 14/08/2022 | Antwerp TT O1.5 | 0.002 BTC | 1.810 | TBD | sportbet.one |
| 13/08/2022 | Charleroi -0.5 | 1000 TRX | 1.960 | +900 TRX | Wink |
| 06/08/2022 | Genk -1 | 0.005 BTC | 1.800 | +0.004 BTC | sportbet.one |
| 31/07/2022 | Genk -0.75 | 1000 TRX | 1.700 | +700 TRX | Wink |
| 24/07/2022 | KVM vs ANT O2.5 | 60 USDC | 1.663 | -60 USDC | sx.bet |
| 23/07/2022 | CHA vs EUP U3 | 0.002 BTC | 1.810 | -0.002 BTC | sportbet.one |
| 23/07/2022 | ZWA +0 CK | 700 TRX | 1.800 | +560 TRX | Wink |
---
Crypto & Blockchain-Based Bookies and Exchanges that I'm personally using as they allow anonymous betting with no KYC or personal restrictions...
---
Previous Crypto Bet Results & Record
| Year | Bets | Won | Lost | Push | Staked | Profit BTC | ROI |
| --- | --- | --- | --- | --- | --- | --- | --- |
| 2021-2022 | 56 | 27 | 25 | 4 | 0.115 | +0.0166 | +14.45% |
| 2020-2021 | 4 | 1 | 2 | 1 | 0.0250 | -0.002845 | -11.38% |
| 2019-2020 | 1 | 1 | 0 | 0 | 0.0100 | +0.01271 | +127% |
| 2018-2019 | 59 | 24 | 27 | 5 | 0.5900 | -0.02199 | -3.7% |
| 2017-2018 | 136 | 65 | 64 | 7 | 1.233 | +0.112687 | +9.14% |
| 2016-2017 | 70 | 34 | 34 | 2 | 0.658 | +0.006912 | +1.05% |
| Total | 326 | 152 | 152 | 19 | 2.631 | +0.124074 | +4.72% |
---
---