Sorare Limited Player Buying Spree!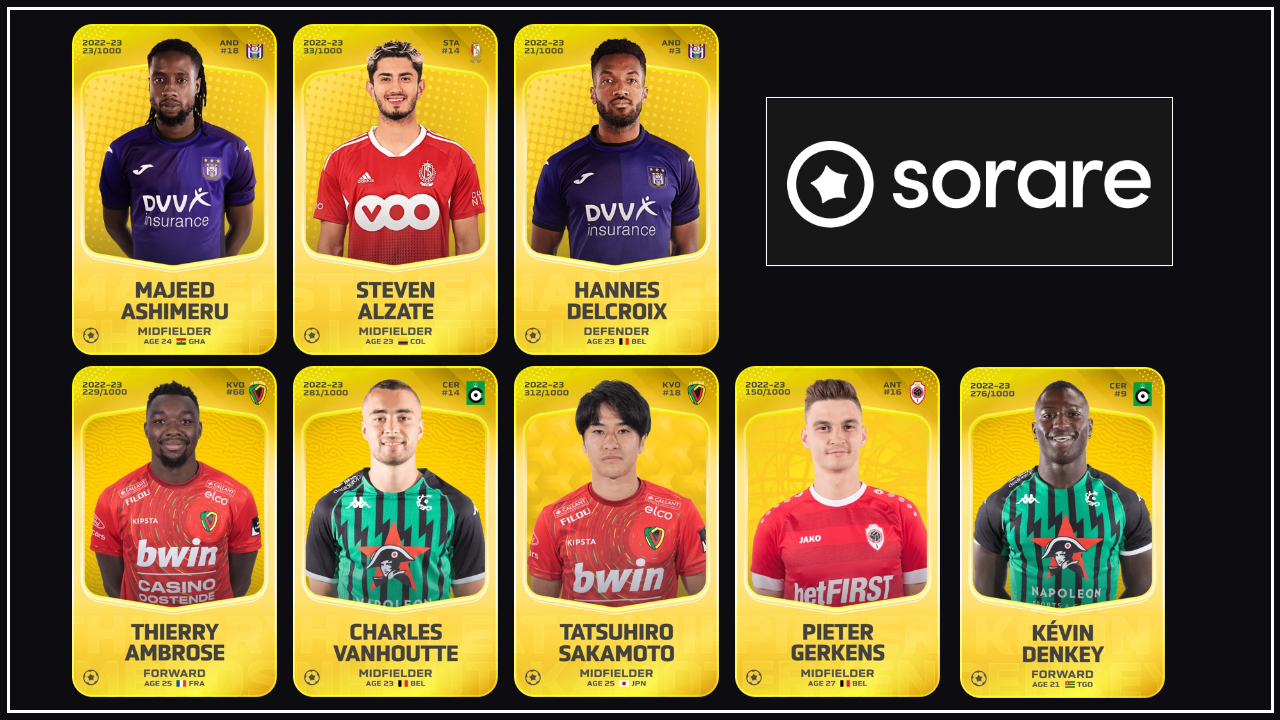 I haver enjoyed Sorare.com a lot this season despite making an overall loss on what I put in so far. With the current prices feeling just too low, I went on somewhat of a buying Spree picking up what I believe are too cheap players with an eye on next season already.
---
I guess one of the reasons card prices are low is because there in uncertainty around players for next season while the current batch of cards will see the bonus slashed by 5% once the new cards are released. If anything it helps to have a wide collection so it's possible to enter in multiple competitions and have more optimal choices available. At the current prices, I don't mind so far and these are the ones I bought...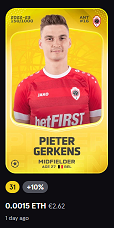 Gerkens
was at the end of his contract for Antwerp where he occasionally played and he went for free to AA Gent where he will likely get play time under Vanhaezebroeck who is his former coach in Anderlecht. 2.62€ is what I paid.
---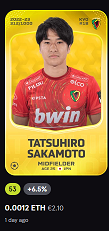 Sakamoto
is one of the better players from relegated Oostende team along with Ambrose, Batzner & D'Arpino who likely will find new teams. There is interest for him from teams like AA Gent and others which is why I picked him up for 2.10€.
---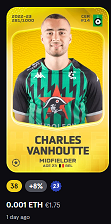 Charles Vanhoutte
is a player from Cercle Brugge who despite not having the best average scores on Sorare has sparked interest from multiple Belgian teams also and I picked him up for 1.75€
---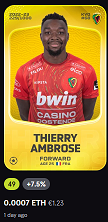 Ambrose
is also one of the better players from relegated Oostende regularly putting up great individual scores. He wasn't happy with coach Talhammer and vocal about it to the point where he didn't play in the last 3 matches. I would be surprised if he stayed in 2nd division with Oostende. Just 1.23€ is worth that gamble.
---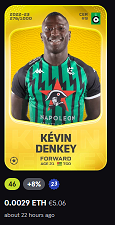 Kevin Denkey
is one of the players that I was missing last season for my Under 23 team as both Koita and Gueye didn't always play or had a good season and Jutlga next season will no longer qualify for Under 23. He is a strong striker who plays most matches and scores on a regular basis so I didn't mind paying 5.06€ to have him as an option next season.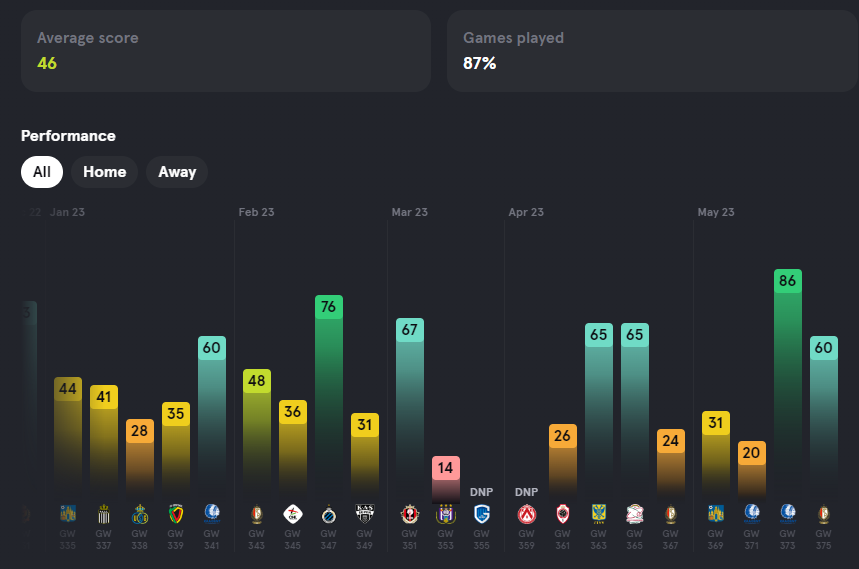 ---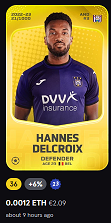 Delcroix
is a played that was injured for a while but he is considered a talent in Anderlecht who can expect a spot in the A-Squad if he is fit. This Limited card used to sell for a whopping 100€+ while right now it was just 2.09€ to own him which is 98% cheaper with some potential for price increase if he becomes a starting player in Anderlecht. He also still is young but no longer qualifies for Under 23.

---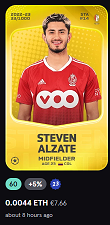 Alzate
was by far one of the better players on loan from Brighton. His coach Deila was transferred to Club Brugge and getting Alzate on his team seems to be one of the first priorities as he clearly was impressed. This is one of the more 'expensive' players at 7.66€ but with the potential to become a 'star' player in my teams scoring plenty of points. His average score in the last 15 matches was a whopping 60.
---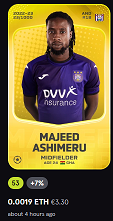 Ashimeru
has been one of the better players in Anderlecht always scoring good points when he's fit and playing. He is another one of those players who used to be unaffordable at 100€+ but now going for 3.30€ which feels like a steal.
---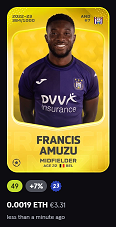 Amuzu
at times showed really good things for Anderlecht and also started scoring as a midfielder. He for sure is one of the players that has the potential to make progress and have a great season next year. At 3.31€ it is another player worth the gamble.
---
Conclusion
Without really seeing it as an investment and more as something for fun and potential at price increase, I picked up 9 more players for my Sorare collection playing under 30€ for them combined while multiple of these cards as singles used to go for 100€+ in the past. I already look forward to putting them to use and will likely continue my buying Spree also starting to pick up my first Rare cards hopefully soon. Those interested trying out Sorare feel free to use my Link to join as it will give you a free card when you are building your first team.
Play2Earn Games I'm Playing...
---
Crypto & Blockchain-Based Bookies and Exchanges that I'm personally using as they allow anonymous betting with no KYC or personal restrictions...
---
---
---