Anyway, the first block reduction came to CUB ... worried? Not at all | + My weekly progress
This post can also be read in Portuguese
Hello Lions!
Without a doubt last week was very hectic and exciting for many lions, we had the airdrop CUB that was already eagerly awaited by the whole community, the big launch of CubDeFi and literally LeoFinance's big entry into the DeFi universe through CubFinance.
With the promise of several services and advertising jobs to come, recently announced by @leofinance as LeoBridge, audits to ensure security and credibility for Cubdefi.com, burns for CUB and bLEO. there is no lion that is not excited about the next few weeks.
Today, as expected and announced, we have reduced inflation from 3 CUB to 2 CUB. The impression in this case will decrease substantially and for us this will result in less CUB for our pocket. This is equivalent to 33% less CUB per day and next week we will have the last block reduction and until this concept changes.
Note: Week 1 starts on March 8 (launch day) and ends on March 15. The emission rate is reduced on the 15th to 2 tokens / block until the following week, when it drops to 1 CUB / block.
Emission Rate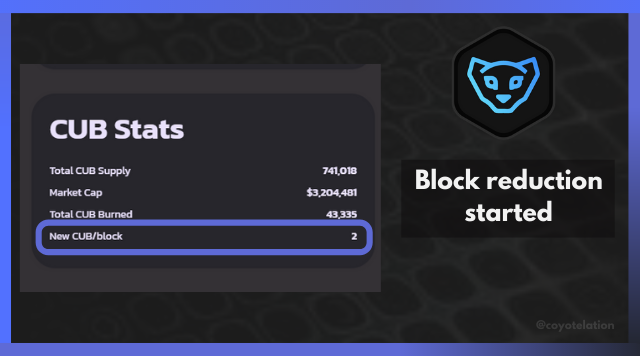 Source
As expected, we also started to notice a reduction in the APR of farms and Dens, nothing to worry about, because even though the APR% may decrease every day, we can still obtain excellent yields. And to be honest, as this is the first time that I'm experiencing DeFi up close, I never imagined that this type of investment has an insanely high return.
Gradually I am beginning to understand strategies and avoid certain unnecessary risks, because as we know this type of investment has a very high degree of risk, but as we are talking about LeoFinance that has been in blockcahin for 2 years, we know very well that who is behind the CubFinance are good-natured and responsible people.
That is why CUB has everything to work out because we have a united community with diamond hands. After the audits, we will have more credibility and other DeFi platforms are already in talks with Khal so that CUB can be listed on them.
Anyway, for those who thought that the price of CUB could suffer some drop to $3 ... $2 or thought of taking advantage of some promotion, did not succeed ...

Goswapp-bsc.web.app
---
My progress of the week
Hello my dear readers. We all saw a great movement for both HIVE and LEO and the next few weeks promise a lot of cool things. So let's see how my activities from last week went.
Well, for those who don't know, my author and curator rewards HIVE and LEO use the Hivestats.io app, a great tool created by LeoFinance and those who don't know I suggest you take a look because it will be very worthwhile.
The model will be the same practiced at other times. To stay registered, I currently have:
2,105.319 HP*
11,836.58 LP
*Just to inform you that 500 HP are delegated for the curatorial projects, 300 HP for @leo.voter and 200 HP for @ctpsb. I intend to increase this number as my account grows and I started with only 100 HP. Well, this is a breakthrough.
According to HiveStats I obtained the following gains:

In the last 7 days we can see in the top image in red I managed to win:
Curation: 1.74 HP
Author: 77.59 HP / 26.54 HBD
Total: US$ 60.05
Even though HIVE is now worth $0.358 it will not take the hivers out of us as it is very close to its first anniversary and many projects and airdrops are on the way. We recently saw HIVE at $0.41 so let's keep our focus on accumulating as much as we can.
I am very happy with the amount of HIVE I am accumulating and stacking, if I continue like this I may be able to reach Dophin before my birthday (in September). Exciting days are on the way.
Below the orange image is my progress in LEO over the past week, let's see how much I managed to win:
Curation: $38.52
Author: 175.93 LEO
Total: US$190.36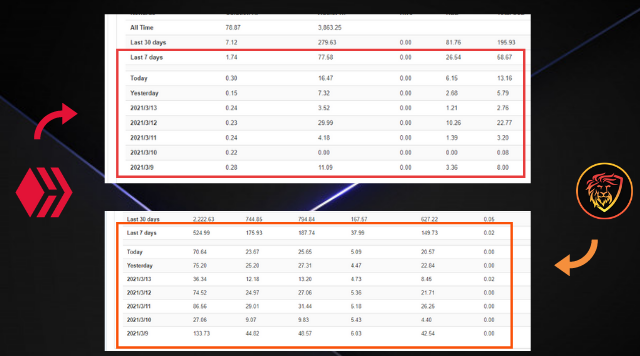 To our happiness, lately the price of LEO is holding steady in the $ 1 range, I noticed something very curious in HiveStats when researching my progress of the week, the amount I received
of author does not correspond with what it could really be worth.
**In these numbers I see it is as if LEO is quoted at $0.835 and in fact, according to LeoDex LEO is currently worth $1.06. So in theory My 175.93 LEO is worth $186.48. Well, if I'm wrong I apologize for my mistake, I'm not a math master lol
I hope Khal can understand this, I will be going to Discord soon to see if HiveStats is following the LEO price automatically. But this is not a problem, just do the calculations yourself and you find what you are looking for.
Adding up all the gains this week was $285.05! WOW! It is the first time that I have come much closer at almost $300. This is impressive to me. With the appreciation of LEO and also HIVE, I believe that from now on I will have levels never imagined by me.
This is what encryption offers us. HIVE gave me the opportunity to grow up here and LeoFinance hugged me as a member of his family. That is why I am always motivated to continue dedicating myself, as all our efforts are rewarded.
My target will be to earn US $ 100 a week and in Brazil where I live it is a lot of money if we compare it to what we receive from the minimum wage here. That's why I think LeoFinance is the ideal place for everyone to achieve their big dreams. There is room for everyone here.
Source
Thanks to everyone who supports me by voting for my posts. I will continue with my work on new articles, on curation too and of course, on the Coyote League.
Well, now it's trying to get better and better. Thanks for reading and even more!




Until the next weekly report and maintain the focus and dedication that one day will be noticed within the community.
PS: This is just a personal opinion and should not be taken to any kind of professional analysis to take certain investment attitudes as the basis for this post. Any decision must be made exclusively by you.

Versão em português
Olá Leões!
Sem dúvidas a semana passada foi muito agitada e emocionante para muitos leões, tivemos o airdrop CUB que já era esperado ansiosamente por toda a comunidade, o grande lançamento do CubDeFi e literalmente a grande entrada da LeoFinance para o universo DeFi através do CubFinance.
Com a promessa de vários serviços e trabalhos de publicidade que virão, anunciado recentemente pela @leofinance como o LeoBridge, auditorias para garantir a segurança e credibilidade para o Cubdefi.com, queimas para CUB e bLEO. não existe nenhum leão que não esteja empolgado com as próximas semanas.
Hoje como esperado e anunciado, tivemos a redução da inflação de 3 CUB para 2 CUB. A impressão nesse caso irá diminuir substancialmente e para nós isso irá trazer como consequência menos CUB para o nosso bolso. Isso equivale a 33% a menos CUB por dia e na próxima semana teremos a ultima redução de bloco e até que mudem esse conceito.
Observação: a semana 1 começa em 8 de março (dia do lançamento) e termina em 15 de março. A taxa de emissões é reduzida no dia 15 para 2 tokens / bloco até a semana seguinte, quando cai para 1 CUB / bloco.
Emission Rate
Como já era esperado, começamos a perceber também uma redução no APR das farms e Dens, nada que isso seja motivo para se preocupar, pois mesmo que a cada dia a % do APR possa diminuir, ainda podemos obter excelentes rendimentos. E sendo sincero, como é a primeira vez que estou vivenciando o DeFi de perto, nunca imaginei que esse tipo de investimento têm um rendimento insanamente alto.
Aos poucos estou começando a compreender estratégias e evitar certos riscos desnecessários, pois como sabemos esse tipo de investimento tem um grau bem alto de risco mas como estamos falando da LeoFinance que está no blockcahin há 2 anos, sabemos muito bem que quem está por trás da CubFinance são pessoas de boa índole e responsáveis.
É por isso que CUB tem tudo para dá certo pois temos uma comunidade unida e com mãos de diamante. Após as auditorias, teremos mais credibilidade e outras plataformas DeFi já estão em conversas com Khal para que CUB possa ser listada nelas.
Enfim, para quem achou que o preço de CUB poderia sofrer alguma queda para $3... $2 ou pensou em aproveitar alguma promoção, não conseguiu...
Meu progresso da semana
Olá meus queridos leitores. Todos vimos uma grande movimentação tanto para HIVE quanto para LEO e as próximas semanas prometem muita coisa legal. Então vamos ver como foi minhas atividades da semana passada.
Bem, para quem não sabe, minhas recompensas de autor e curadoria HIVE e LEO utilizo o app Hivestats.io, uma ótima ferramenta criado pela LeoFinance e quem não conhece eu sugiro que dê alguma olhada pois vai valer muito a pena.
O modelo será o mesmo praticado nas outras vezes. Para ficar registrado, atualmente possuo:
2,105.323 HP*
11,836.58 LP
*Só para informar que 500 HP estão delegados para os projetos de curadoria sendo 300 HP para @leo.voter e 200 HP para @ctpsb. Pretendo aumentar esse número conforme minha conta cresce e comecei apenas com 100 HP. Bem, isso é um avanço.
De acordo com HiveStats obtive os seguintes ganhos:
Nos ultimos 7 dias podemos observar na imagem da parte de cima na cor vermelha consegui ganhar:
Curadoria: 1.74 HP
Autor: 77.59 HP / 26.54 HBD
Total: US$60.05
Mesmo HIVE valendo agora $0.358 isso não vai tirar o ânimo de nós hivers pois está bem perto do seu primeiro aniversário e muitos projetos e airdrops estão a caminho. Recentemente vimos HIVE a $0.41 então, vamos mantes nosso foco em acumular ao máximo que pudermos.
Estou bem feliz pela quantidade de HIVE que estou acumulando e empilhando, se eu continuar assim talvez eu consiga chegar a Dophin antes de meu aniversário (em setembro). Dias emocionantes estão a caminho.
Abaixo da imagem na cor laranja é o meu progresso em LEO durante a semana passada, vamos ver quanto consegui ganhar:
Curadoria: $38.52
Autor: 175.93 LEO
Total: US$190.36**
Para a nossa felicidade, ultimamente o preço do LEO está se mantendo firme na faixa de $1, percebi algo bem curioso no HiveStats ao pesquisar sobre o meu progresso da semana, a quantidade que eu recebi
de autor não corresponde com o que ele realmente poderia valer.
**Nesses números que eu vejo é como se LEO estivesse cotado a $0.835 e na verdade, de acordo com LeoDex o LEO está valendo nesse momento $1.06. Então na teoria Meus 175.93 LEO valem $186.48. Bem, caso eu esteja errado peço desculpa pelo meu equívoco, não sou mestre de matemática lol
Espero que Khal possa perceber isso, irei em breve no Discord para saber se o HiveStats está seguindo o preço LEO automaticamente. Mas isso não é um problema, basta fazer os cálculos sozinho e você encontra o que procura.
Somando todos os ganhos nesta semana foram de US$285,05! WOW! É a primeira vez que chego muito mais perto em quase $300. Isso é impressioannte para mim. Com a valorização do LEO e também do HIVE acredito que os daqui para frente terei patamares nunca imaginados por mim.
Isso é o que a criptografia nos oferece. HIVE me deu a oportunidade de crescer aqui e LeoFinance me abraçou como um membro de sua família. É por isso que sempre estou motivado a seguir me dedicando, pois todo nosso esforço é recompensado.
Meu alvo será ter ganhos de US$ 100 por semana e no Brasil onde moro é muito dinheiro se compararmos com o que recebemos de salário mínimo aqui. Por isso que acho a LeoFinance o lugar ideal para todos conseguirem conquistar seus grandes sonhos. Existe espaço para todos aqui.
Source
Obrigado a todos que me apoiam votando em meus posts. Irei continuar com o meu trabalho em novos artigos, na curadoria também e claro, no Coyote League.
Bem, agora é tentar melhorar cada vez mais. Obrigado pela leitura e até mais!
Até o próximo relatório semanal e mantenham o foco e dedicação que um dia serão notados dentro da comunidade.
PS: Essa é apenas uma opinião pessoal e não deve ser levada a nenhum tipo de análise profissional para tomar certas atitudes de investimento como base neste post. Qualquer decisão deve ser tomada unicamente exclusiva por você.

Thanks for reading so far. If you liked it, give that strength with your upvote and rate me. Feel free to leave a comment .Thanks guys!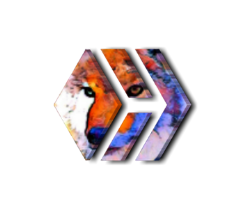 Posted Using LeoFinance Beta
---
---