20% APY Has Attracted over 40% xPolyCub into vexPolyCub - Keeping to the PolyCUB Mission Statement: safe, reliable and growing DeFi platform
Hello LeoFinance ecosystem!
This is my father's favorite statement: they said too much intake of sugar isn't good, but it's not exhausted in the market.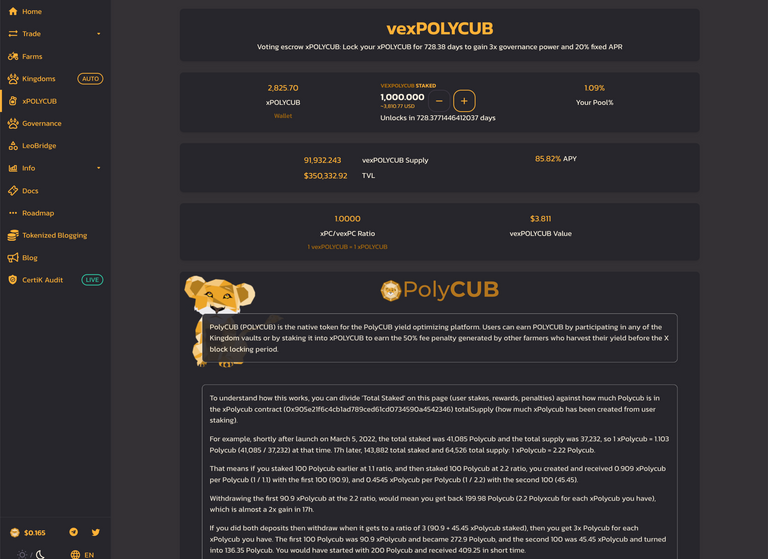 Source
Bringing the above statement into the current situation happening around the cryptoverse, one will say that the high level of risk and volatility in the cryptoglobal hasn't stopped people from investing tokens on a daily basis.
It's just about 48 hours since the launch of vexPolyCub and close to half of all xPolyCub is already locked up for two years. This is just an epitome of excellence and trust.
The PolyCUB project since inception has been maintaining a trademark of safety, reliability and growth, amidst it's current market price.
The goal of the vexPOLYCUB vault is to create a singular vault that fulfills the mission statement of PolyCUB - generate safe, reliable and growing yield for our Web3 community. By buying POLYCUB and staking it into xPOLYCUB and then locking it as vexPOLYCUB, you're signaling long-term support of the platform along with amplified Governance Power to govern what happens in the PolyCUB DAO. In return, this vault generates the most safe, reliable and growing yield on the entire platform: a 20% fixed interest APY on your POLYCUB stake... forever.Source
In keeping to the mission statement of PolyCUB, it takes the efforts of both the LeoFinance team and every Lion on the ecosystem.
As a true Lion, you have to follow the sustainability goal of the project. This has been proven with the large amount of xPolyCub that has been moved into vexPolyCub in the last 48 hours.
One statement can describe this act, PolyCUB V2 vaults have boosted the morales of most Lions, leading to more confidence in upcoming PolyCUB projects.
Although, it's obvious that many xPolyCub holders have moved their stakes into vexPolyCub because of the attractive APY (20%). Irrespective of the amount of xPolyCub moved into vexPolyCub and the intention of investing in vexPolyCub, everyone on the vexPolyCub platform is a winner, if the LeoFinance ecosystem will follow the paradigm of HBD savings.
Posted Using LeoFinance Beta
---
---