Health Dangers Facing Scavenging Hustling in Nigeria - Hustle with safety in mind
Hello Cent community!
Are you ready for my hustling content this night, it's educative, entertaining and corrective. Stay tuned as I bring you some health challenges faced by scavenging hustlers in Nigeria.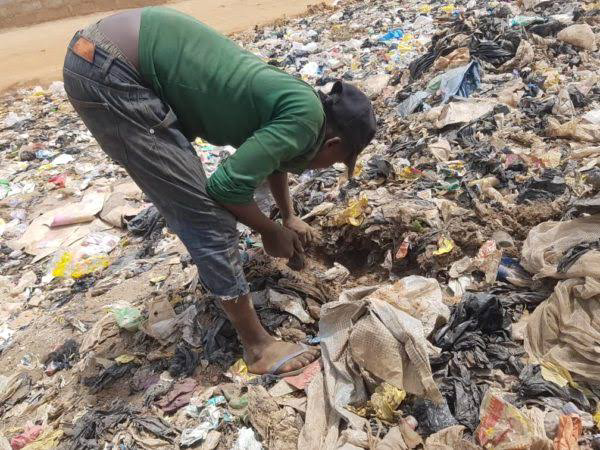 Source
2 days ago I wrote about Hustling in Nigeria: Scavengers in Nigeria are Earning a Living through picking recycling materials (metals and plastics) from waste dump sites - Man must survive and in that post I talked about how Nigerians move from one refuse dump to another in search of recycling materials in order to earn a living during this hardship expressed by majority of the Nigerian populace.
Like it's usually said health is wealth, but most scavengers hustling in Nigeria aren't bordered by the various health challenges they could face during the scavenging process.
Today's post will focus on the health challenges that majority of the scavengers face on a daily basis and how they can avoid some of them.
Scavenging reduces waste reaching the landfills while also providing jobs for the poor. However, it is a serious health hazard. The United Nations Environmental Programme (UNEP) established that scavengers may suffer from respiratory disorders due to protracted exposure to smoke from fires and dust from the waste dumpsite. Some scavengers may be injured by sharp objects resulting in death or get exposed to human immune deficiency virus (HIV) and even hepatitis infection from health care waste.Source
Irrespective of the fact that scavenging activities help to reduce waste reaching the landfills, but most scavengers are faced with several health hazards on a daily basis. From a major health challenge standpoint, scavengers are faced with acute respiratory disorders and like it's noted above, they are exposed to viral infections like Hiv.
Respiratory disorders are caused by constantly inhaling dusts and fire from dumpsites.
Other health challenges faced by scavengers include:
diarrhea
cholera
insects bites
burns from chemicals
wounds that are infected
typhoid
skin and blood infections.
One of the ways that one can prevent this health challenges as a scavenger is to do the following:
wear safety boots 🥾 during scavenging activities.
put on face mask regularly during scavenging activities.
eat balanced meals at all things.
avoid using dirty hands to wipe your nose.
Hustling is good, but hustling with health consciousness in mind is better.
Thanks and God bless you.
---
---