PolyCUB Transparency Paradigm Based on a Four-Fold Value Accrual Channels (MTB wrapping fees, Internal Arbitrage, Oracle Staking and Pol)
Hello LeoFinance ecosystem!
Every platform depends on some sets of planning in terms of value creation in order for the platform to survive and still create more values for those that partner with the platform.
PolyCUB from inception have been said to be a yield optimizing platform, whether from the kingdom management fees or through the current Multi-Token Bridge (MTB). The target is creating values from the existing platforms and more.
There's something transparency does to a system, most especially, a DeFi platform. Every potential investor wants to know two things:
what the platform offers investors.
how the platform will generate the said revenue that'll be given to the investors.
Although, the second point isn't to relevant to many because they're just after what they could get out of the DeFi platform.
When a system becomes super transparent, it creates more opportunities for potential and existing investors to trust the system. This I'll say that the PolyCUB project have attain within it's short period of existence.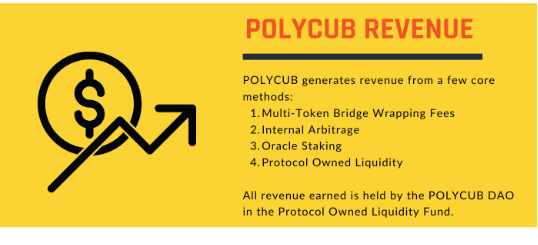 Source
From the above image, one would observe that there are four different channels on which PolyCUB revenue generation is based upon:
Multi-Token Bridge wrapping fees.
internal arbitrage.
Oracle staking.
Protocol owned liquidity (Pol).
In most recent times (precisely after the launch of vexPolyCub), the core thesis behind PolyCUB has been to generate revenues for the protocol owned liquidity that'll in turn be used to buyback PolyCUB from the open market every month to satisfy the fixed 20% APY for vexPolyCub holders.
The reasons for pushing all four value accrual channels to buyback PolyCUB is to make the token remain scarce in the open market and we'll know that with the migration of xPolyCub into vexPolyCub, the amount of PolyCUB in the open market will certainly become scarce, leading to further demand of the token by potential investors.
With this vexPolyCub has only one purpose: to create a further scarcity of PolyCUB in the open market, leading to more demands of the token.
I'll conclude by saying that, PolyCUB is a well structured system that has the abilities to change the face of the LeoFinance ecosystem and build financial freedom for stakers.
Posted Using LeoFinance Beta
---
---