The Second Edition of Leo Power Up Day (LPUD) is in 3 Days, How Prepared Are you
Hello LeoFinance ecosystem!
It's closer than you think and this edition will be a very surprising one, because more goodies in form of Leo Power Delegation are available to several winners in different categories. Stay tuned as we move into the essence of of discussion today.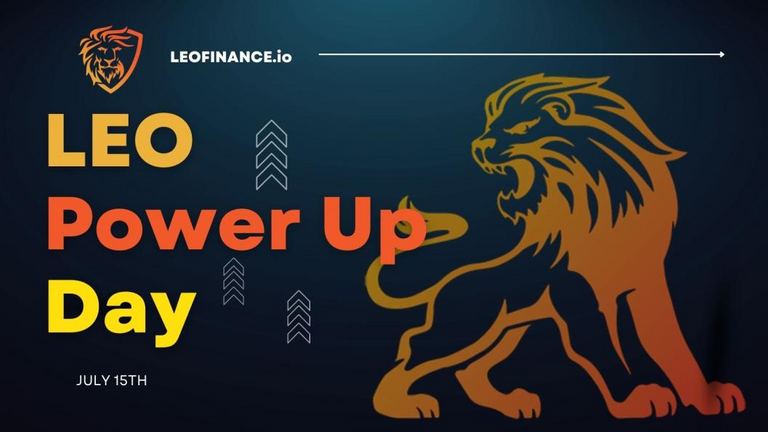 Source
I was a bit discouraged to join the second edition of LPUD challenge, due to my inabilities to raise and stake the amount of Leo Power (LP) (which is 200 Leo) for the first edition of LPUD.
I'm this kind of person that believes that first impression matters a lot in any event, but I stumbled over an encouragement post written by @onealfa 2 days ago entitled: 2nd LPUD soon. NOT too late to start (update on BAD LUCK prize)
If you have missed to participate in 06.15 LPUD event, you can still become eligible for the next month's drawing.
Rather than a one-time delegation, I plan to have this as an ongoing, month-after-month project (until further notice of cancellation)Source
These were the direct words that encouraged me to join the race for this and other editions of the contest.
What do I and others stand to win from the LPUD
There are thousands of Leo Power delegations available for grab in this month's LPUD edition, ranging from the statutory prize of 20k Leo Power delegation and other sub-prizes, most people are waiting for the amazing 60k bad luck prize by @onealfa
Apart from the above prizes on grab for the monthly Leo Power Up Day (LPUD), LPUD is targeted towards encouraging small Leo accounts to grow into bigger accounts. This is true because, if this contest continues for the next 5 years are a single Lion stakes 200 Leo every month, it'll amount to 12k Leo Power (LP), although most Lions are powering up more than the 200 Leo benchmark.
This on the other hand, is strategic in increasing one's influence on the LeoFinance ecosystem, depending on how the individual takes the challenge. For me, it's a time to plan for the future and a way to become more relevant on the LeoFinance ecosystem.
Posted Using LeoFinance Beta
---
---