Memento: El rompecabezas cronológico [ENG|ESP]

Original photo montage made by me @cronosclocks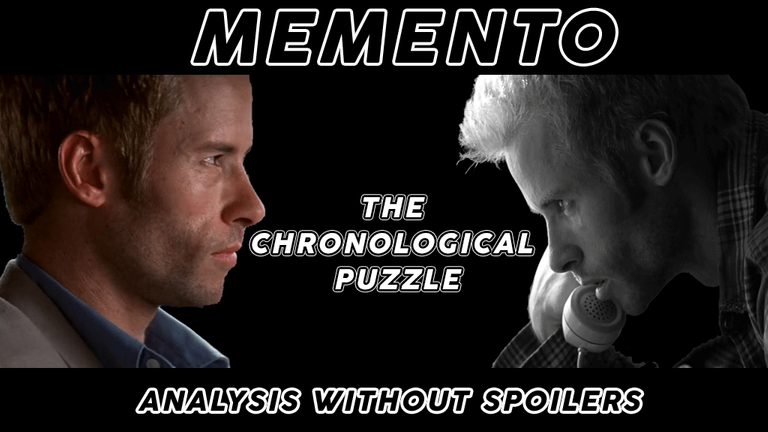 Hace poco volví a ver la película Memento de Christopher Nolan, la segunda película del director y la que lo llevó a ser reconocido en el mundo del cine. Está basada en la historia Memento Mori escrita por Jonathan Nolan, su hermano menor.
Tenía muchísimos años sin verla, por lo tanto, ya no recordaba mucho, esto fue perfecto porque terminé llevándome la sorpresa del final como si fuese la primera vez. La verdad, es una excelente película, no solo por su trama sino por la manera en que está contada, narra dos historias en paralelo en órdenes cronológicos opuestos, lo cual brinda una experiencia de desorientación y suspenso única para los espectadores.
Recently I saw again the film Memento by Christopher Nolan, the second film of the director and the one that led him to be recognized in the cinematographic world. It is based on the story Memento Mori written by Jonathan Nolan, his younger brother.
I hadn't seen it for many years, so I didn't remember much anymore, this was perfect because I ended up getting the surprise at the end as if it was the first time. The truth is that it is an excellent film, not only because of its plot but also because of the way it is told, it tells two stories in parallel in opposite chronological orders, which provides a unique experience of disorientation and suspense for the viewers.
---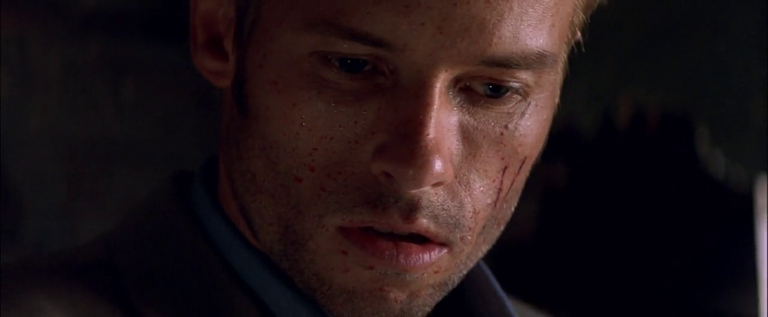 ¿De qué trata? | What is it about?
---
La película inicia con la escena de un asesinato (si, de una) donde vemos como un hombre le dispara a otro en la cabeza. Tras el disparo la secuencia empieza a ir en reversa, mostrandonos una polaroid que captura el cuerpo de la victima tendido en el suelo, a medida que se nos muestra los créditos del film esta polaroid se va tornando blanca, esto resulta ser una representación del trastorno que tiene el potragonista.
Memento cuenta la historia de Leonard Shelby, un hombre con pérdida de memoria a corto plazo que está en la búsqueda del asesino de su esposa, para encontrarlo utiliza notas, fotografías y tatuajes para recordar las pistas que encuentra. Básicamente, en Memento tenemos a un protagonista olvidadizo y vengativo ¡Vaya combinación!
The film begins with the scene of a murder (Yes, just like that) where we see how a man shoots another man in the head. After the shot, the sequence begins to go in reverse, showing us a polaroid that captures the body of the victim lying on the ground. As we are shown the credits of the film, this polaroid turns white; this turns out to be a representation of the protagonist's mental disorder.
Memento tells the story of Leonard Shelby, a man with short-term memory loss who is on a search for his wife's killer. To find him, he uses notes, photographs, and tattoos to recall the clues he finds. Basically, in Memento we have a forgetful and vengeful protagonist. What a combo!
---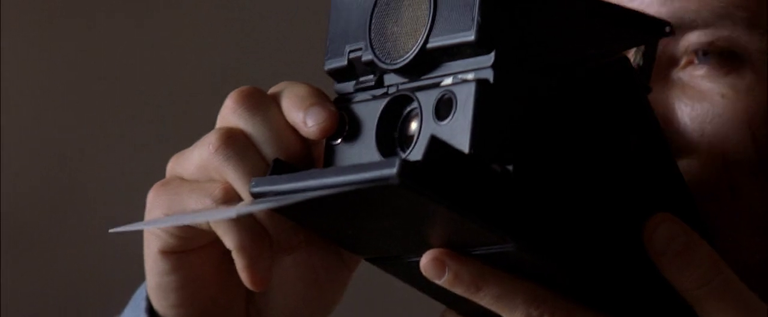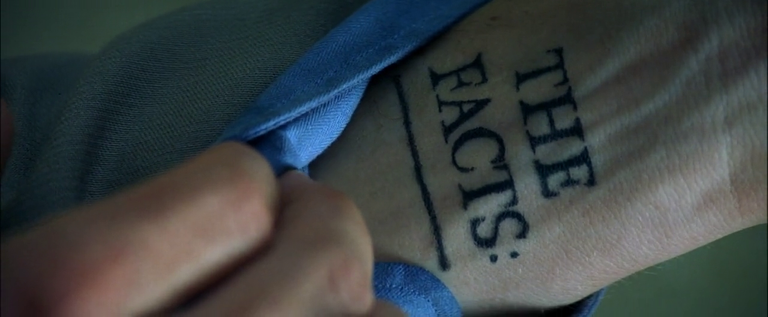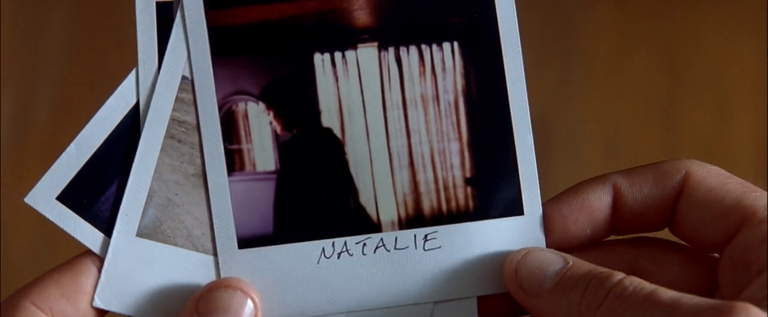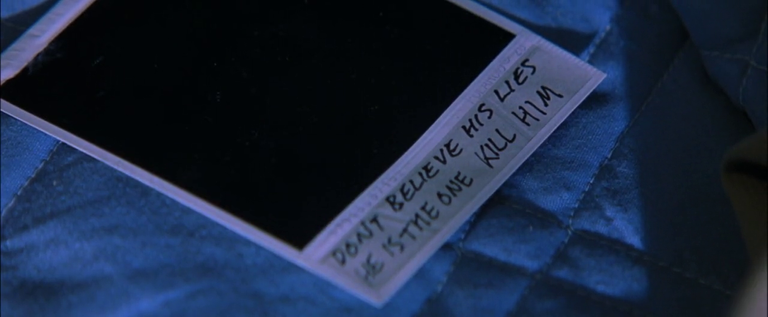 ---
Cronologías y perspectivas
Chronologies and perspectives
---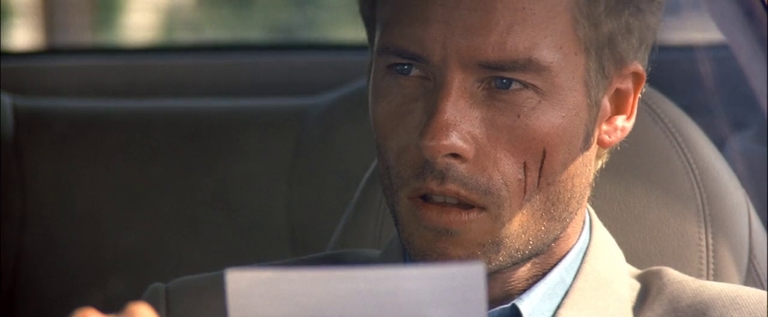 Leonard:
Un viaje en reversa | A Journey in Reverse
---
En Memento tenemos escenas a color y escenas en blanco y negro que van intercaladas entre sí. Las escenas a color narran la historia desde el punto de vista de Leonard, en estas, nos encontramos dentro de su mente. Basado en la condición de pérdida de memoria que este padece, Christopher Nolan quiso sumergir al espectador en la misma experiencia de desorientación, por eso la película cuenta la historia de Leonard en orden cronológico inverso.
(Ok, aquí viene la parte compleja, espero darme a entender).
Estas secuencias a color terminan en el principio de la escena a color anterior, en otras palabras, las escenas a color comienzan en el final de la escena a color que le precede, la cual aún no hemos visto. Por ejemplo: En un momento de la película vemos a Leonard corriendo, preguntándose qué es lo que está haciendo, él no sabe que es lo que está pasando ni porque está corriendo, y los espectadores, al igual que él, tampoco sabemos por qué corre. Esta escena se desenvuelve y termina. La secuencia a color que le sigue va a empezar en otro momento aleatorio, pero va a terminar en el instante en el que Leonard estaba corriendo, es decir, conecta con la secuencia a color que se mostró anteriormente.
In Memento we have colored scenes and black and white scenes that are intercalated between them. The colored scenes tell the story from Leonard's point of view, in these, we're inside his mind. Based on the condition of memory loss that he suffers, Christopher Nolan wanted to immerse the viewer in the same experience of disorientation, so the film tells Leonard's story in reverse chronological order.
(Okay, here comes the complex part, I hope you can understand me).
These color sequences end at the beginning of the previous color scene, in other words, the color scenes begin at the end of the preceding color scene, which we have not seen yet. For example: At one point in the film we see Leonard running, wondering what he is doing, he doesn't know what is happening or why he's running, and viewers, as well as he, don't know why he is running. This scene unfolds and ends. The color sequence that follows will start at another random moment, but it will end at the moment when Leonard was running, in other words, it connects with the color sequence that was shown earlier.
---
Backwards: Color sequence 4 | Color sequence 3 | Color sequence 2 | Color sequence 1
Hacia atrás: Secuencia a color 4 | Secuencia a color 3 | Secuencia a color 2 | Secuencia a color 1
---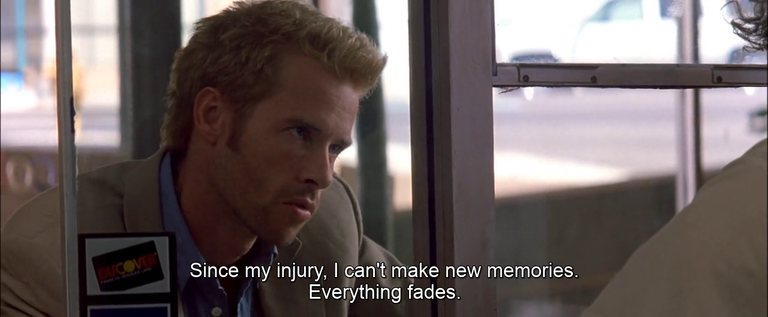 Por eso al inicio de cada secuencia nos encontramos totalmente fuera de contexto, pero es al final de cada una donde nuestras dudas de la anterior son aclaradas, pero se generan más y más preguntas, debido a que todo el desenvolvimiento de la escena que estamos viendo se encuentra siempre fuera de contexto.
Esto hace que, como espectadores, no podamos saber qué es lo que va a pasar después, no nos deja suponer qué va a ocurrir sino que, por el contrario, nos mantiene intentando recordar lo que acaba de pasar en la secuencia anterior. Esto es lo que crea la sensación constante de desorientación ya que no entendemos qué es lo que está pasando en la escena que se desarrolla. De esta manera Nolan logra sumergirnos en la experiencia del protagonista.
"De esa manera cuando conocemos a un personaje no sabemos, al igual que el protagonista, como conoció a esa persona, si siquiera le conoce de antes o si debería confiar en ella o no"
Christopher Nolan
That's why at the beginning of each sequence we find ourselves totally out of context, but it is at the end of each one where our doubts about the previous one are clarified, but more and more questions are generated, because the whole development of the scene we are watching is always out of context.
This means that, as spectators, we cannot know what is going to happen next, it doesn't let us assume what is going to happen but, on the contrary, it keeps us trying to remember what just happened in the previous sequence. This is what creates the constant feeling of disorientation since we don't understand what is happening in the scene that is developing. This way Nolan manages to immerse us in the experience of the protagonist.
"This way when we meet a character we don't know, as the main character doesn't know, how he met that person, if he even knows him from before or if he should trust him or not"
Christopher Nolan
---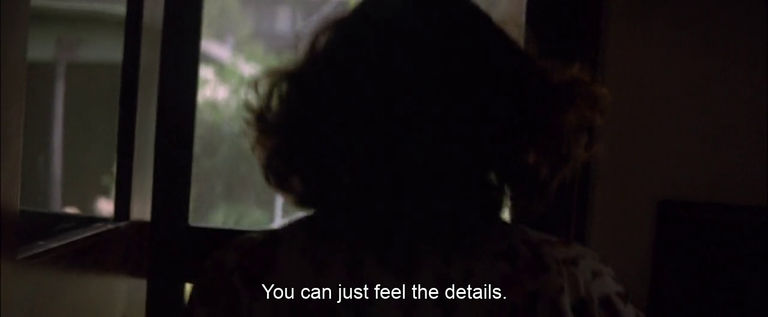 Flashbacks:
¿Imaginación o memoria? | Imagination or memory?
---
Parte de la confusión que genera Memento es dada por una combinación de flashbacks, estas imágenes nos muestran una parte de los recuerdos de Leonard, aquellos sobre la vida que tuvo antes de tener el accidente. Gracias a estos flashbacks vamos conociendo parte de sus traumas, pero a medida que avanza la película empezamos a preguntarnos ¿qué es real dentro de su mente?
Part of the confusion generated by Memento is given by a combination of flashbacks, these images show us a part of Leonard's memories, those about the life he had before having the accident. Thanks to these flashbacks we are getting to know part of his traumas, but as the film progresses we begin to wonder, what is real inside his mind?
---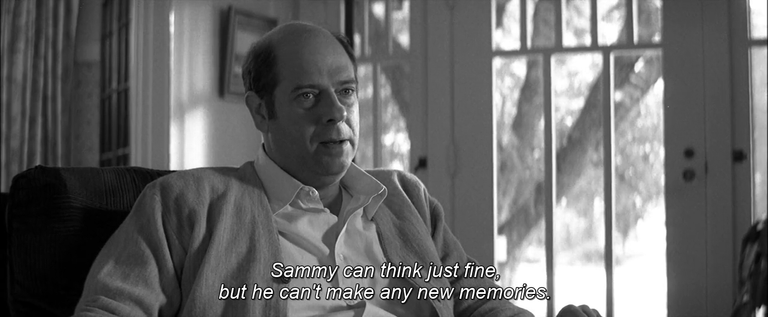 Sammy Jankis:
Un descanso | A Rest
---
En paralelo a la historia de Leonard, tenemos secuencias en blanco y negro donde se desarrolla la historia de Sammy Jankis. Esta es contada por Leonard a través de una llamada telefónica con un interlocutor que no llegamos a escuchar. Esta historia es contada cronológicamente hacia adelante.
In parallel to Leonard's story, we have black and white sequences where Sammy Jankis' story develops. This is told by Leonard through a phone call with a speaker we didn't get to hear. This story is told chronologically forward.
---
Foward: B&W sequence 1 | B&W sequence 2 | B&W sequence 3 | B&W sequence 4
Hacia adeltante: Secuencia B&W 1 | Secuencia B&W 2 | Secuencia B&W 3 | Secuencia B&W 4
---
Estas secuencias en blanco y negro no solo explican algunos detalles de la historia, sino que tienen la intención de darle un descanso al espectador. Verán, Christopher Nolan llegó a la conclusión de que narrar toda la historia al revés podía resultar muy denso, por lo que decidió contar la historia de Sammy de la manera cronológica habitual, es decir, hacia adelante, para brindar una narrativa que le diera un descanso al espectador.
These black and white sequences not only explain some details of the story, but also are intended to give the viewer a rest. You see, Christopher Nolan came to the conclusion that telling the whole story backwards could be too dense, so he decided to tell Sammy's story in the usual chronological way, that is, forward, to provide a narrative that would give the viewer a rest.
---
TENSION
BREAK
TENSION
BREAK
TENSION
TENSIÓN
DESCANSO
TENSIÓN
DESCANSO
TENSIÓN
---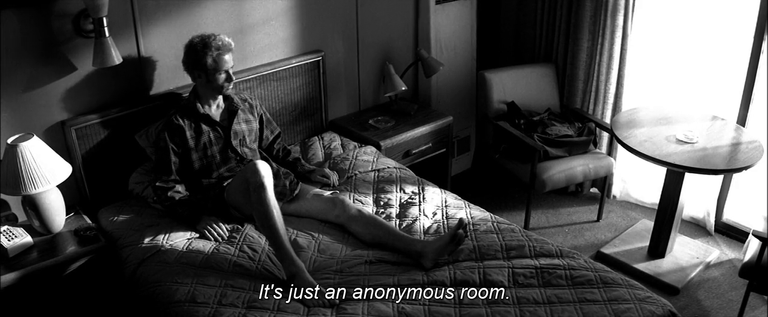 Objetividad y subjetividad | Objectivity and subjectivity
---
Además de hacer uso de la estructura para jugar con la tensión y el descanso, Nolan utiliza el recurso de voz en off para variar la intención de objetividad y subjetividad de la narración.
Al principio de la película las secuencias a color son muy subjetivas, al estar en primera persona escuchamos la voz dentro de la mente de Leonard, mostrándonos sus pensamientos. Por otro lado, las secuencias en blanco y negro son utilizadas como un recurso documental, son una especie de entrevista que narra desde un punto de vista más objetivo, aquí solo escuchamos a Leonard hablar al teléfono, no escuchamos su mente.
A medida que el film avanza, las tomas a color se van tornando menos subjetivas, más alejadas de los pensamientos de Leonard, creando dudas sobre lo que este nos dice. Mientras que, por otro lado, las tomas en blanco y negro se vuelven menos objetivas y empiezan a profundizar más en su mente y existencia. Estas dos perspectivas, la objetiva y subjetiva, convergen a medida que avanza la película.
Christopher Nolan uses the voice-over resource to vary the intention of objectivity and subjectivity of the narrative.
At the beginning of the film the colored sequences are very subjective, being in first person we hear the voice inside Leonard's mind, showing us his thoughts. On the other hand, the black and white sequences are used as a documentary resource, they are a kind of interview that narrates from a more objective point of view, here we only hear Leonard talking on the phone, we do not hear his mind.
As the film progresses, the color shots become less subjective, more distant from Leonard's thoughts, creating doubts about what he is telling us. While, on the other hand, the black and white shots become less objective and begin to go deeper into his mind and existence. These two perspectives, the objective and the subjective, converge as the film progresses.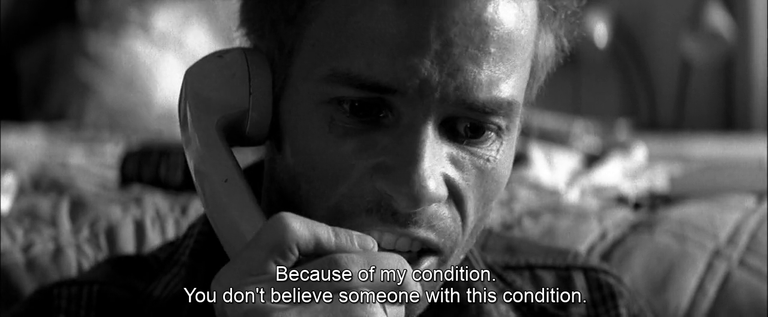 ---
El rompecabezas cronológico | The chronological puzzle
---
El ingenio de esta película se encuentra en su estructura, por lo que la forma en la que fue distribuida cada escena es realmente importante, siendo esto lo que le da particularidad a esta historia.
En Memento las secuencias en blanco y negro que narran la historia de Sammy, son intercaladas con las secuencias a color, las que narran la historia de Leonard, por lo que tenemos una escena a color y luego le sigue una en blanco y negro.
Ambas historias son contadas en paralelo intercalándose entre sí, mientras que cada una va en un orden cronológico opuesto, convergiendo como un espejo, dando fruto a una obra que se mantiene oscilante entre la tensión y el descanso.
The ingenuity of this film lies in its structure, so how each scene was distributed is really important, it's what gives this story its particularity.
In Memento, the black and white sequences that tell Sammy's story are intercalated with the color sequences, which tell Leonard's story, so we have a color scene and then a black and white one follows.
Both stories are told in parallel, alternating with each other, while each one goes in opposite chronological order, converging like a mirror, giving fruit to a work that remains oscillating between tension and rest.
---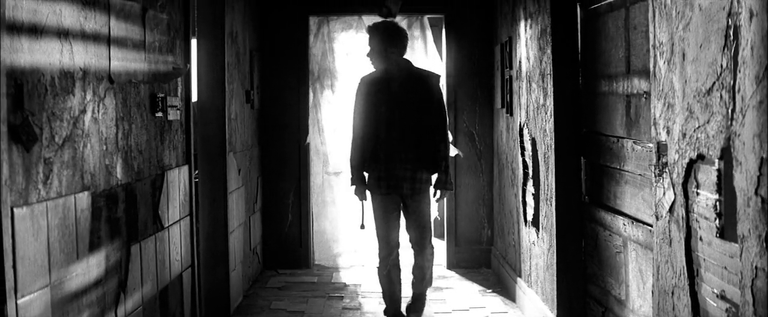 Últimas palabras | Last words
---
Memento es sin duda una película única en su forma. Es una obra digna de analizar que demuestra un trabajo muy inteligente por parte de Christopher Nolan, ya que no solo narra una historia de venganza y olvido, sino que, gracias a la manera en la que es contada, logra salirse del molde y darnos realmente una experiencia diferente, donde la confusión y el suspenso crecen progresivamente.
Pocas películas podrán confundirte tanto como Memento, a mi enganchó por completo, no me pareció lenta ni aburrida, por el contrario, me entretuvo mucho y pasó a ser una de mis películas favoritas. Si no la has visto aun ¡Tienes que verla!
✨ Un abrazo a todos and good vibes! ✨
Memento is without a doubt a unique film in its form. It's a work worthy of analysis that demonstrates a very intelligent job made by Christopher Nolan, since it not only tells a story of revenge and oblivion but, thanks to the way it is told, it manages to break out of the mold and really give us a different experience, where confusion and suspense grow progressively.
Few movies can confuse you as much as Memento, it completely hooked me, it didn't seem slow or boring, on the contrary, it entertained me a lot and became one of my favorite movies. If you haven't seen it yet, you have to!
.

✨ A hug to everyone and good vibes! ✨
---
Note: All images are taken from the film using the screenshot tool of the VLC player.
Nota: Todas las imagenes son sacadas de la película usando la herramienta de screenshot del reproductor VLC.

---

⚡️ Hey ⚡️
También puedes seguirme en mis redes
⚡️ Hey ⚡️
You can also follow me on my social media


Iconos cortesía de Plus Math icon icon by Icons8
Collages y separadores hechos por mi @cronosclocks
---
---