Are you getting your share? Why not? What does the crow say?

Preaching from my fence :)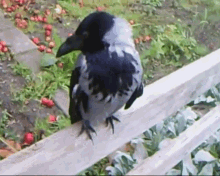 I posted this in the CTP Telegram group and got a message that I should make it a post.
So here it is.
Something for you all to contemplate and more so if you are not participating in CTPTalk
One upvote from me alone can earn you approximately 35 to 40 cents add to that the other 4 or 5 people with as much upvote power and there is 2 dollars plus then add the smaller upvotes you get and all of a sudden there is 3 to 4 dollars earnt just in @CTP tokens, then add on the extra coins you might be earning and Steem and one post just earnt you 5 dollars or better.
Don't plead poor or it is to hard to do in anyones book that is easy money earnt.
Do it 5 times a week and do your own maths but that equates to a nice little earn for not much time out of your time in a week.
Now if you are a smart punter you won't take the money and run you will re-invest in CTP tokens and start earning more and remember every upvote you give earns you more for curating.
Want a bit extra on top invest in CTPM that is the @clicktrackprofit CTP token miner it mines tokens for you.
Hope this helps a few of you out there see the possibilities of been a participant in the CTPtalk community.
Go and start earning yours.
---
---