Rising Star | Actualización de cuenta + estrategia compra | Esp/Eng

¡Hola! ¿Qué tal crypto amigos? ¿Cómo están? Yo espero que muy bien! En el día de hoy vengo a mostrarles una compra que hice con los Hive que conseguí en la publicación de mi introducción. Demás está agradecer todo el apoyo que me dieron ya que sin ustedes nada de esto sería posible.
Me gustaría agregar que la compra que hice es una muy buena estrategia si es la primera vez que vas a adquirir algo en Rising Star, ya que solo invirtiendo 13 dólares podremos dar una gran avance a la misma. Les recuerdo de todas formas que cada uno hace lo que quiera con su dinero.
---
Primero decirles que yo había obtenido 9000 starbits, de forma gratuita, en mi cuenta los cuáles retiré para poder hacer ésta transacción. Eso como primer paso.

---
Luego me dirigí a Hive Engine y deposité en mi wallet los Hive anteriormente mencionados. En total fueron, como pueden apreciar, 11.489 HIVE, de los cuáles recibí 11.403 HIVE por las comisiones de la aplicación.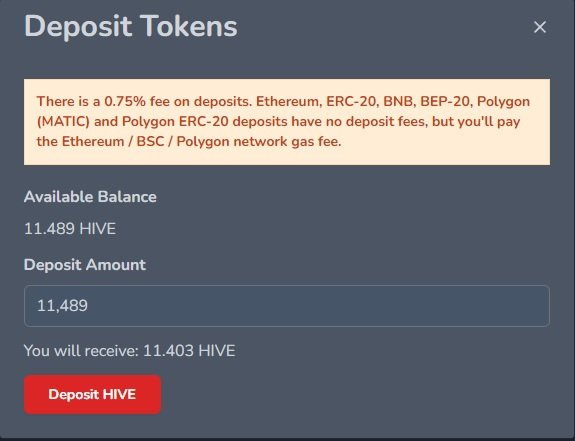 ---
Esto que les dejo a continuación es un resumen de lo que tenía disponible entre Starbits y Hive para poder hacer la compra de la carta y otras cositas que más adelante les mostrare en éste post.

---
Como podrán observar, realicé la compra de 37.500 Starbit a un precio de 0.00030084 HIVE cada uno (un precio muy bueno), dándome un costo total de 11,28150000 HIVE por toda la transacción.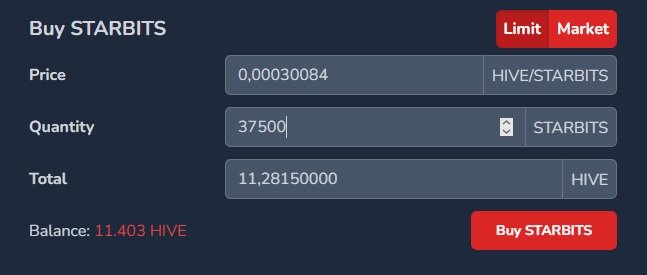 ---
En la imagen que les muestro a continuación van a poder ver la cantidad de Starbits después de haber realizado la transacción de HIVE por ellos más los que ya había retirado.

Como pueden ver, el valor de mis Starbits es de $13 dólares. Acá estaría los que les decía mas arriba que solo con ésta cantidad de dinero van a ver el gran salto que vamos a dar con nuestra cuenta.
---
Luego ingresé en el market de Rising Star (me gustaría agregar que funciona excelente y las transacciones son bastante rápidas) y realicé la compra de lo siguiente:
La cantidad total de dos pizzas frías a un precio de 10.000 starbits cada una.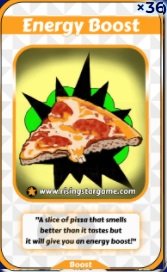 La cantidad total de dos cajas de pízza a un precio de 8000 starbits cada una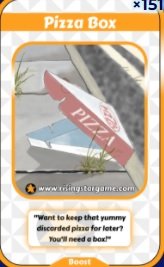 Por si no lo saben, la pizza fría es un Energy Boost que nos recarga la energía al consumirla al 100% y tiene un tiempo de espera para su uso de 24 horas.
Por otro lado, la caja de pizza nos guarda las pizzas que vayamos obteniendo en las misiones que realicemos a lo largo del día. Esto nos da la posibilidad de usar la pizza cuando nosotros querramos y no cuando la ganemos en nuestra misión. Una caja sirve para contener una pizza.
Volviendo a lo que sería la compra en sí, el total de obtener estos dos objetos me da como resultado 36.000 starbits. Ahora se estarán preguntando ¿Qué hiciste con los 11.504 starbits que te sobraron? Creo que adquirir una de las mejores cartas en todo el juego si se trata de nuestra primera compra y no disponemos de muchos Starbits para comprar. A continuación les dejo la ilustración de la misma.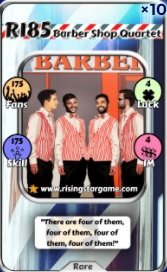 175 fans, 175 de skill y 4 de suerte por un precio de, nada mas y nada menos que... 10.300 Starbits! Ésta carta es increíble porque gracias a sus excelentes estadísticas ya puedo realizar casi todas las misiones disponibles a un precio bajísimo y, con un poco de suerte, absolutamente todas hasta las más alta que te requiere 300 fans, ya que es muy sencillo conseguir los otros 125 faltantes a través de los fans temporales.
---
Bueno gente, eso sería todo, espero que les haya gustado el post, lo único que me gustaría es que si algo no les gustó me lo hagan saber en los comentarios así en un próximo blog lo puedo tener en cuenta!
Sin más que decir, me despido atentamente.
---
Créditos
La imágen principal es una captura de pantalla de mi cuenta realizada con mi computadora en el sitio oficial de Rising Star .
Las imágenes de Rising Star fueron capturas realizadas desde mi computadora en su página oficial
Las imágenes de Hive Engine fueron capturas realizadas desde mi computadora en su página oficial
El separador que dice "English" fue creado por mí en Illustrator.
El logo fue creado por mi en Illustrator.
TODO ESTO ES UNA IDEA DE INVERSION, CADA UNO HACE CON SU DINERO LO QUE LE PAREZCA CORRECTO.
---

---

Hello! How about crypto friends? How are they? I hope very well! Today I come to show you a purchase I made with the Hive that I got in my introduction post. Others are grateful for all the support you gave me because without you none of this would be possible.
I would like to add that the purchase I made is a very good strategy if it is the first time that you are going to acquire something in Rising Star, since only by investing 13 dollars we can give a great advance to it. I remind you anyway that everyone does what they want with their money.
---
First, let me tell you that I had obtained 9000 starbits, for free, in my account, which I withdrew to be able to make this transaction. That as a first step.

---
Then I went to Hive Engine and deposited the aforementioned Hive into my wallet. In total there were, as you can see, 11,489 HIVE, of which I received 11,403 HIVE for application commissions.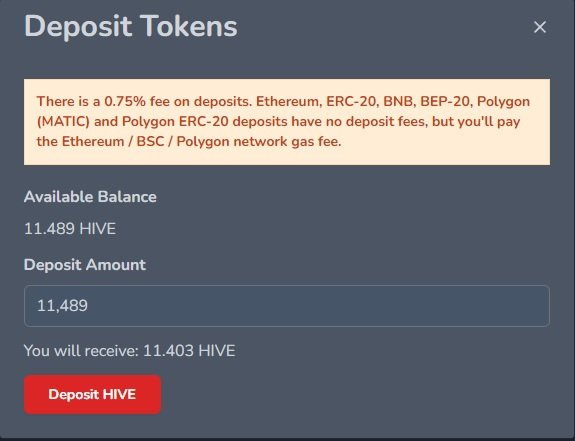 ---
The following is a summary of what I had available between Starbits and Hive to be able to purchase the card and other things that I will show you later in this post.

---
As you can see, I purchased 37,500 Starbit at a price of 0.00030084 HIVE each (a very good price), giving me a total cost of 11.28150000 HIVE for the entire transaction.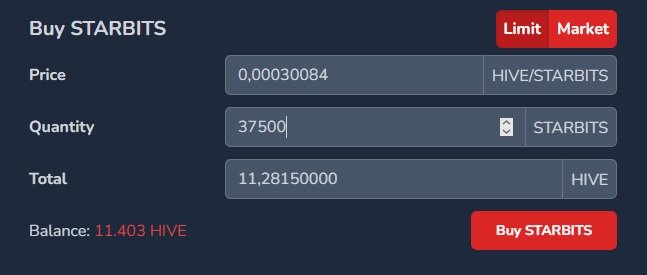 ---
In the image that I show you below you will be able to see the amount of Starbits after having made the HIVE transaction for them plus those that I had already withdrawn.

As you can see, the value of my Starbits is $13 dollars. Here would be those who I told you above that only with this amount of money they will see the great jump that we are going to make with our account.
---
Then I entered the Rising Star market (I would like to add that it works great and the transactions are quite fast) and made the purchase of the following:
The total amount of two cold pizzas at a price of 10,000 starbits each.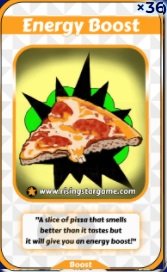 The total quantity of two pizza boxes at a price of 8,000 starbits each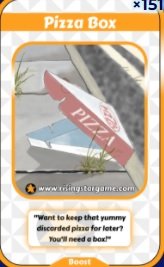 In case you don't know, cold pizza is an Energy Boost that recharges our energy when consuming it at 100% and has a waiting time for use of 24 hours.
On the other hand, the pizza box stores the pizzas that we obtain in the missions that we carry out throughout the day. This gives us the possibility to use the pizza when we want and not when we earn it in our mission. A box is used to contain a pizza.
Going back to what the purchase itself would be, the total of obtaining these two objects gives me 36,000 starbits as a result. Now you may be wondering what you did with the 11,504 starbits you had left over? I think getting one of the best cards in the entire game if it's our first purchase and we don't have a lot of Starbits to buy. Then I leave the illustration of it.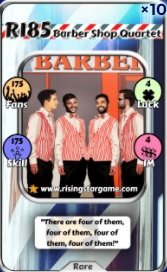 175 fans, 175 skill and 4 luck for a price of nothing more and nothing less than... 10,300 Starbits! This card is incredible because thanks to its excellent stats I can already do almost all the available missions at a very low price and, with a bit of luck, absolutely all of them, even the highest ones that require 300 fans, since it is very easy to get the others 125 missing through temporary fans.
---
Well people, that would be all, I hope you liked the post, the only thing I would like is that if you didn't like something, let me know in the comments so I can take it into account in a future blog!
Without more to say, I say goodbye sincerely.
---
Credits
The main image is a screenshot of my account taken with my computer on the Rising Star official site .
The Rising Star images were captured from my computer on its official page
Hive Engine images were captured from a computer on its official page
The separator that says "English" was created by me in Illustrator.
The logo was created by me in Illustrator.
ALL THIS IS AN INVESTMENT IDEA, EVERYONE DOES WITH HIS MONEY WHAT SEEMS RIGHT.
---
---