A Look Into The Future?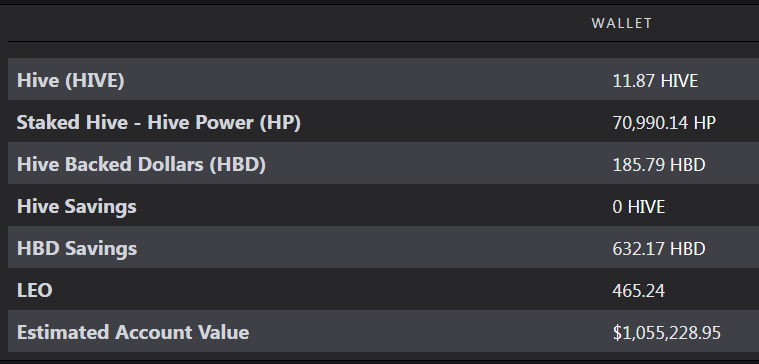 This was my Hive wallet last night during the node issue the blockchain was having. I am looking forward to the days when it is true and I am sure there will be many multi million dollar accounts on Hive.
The truth is Hive has been under the radar for one reason or another and has been ignored by the majority. Many know of Hive and what it is capable of yet try and do their own social media type set ups. They are aware of Hive and why it is never mentioned as it is and can only be seen as a threat to others. Crazy that something this good can go unnoticed for much longer as the community is going to grow whether others like it or not.
We have all heard of the network effect and how that magically happens over a period of time and the same theory should apply to Hive.
The only thing to do is to carry on as per normal and grow as big as possible as the value will appear at some point. How much we have no clue but by all indications the $3.41 was nothing into comparison to what can happen. $3.41 will seem cheap as once the floodgates open there is not enough Hive to go round not like what we are seeing now.
Hive only has just over 371 Million coins in circulation which if divided by just 1 million would be 371 Hive each. We know that is impossible as there are nearly 1200 accounts who have 10K Hive Power or more. Hive will be a scarce commodity at some point further down the road and this is all about supply and demand which will raise the prices significantly.
@niallon11 mentioned a week or so ago that he was struggling using the Splinterlands rental bot that rents out cards even when he has 620 Hive on that account. The hard fork that is coming up will fix that as it is mainly about the Resource Credits. Still you have to have some Hive to get going and cannot have 0 Hive. You need 5 Hive to open an account which is still very cheap considering what it offers you in an earning capacity.
Hive is unlike any other block chain out there as we already have so many examples of how it has helped people in tight spots. Ukraine and Venezuela is still happening and many benefit from the support they receive to try and live a normal life. This is their life line and what other Crypto projects even come close to solving real world issues?
We know there are going to be hundreds of accounts if not 1000's who will have millions in value just by continuing to do what they do now. This is the long game and there is no rush as for many the journey started years ago already.
Posted Using LeoFinance Beta
---
---