Automation Is Inevitable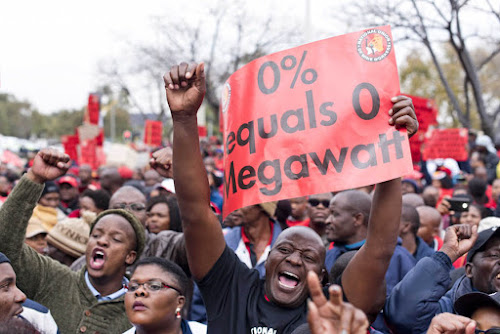 They should fire all the strikers as they are crippling the economy
and putting not only their jobs at risk but millions of others. I worked for a company that did just that back in 1990 and kicked out the Unions. That company has never had one problem since taking that course of action.
Strike action demanding more pay is what is dominating news headlines around he world currently and it just seems utterly crazy. The airline industry has been hit hard yet they have basically not operated properly for over 2 years. Things are only opening up around the world and this is no time for strike action.
We have seen the same in South Africa with our Government run electricity provider with staff striking for more pay. Maybe if they deserved one people would be more sympathetic to their cause. My view is they should be grateful for the employment they have as they are just speeding up the process of automation. I am actually looking forward to that day and used to be one sitting on the fence, but no more.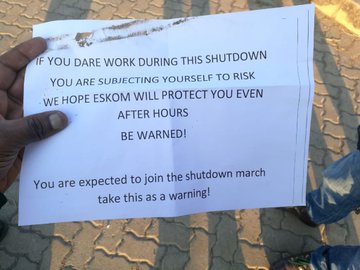 90% of the electricity workers stayed away.
South Africa has a lopsided population with the average age being 27 which is unlike many other countries who are a lot older. The problem is 62% of 15-24 year olds are unemployed. I know this age group baffles me as 15 to 17 should at least still be in school and kind of distorts these figures.
Service industries like travel and electricity are totally different but they are a necessity. Electricity is along with water is a taken service you just expect by most people around the world.
Today I filled up my gas cylinders for the barbecue/braai and have never seen such big queues before. Luckily mine are the larger commercial variety and took me less than 5 minutes to get in and out but others with the smaller domestic type will be waiting in lines for hours. I read a report today that the country is two meals away from chaos as the grid could collapse.
Generators are in short supply and there a re even news reports of who has stock and how many are left as the power cuts are crippling the country. The strike action has made the outages far worse than normal which will have an impact on the strikers jobs.
What is for certain that if this happened in two years time many businesses would be running normally as they are already making moves to go off the grid. A high percentage of houses will have solar installations in place which leaves the service provider with a shrunken income stream and a non essential service. Thousands of jobs will be lost never to be replaced and it is there own fault.
Automation in the airports will have to happen as already you can print your own tickets or have your ticket on a phone app. Luggage services could be outsourced privately and run better being even more secure and more efficient.
The days are coming when those that want to work will find work and those that make up the numbers will be shelved for good. Jobs will become scarce and workers will have to be retrained into other specialty fields. I do find the strike action very short sighted as this is going to speed up the loss of jobs and boils down to ignorance and greed. There are 10's of millions who are unemployed who would love to be able to work, but have no or little opportunity to work.
I can see problems arising in the future and they are not that far way with uprisings due to no income. I am just happy to be involved in things like Crypto and investing for when things go pear shaped.
---
---