Crypto Should Help Your Math Skills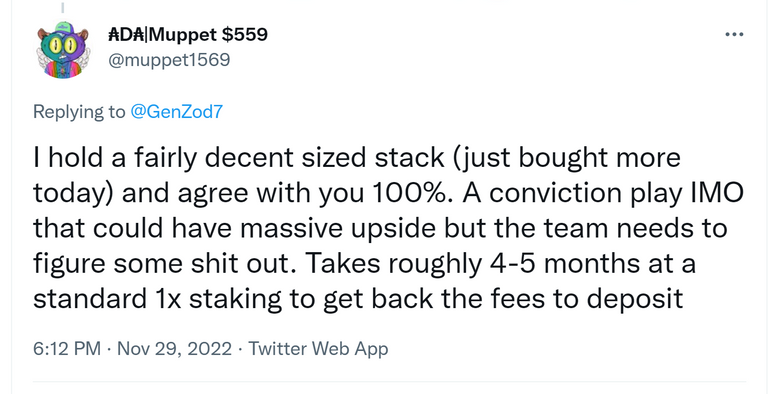 Over the last 24 hours many Coti stake holders who are invested in the Treasury have been voicing their concerns about the new fee increases when it comes to withdrawing. If you just read these tweets and didn't know you would be concerned as you would actually think they are right.
Firstly the ADAMuppet has proven that mathematics is not his strongpoint as when you deposit for a 120 period it actually takes 4 weeks to break even. I calculated that out before I even staked as you need to know how profitable staking is. Obviously everyone thinks differently and are not of all the same basic education standards.
Over the last few weeks we have seen the APR drop from a 18% to a 12% and now at just under 8% (7.93). This was expected as that is how I saw it play out as more people stake before the DJED launch which will generate more fees and thus increase the APR back up to around 12-15%. The more people that stake the less the APR will be which is super obvious unless you are a muppet.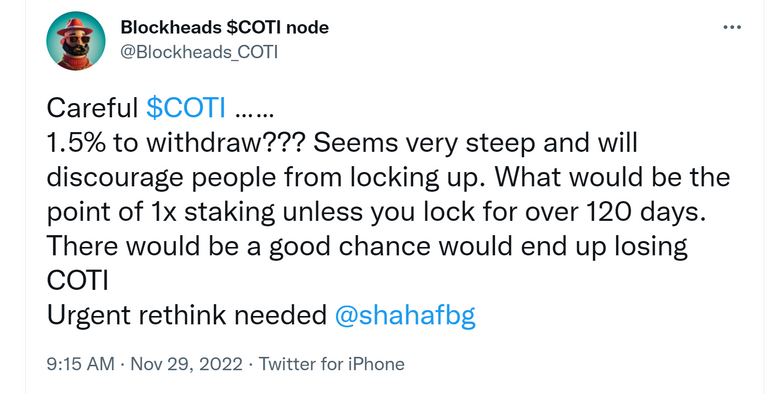 You would think a node operator would be thinking long term and not just 120 days. This is besides the point as the APR rewards you earn become liquid and what is 1.5% as a fee really when you think abut it. Those 1.5% fees all end back in the Treasury helping to fuel the APR so why bitch?
These two tweets make no sense whatsoever yet they think they both have valid points. The project is still getting off the ground with DJED being launched in January. GCOTI which allows you to earn a higher APR is launching prior to the DJED launch and then we have the Enterprise tokens launching after that. These are all items that will increase your APR and you are quibbling over 1.5% which is actually only 1% as the fee prior to that was 0.5%.
The depositing fees have dropped from 0.5% to 0.2% so there is some good news and not all "bad" news.
The community wouldn't be complaining if the APR was at 15% like it was a few weeks ago as it is only now down at a low of just under 8%. The Treasury has to be sustainable for everyone to coexist and earn a decent return or there is no point in staking. What they all fail to realise is that the new fees are going to increase the APR back up soon enough.
When mathematics is not your strong point sometimes it is best to ask someone to help you out instead of blurting things out. Being in crypto having a head for figures does help as you can see immediately if something is a good investment or not. Kind of sad how simple and useless some individuals are when it comes to calculating simple sums.
Posted Using LeoFinance Beta
---
---