Debt Financing And Football
The combined debts of the European Super League Clubs is an eye watering £7.4 Billion yet they carry on business as normal.
The most puzzling part about football is how the big clubs are always able to spend huge amounts in the transfer market yet already owe hundreds of millions and in some cases billions. How is it possible that these clubs can actually afford to buy any players yet stay within the Fair Play Rules.
How is this Fair play?
UEFA aimed debt | In General, 12 clubs have £5.6 billion of debt. As per UEFA's definition of financial debt, clubs own £3.5 billion in debt. Cumulative transfer debt is £2.1billion. Moreover, almost all of the financial debt has come from banks (£3.3 bln), compared to only £0.2 bln from owners.
The new Fair play Rules come into effect this month June 2022 which allows clubs to spend 70% of the clubs revenue. This takes into account the clubs salary bill. Up to last month clubs could spend $5 million more than they earned over a 3 year period.
The problem is not that straight forward as clubs are operating in a grey window using debt to purchase players they cannot afford. What this means is at some point the wheels will come off as this is an unsustainable way of doing business. This actually looks lie a genuine ponzi scheme as someone is going to have to pay for this one day as this cannot continue forever.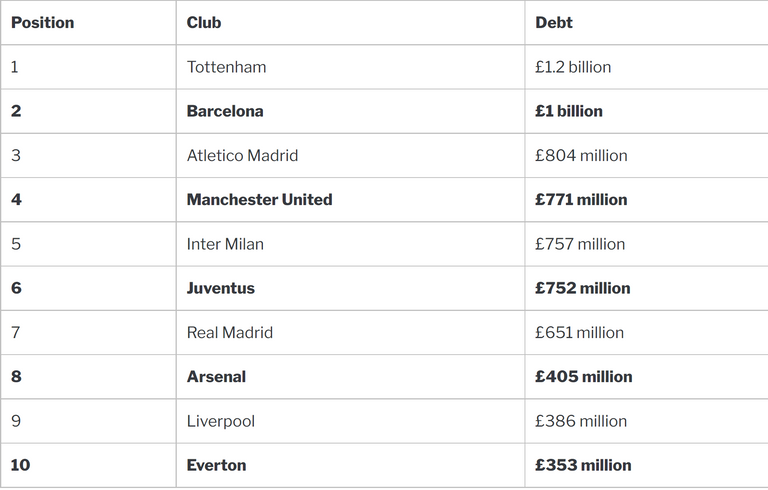 Tottenham's debt figure is slightly skewed as they are paying off their stadium so that is understandable and actually get relief from the Financial fair play due to this. The UEFA turn a blind eye allowing for an extra 30% relief due to building costs. This is maybe why Real are upgrading their stadium as it actually benefits them bypassing the rules.
Looking back there are not many football clubs that actually make a profit and a prime example is in 2019 Chelsea were the top earners only after having won the Champions League giving them an extra 23 Million otherwise they would have not been looking so great.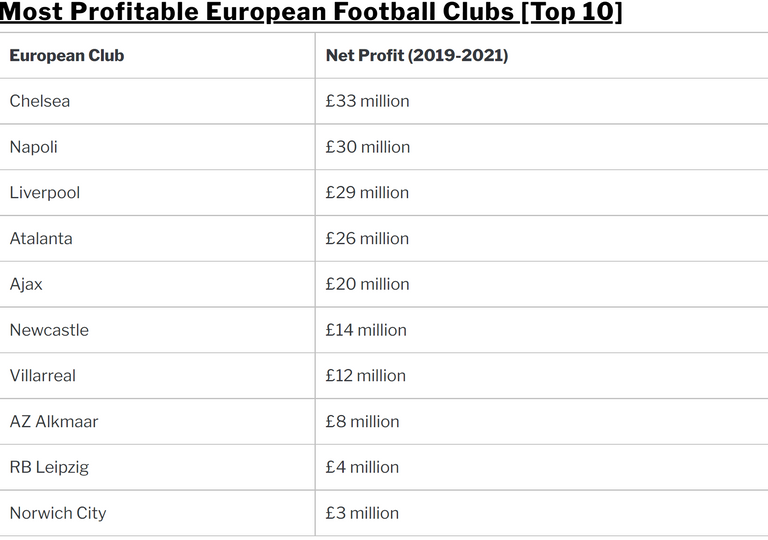 The problem is a club needs to spend on new players regularly to help grow their fanbases. They need to remain competitive in their leagues plus grow their support. Manchester United forking out $50 million in debt payments each season is nothing compared to where they will be in 10 years time. It makes no difference if you win the trophies as you are spending more than you are earning and that debt will only increase. This is madness and as a business model not one to copy as unless the club gets sold with new owners paying off the debt then at some point UEFA has to step in. Many clubs are arranging new loans each season that are well into the hundreds of millions adding to the debt already owed and at some point someone has to pay for this and the club will suffer along with the fans.
Imagine buying players in the transfer market and you already haven't paid off the last lot of players you purchased. These players are all funded by debt so if a player costs $100 million that isn't exactly true as salaries and debt payments need to cover this players package.
Barcleona - £283 million transfer debt and £180 million staff debt.
Atletico Madrid - £277 million transfer debt and £86 million staff debt.
Manchester United - £149 million transfer debt.
Here are some examples of how healthy clubs really are as they don't own those players and is a form of leasing. This is the loop holes that FIFA needs to close as this is not really sticking to the Fair Play Rules. If this carries on with the new rules imposed this month unless they drastically change their way of doing business this will not be happening within 5 years.
---
---