Red Bull Sponsors Day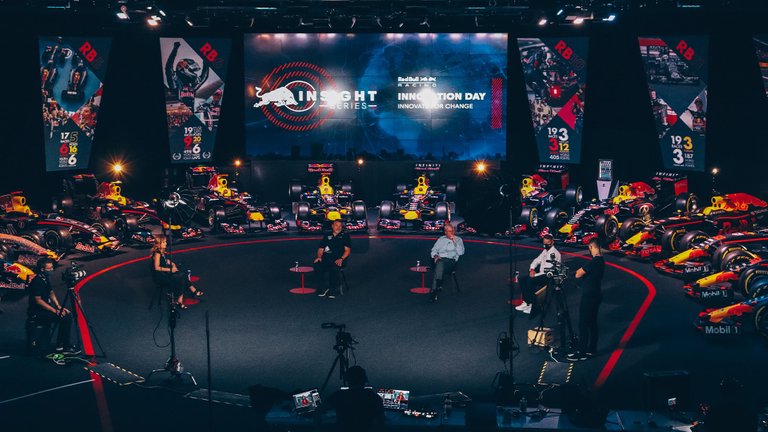 source
This is networking on steroids as being a sponsor allows you access to so many companies.
This week Red Bull Racing had their "innovation day" where they invite their sponsors and their clients to join in. This is one of the perks of being involved in a Formula One team as it is not just about having your company name attached to the team.
This is something Red Bull does every year and is a way of including everyone making them feel part of the Red Bull family. The Formula One teams have some of the brightest individuals around with the latest technology at their finger tips so sharing ideas would benefit everyone involved.

source
What is interesting to note this year they have added oracle and Tezos as part of the Red Bull family so one can gauge where this innovation day was heading. Oracle are well known for their technology especially with the CX Marketing Cloud.
Looking at the list of partners involved this is more like a whose who in the business world and getting partners involved with each other would be an end goal for everyone. Sometimes having something in common like a sponsorship helps open doors that one normally wouldn't be able to.
Oracles sponsorship with Red Bull was different to all the others on their partners/sponsors list as it wasn't about the money. This was all about using the technology and data to move forward. AI is going to be big and partnering with someone who could help them improve in that area was what that was all about. The sport is data driven through technology and along with budget caps that have shrunk they need to work smarter achieving more with less.
These innovation days have to be a two way street as the only way you learn is through having these types of discussions. The world has changed drastically over the last two years from how we do business and how we work so sharing how you have overcome the challenges would be interesting to all of these companies involved. What idea may be working for one may not work for another, but there will be ways of doing things that others haven't thought of that would be shared. This is where the benefit of being involved in the Red Bull family would pay off.
When we had a hospitality box at some of the sporting venues we used to invite our clients along to generate more business plus to get to know everyone on a personal level. What was interesting to note was the companies involved would often do business with the other companies just because they got to know them over a casual setting. The networking was important for everyone who was there and was the real fun part. This is no different with these sponsors and with the lockdowns and travel restrictions would have been limited to the networking done over the last 2 years.
We saw Ineos with their $20 million sponsorship two years ago turn into something so much more. Ineos used their sponsorship to open the doors to the engineering department at Mercedes to help sort out their sailing yacht and then became an owner of the team purchasing 33% last year. The spin offs of being involved are that good and the owner of Ineos saw that and why he bought into the idea of having the best at your side.
Aston Martin teamed up Cognizant and then with Crypto.com recently which was all about getting their foot in the door. It didn't take them long to become a title sponsor of Formula One as they signed that deal in the last 2 months and now their name is all over the racing circuits around the world.
Sponsors pay their way in Formula One as it is a business deal, but it is also a two way street as gaining access to other sponsors in the team would be a huge advantage. Red Bull has 30 companies who sponsor them so as a sponsor you basically have access to 29 companies and their subsidiaries depending on what your business is.
---
---