Regulation Still Taking Baby Steps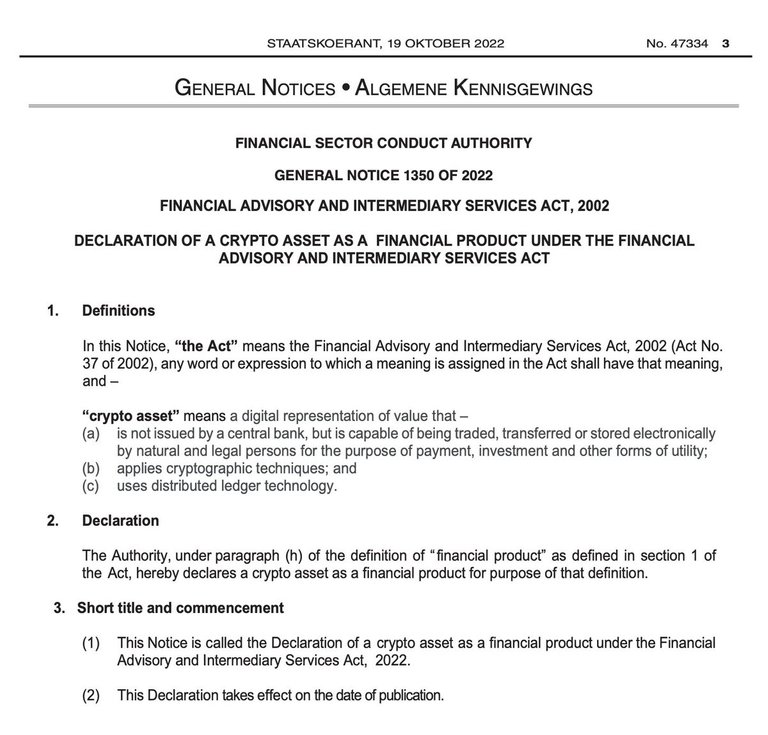 Today in South Africa we saw the Financial Sector Conduct Authority declare crypto a financial product. This is done purely to bring crypto into the controls of the South African Financial sector. Before it was classed as a digital asset. The problem was having a store of value that was so volatile it was unlike any other store of value and what made crypto rather unique.
A few months back Kuben Naidoo (Deputy SA Reserve Bank) stated that the first step towards regulation had to happen with the acceptance of crypto as a financial product. Now this step has been taken we will start to see a framework of regulation for exchange controls along with banking.
The first steps are the easy ones as working out the regulations should still take a few years. Most countries around the world are coming to terms firstly how to try and control crypto but also to protect themselves. The talk is always about protecting the investor, but in reality it is about protecting themselves.
We saw what the SA Government tried to do with the Mirror Trading International Bitcoin scam by threatening to claim the funds for themselves saying it was illegal. There was no concern for the "investors" who were taken for a ride as the Government tried to pull a fast one by rug pulling everyone involved. Once the FBI became heavily involved suddenly this action was not going to be so easy as there were many American investors who were also caught up in this.
Personally I think they are going to sit back and wait to see what the likes of the US will do as we expect this to happen sooner than later. The SA Government is definitely not pro active and will be more reactive according to what others decide.
We all know the regulators are only interested in taxing and control purposes as the financial industry as we know it is under threat. I do get that regulation needs to happen in order for the mass adoption to happen but also everyone has to be wary if where this might end up as there is no love lost between crypto holders/believers and regulators.
For certain I am declaring nothing and will pay taxes when and only when I have to as there is no rush to show your hand. Thankfully I have more than one option and suggest this is what we should all be looking for as taxes will vary from country to country. These are still early days and the regulators still have no clue how they are even going to regulate the crypto industry.
Most countries around the world are looking for new methods of making more revenue via taxes and crypto is an obvious new money that can help fill the empty government coffers. South Africa is looking under every stone to try and increase their taxes and do not trust anything they are up to as they are seriously desperate.
Posted Using LeoFinance Beta
---
---