Shipping Costs Up 500%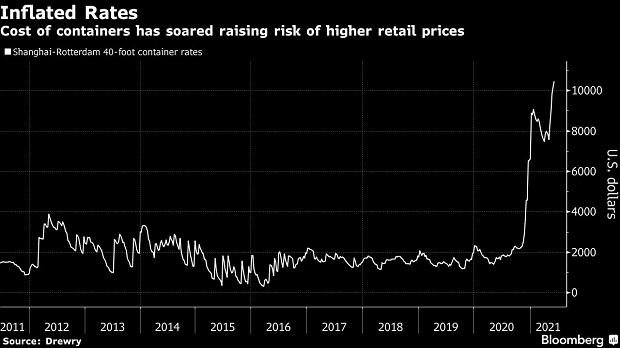 With the festive season around the corner retailers and shoppers are in for a challenging time. The cost of shipping goods which accounts for over 80% of all imported goods has risen dramatically over the last year. With prices still escalating out of control grabbing a container for under $10 000 is what everyone is now hunting for. Considering that the same container cost 5 x less 12 months ago this is added expenses that the shoppers will have to burden.
The bulkier items with a lower value like furniture and toys will be hit the hardest this Christmas with excessive increases being applied. To give you an idea a cheap furniture flat pack product has roughly 70% of it's cost in transport so what are you really paying for?. This is more reason for companies to support local products and get back their industries that they have lost over the years. There is no such thing as cheap Chinese goods anymore as prices have increased across the board. The problem we all know is once you get used to paying a certain price those prices never come back down and becomes the new normal.

source
Maybe the Russians are on to something with the Northern Sea Route expecting to cost 30-40% less.
$8000 per container more is a massive increase when you add on the inflation we are all seeing right now with everything going up including local goods. Shipping this time of the year is a lottery under normal circumstances as the cost of moving the containers via freight firms always had a seasonal increase added on. This was never the case with the containers as you had negotiated a fixed rate. Those fixed rates are now up and when negotiations happen again these are the new rates. Not surprisingly some firms have rented their own vessels as this is looking like the cheapest alternative plus guaranteeing their own deliveries. At the time it looked like a costly venture, but will create savings long term.
A shortage of ships due to massive delays at ports along with a shortage of containers tied up on those vessels. Off the coast of California there is a queue getting longer and longer with a 3 week delay currently with 60 container ships waiting to offload. This not only ties up the ships needed elsewhere but also the containers.
This doesn't only impact shoppers but also exporters such as the olive growers in Europe can no longer export to the United States as their prices cannot compete anymore. The only answer is to shorten your supply chains as having a 20 -25% increase is not viable. How bad are things should tell you when some European based companies are resorting to trucking items from China to try and get around the inflated costs. I had no idea things were that bad as that is a drastic measure and scary to think is cheaper than a container on a massive ship carrying 10's of thousands of them.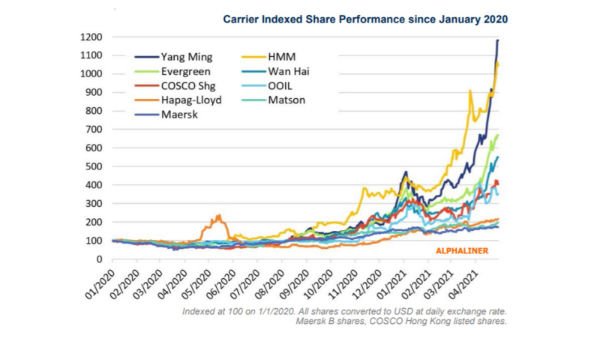 Profits are obviously up for the shipping carriers with records being set this year. Not surprisingly shipping stock is out performing many other stocks up by over 400% this year alone. One does wonder why they have inflated the prices so much if they know everyone else has to suffer and unfortunately the demand has made this happen. This is not going to improve anytime soon as congestions are only increasing and adding fuel to what will be more increases.
Posted Using LeoFinance Beta
---
---