Short Notice = More Like No Notice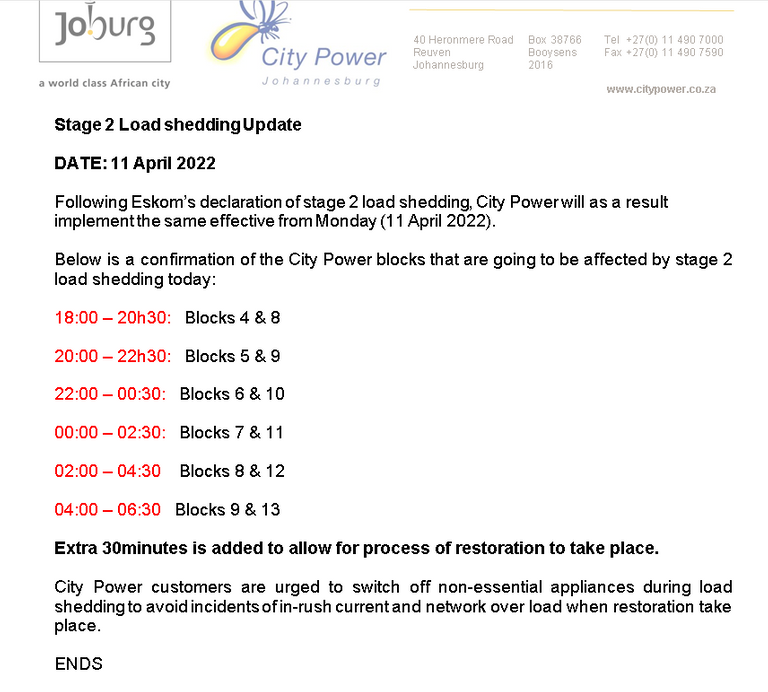 This was posted an hour ago on their twitter feed yet it is 9.30pm local team here in South Africa and load shedding has been officially running for 3 hours 30 minutes.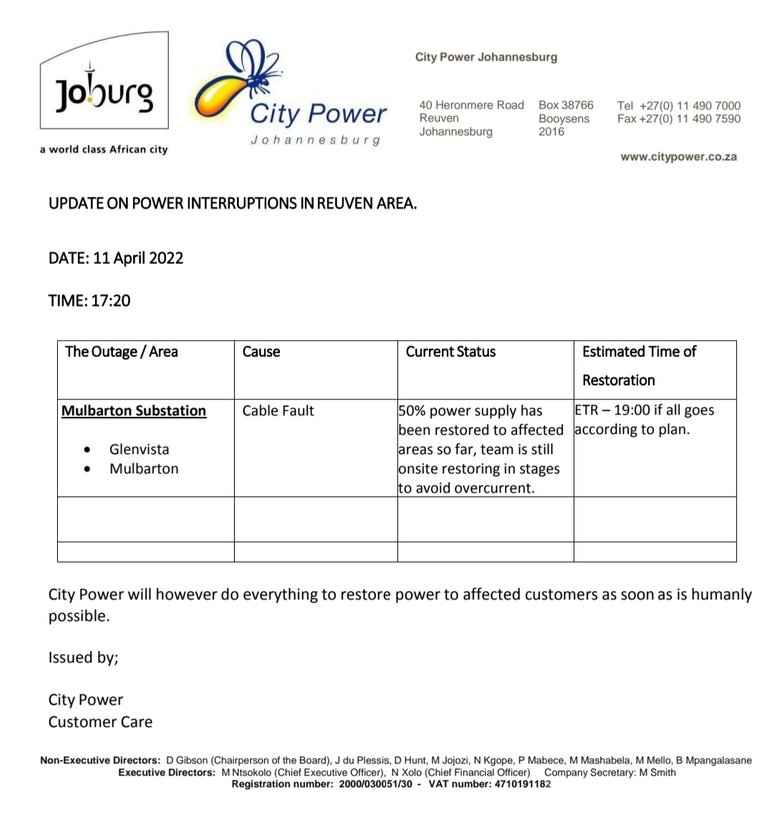 This was the second outage of the day before the so called planned cut at 8.00pm.
I say officially as today the power was off between 10am and 1pm followed by another hour between 4 and 5pm and being block 5 off again between 8 and 10.30pm. This is what happens when a service is never maintained as it catches up with you creating havoc.
Basically if you don't have a generator you would be seriously screwed as what would you do otherwise? The solar is an option but I refuse to invest into that knowing I am not going to be around here that long. The outlook for the future is rather bleak and unless their is a massive upswing in the economy it is time to move the business overseas.
The idea of trying to make a business viable by having both hands tied behind your back is not something I am prepared to do for much longer. Many have left already and many will still be leaving as the prospects are rather dire with the current working conditions.
The main problem is our manufacturing facility has to be set as the rolls that it produces are a certain specification and length. The last load shedding experience cost us a fortune in wasted materials and this is not covered by insurance. The schedules are never exact as no one is accountable so we would rather shut the plant down than operate under these conditions. The solar system required to run the plant would be an exorbitant price which is not an option under the current economic climate.
All I can say thank God for Crypto as not much else is going right at this time and who knows if it will improve or not. Winter hasn't really started and already we are having issues so the next few months are not looking that wonderful. I just wish circumstances were slightly different as the business is that good in the right conditions, like a normal place. When I move wherever that may be I will never complain again as I know how bad things can get.
Posted Using LeoFinance Beta
---
---