Talk The Talk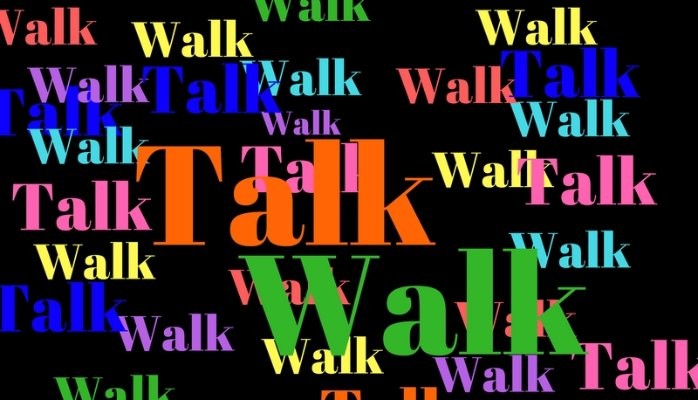 Actions speak louder than words as talk is cheap.
One of my long time friends who I have been trying to get involved in Crypto for a few years (many) has procrastinated yet again. Out of everyone I know he is the one who is always ahead of the curve and he blanked me yesterday.
His words were it is too complicated which needs plenty of time to understand as you need a degree in crypto these days. I have to admit things are way different than they were back in 2017/18 as things have progressed quite rapidly.
If I think back to the knowledge I had when I first joined till now it has been quite a journey. In many ways he is quite right about having to do some type of course to understand how things like DeFi work and the risks involved.
Hive may have been a bad starting point as there is too much going on and it does seem rather daunting. In the past I had spent a few hours running through the basics and saw the glazed look knowing I had already lost him.
I think this is the problem with not only the retail investors, but also a large chunk who call themselves crypto investors. In the early days it was easy to get involved and make a quick buck or two without having to put any thought into what you are doing. At the start of a bull market anyone can make fantastic returns but try that when the bear market starts as there are no such easy pickings to be had.
Today we have DeFi which in many ways is a different mindset from making a quick buck as this involves compounding your rewards over a period of time which hopefully ends up with a similar result. There is a certain amount of knowledge one needs to learn in order to set these things up.
I mentioned that the longer he leaves it the less likelihood he has of making a decent return as he is falling behind every day he is not involved. The last time he was having around he was interested in the Coti Treasury and had some issues signing up as his passport had expired for the KYC. I had roughly 15K Coti then and now have over 50K Coti now so in that short period of time the stake is over 3 x larger and he is still not involved.
How much time would one need to get involved in crypto is up to them on how successful they want to be. An hour per day is not a sacrifice with what is on offer and the mindset needs to change. So many are set in their ways rather watching Netflix instead of learning a new skill.
If you are going to talk the talk then you need to walk the walk as crypto is only going to become more and more important as the years tick by. We all know this as we have seen it develop and grow just in the last 4 years as many of these projects have changed as they are no longer speculation and are being used by companies on a daily basis. Adoption is happening faster than what we might imagine and this is only a matter of time now before everyone is going to be involved with a blockchain in some form.
Posted Using LeoFinance Beta
---
---