The First Reshuffle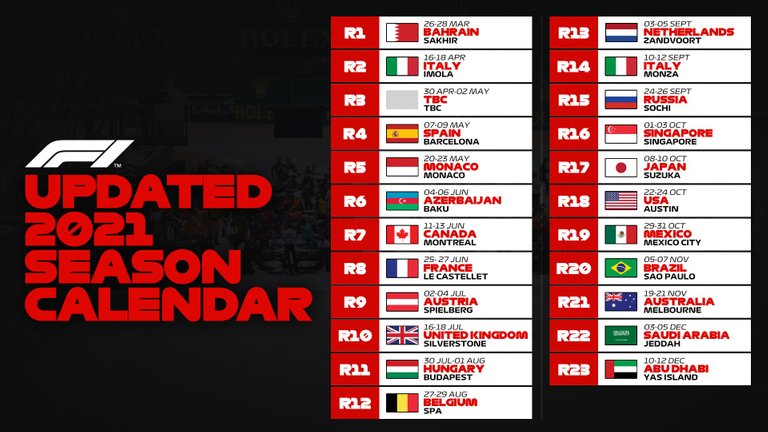 source
Good to see Melbourne hasn't been cancelled and just reshuffled to later in the year. The dates of Saudi Arabia, Brazil and Abu Dhabi have all changed. China is still an ongoing discussion and may still appear somewhere if not I expect Portugal to replace that venue which makes sense looking at the calendar in the spot that states TBC.
The FIA and Formula One have a tall order to make this happen and expect many re shuffles to happen as the season starts. last season the calendar was kept within Europe and the Middle East making it easier for logistical purposes. A world tour is a different prospect as late changes to plans cannot occur. Shipping starts 3 months before a race and any later will create chaos.
I would like to see the third or spare car come back into the mix as in Europe you can get away with having extra components on hand with the factories close by ,but 10 000 miles away is a different prospect altogether. The last thing we need is cars not starting and a full race grid is what fans and sponsors will expect.
The Formula One teams will at least have some experience from last season so planning and working as things arise will be second nature these days. There is going to be some issues with countries locking down at some point and at least after last season there are plenty of back up options for spare tracks dotted around Europe.
Last season the teams completed 17 races starting the calendar in June so 23 races starting 3 months earlier should be a walk in the park. The one thing tat is different from a regular season is there is no winter break which allows the FIA and Formula One to have some spare time to change things around if and when it will be required.
Australia moving from the first race of the season to the back end is important as just cancelling an event is not beneficial to anyone. I am happy to see the Netherlands back as the owners had invested a small fortune re developing Zandvoort.
The one omission off the calendar is Vietnam which is a track I was looking forward to seeing and surely has to be added back in 2022. This would mean that one of the races would have to fall away and with Italy hosting two it would either be Monza or Imola. Germany will no doubt be seeking a return as well now that there is a Schumacher on the grid again.
I can predict we will see possibly 25-28 races per calendar season within the next 5 years and the gaps between each race will be a week apart. There is talk of America having an extra race as that is where the growth building the fan base will come from and the talk is that it will be in Miami with a street circuit.
All we can do is wait and see how many races will be achieved this season as 23 in these times of uncertainty is a tall order. This is about keeping sponsors happy with a bumper filled season with increased television revenue for the teams. This if everything goes according to plan will be a lucrative season for everyone involved and most likely their most profitable one ever.
---
---