Who Is Fooling Who?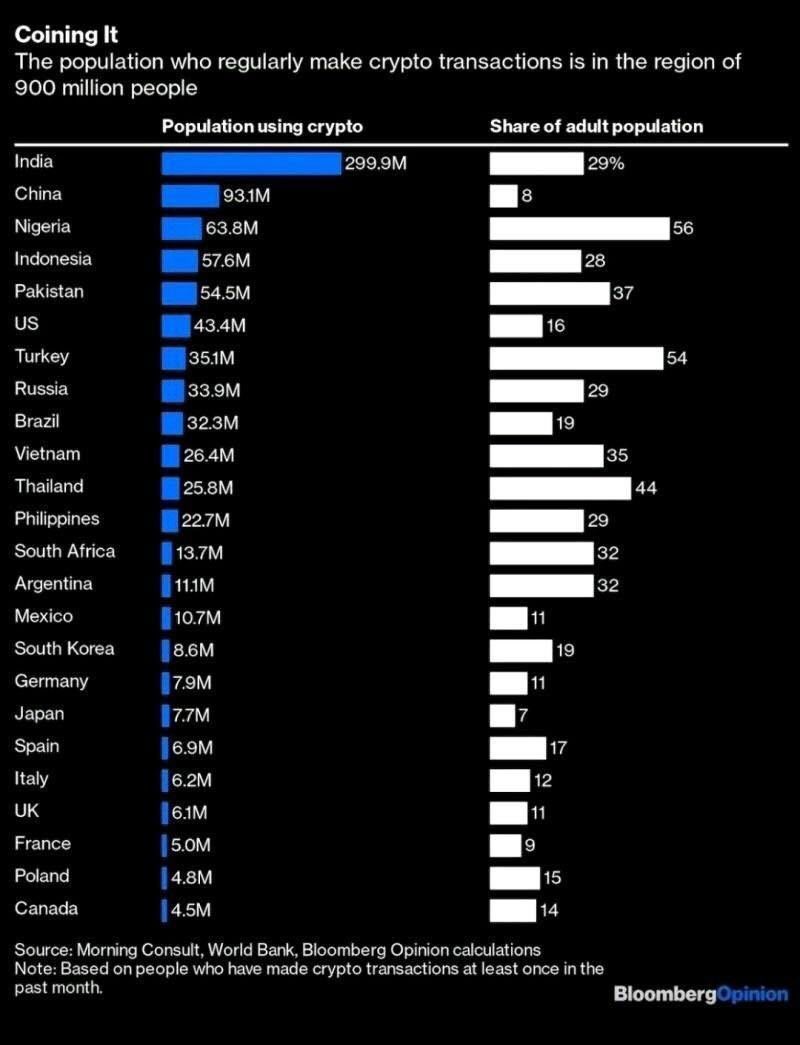 My view is these are negative reports and are just as bad as FUD in many ways as they are fake news and not real. What happened to getting the right figures and doing your research properly?
Whoever came up with these figures did exactly by coming up with them as just from a South African view point they are not even close. A population of around 62 million with 20 million under the age of 18 meaning that nearly 13 million people in South Africa regularly trade crypto. The Government cannot even do a Census properly reporting on the number of people living in South Africa so how anyone came up with these figures is mind blowing.
This is pure B.S and is so far of the mark it is laughable considering we have a high percentage of unemployment with a majority living under the breadline. It is so believable that someone will purchase crypto when they cannot make ends meet? Give me a break as there is some angle being played here as to look who is behind this data.
Morning Consult, World Bank and Bloomberg Opinion calculations. Are they trying to get regulation happening faster than normal by trying to scare those in charge into making decisions? Kind of looks like it as the figures look way out even if we had to say adoption is happening slowly. This is not slow according to these stats and why I say B.S as I only know a few people who have crypto in my circle.
Business owners will have crypto in South Africa due to the need to have a safety net away from the weakened currency but the general population cannot afford to even save let along mess about with a technology very few have any idea about.
The only people I know who are aware and use cryptocurrency are the foreigners from Zimbabwe, Mozambique and Malawi as they use various DApps to send funds back to their loved ones. Most are unbanked having no papers and in many ways are illegal immigrants as they don't exist on any paperwork.
Trust me if we had 32% of adults investing in crypto in South Africa the Government would be all over this right now and they aren't. Many stats from other sources state somewhere between 10 and 155 of the SA population is involved in crypto in some way or form and that would be about right for where we are.


My thoughts exactly as someone is definitely smoking a powerful mix as this just sounds like way too much. If we had this sort of adoption already the market would not be in this situation right now as 900 million crypto adopters is a healthy number. I don't believe any of this for one second and do think there are games being played or manipulation games to force regulation to happen faster than it would justifying these figures.
When adoption happens we will know about it and it is not happening at the bottom or close to the bottom of a bear market. When most of crypto is down by 95% do you think adoption is going to take place as we all know this is the best time to get onboard, but the majority won't nd will wait until there is hype and all time highs.
Posted Using LeoFinance Beta
---
---