Will We Ever Feature?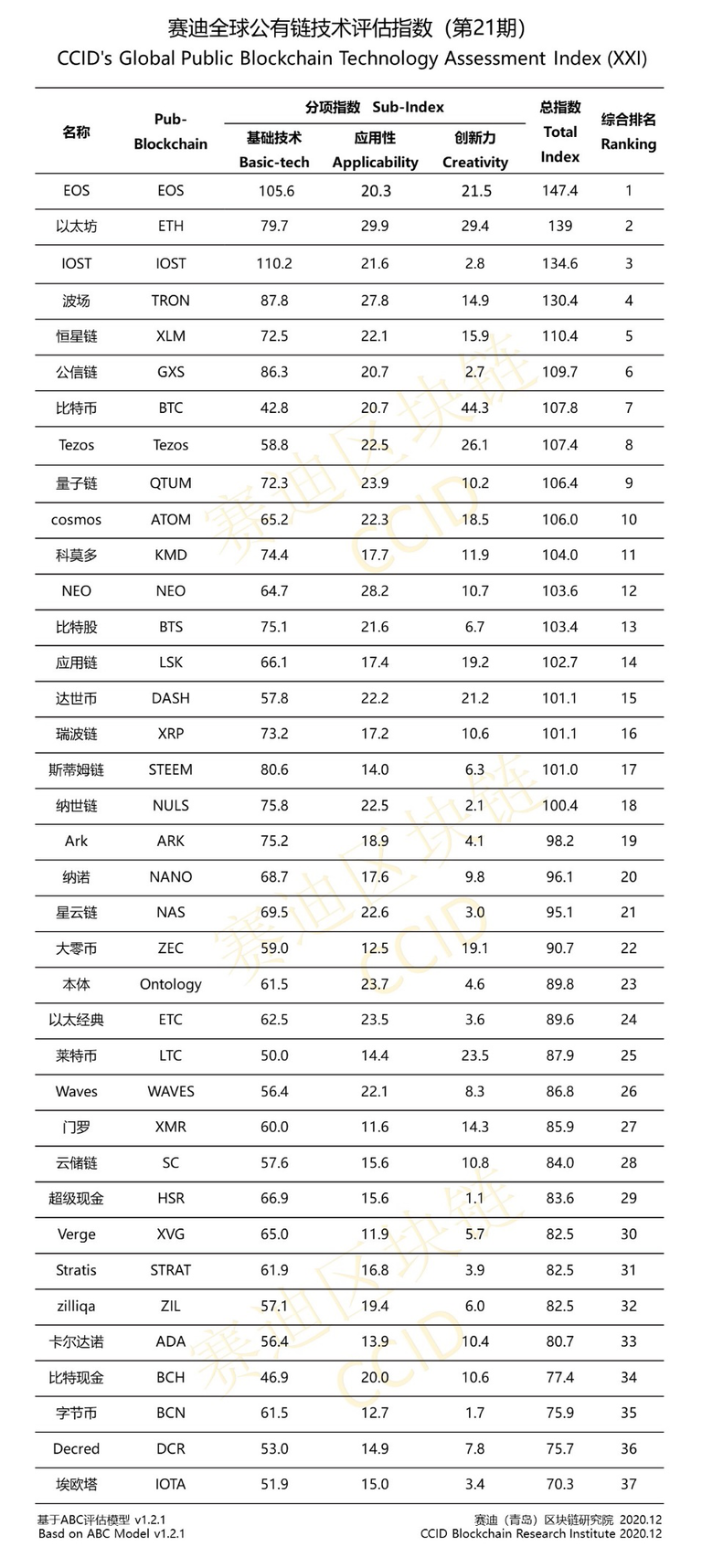 source
This was from the 15th December last year and I am not going to rush to see the next one as nothing has changed that much in a month and the top 37 will still be the same. Maybe in 3 months when we have a few more things added who knows.
Every now and then I like to take a look at the CCID Rankings or for those that don't know these letters stand for the Center for Information and Industry Development. This is a Center for research set up by the Chinese Ministry of Industry and Business.
The rankings are carried out by how each blockchain scores in various categories such as Basic technology, Applicability and then lastly Creativity. The scores are then tallied together creating the ranking.
Basic technology is scored using an assessment of the features of projects and developments, security, performance and how decentralized the blockchain really is.
Applicability is all about the Nodes and their deployment (we know about Nodes),development support and the implementing of applications along with wallet development.
Creativity is where it throws Basic Technology into a huge question mark in my thinking and I am no techie. project innovation regarding how many technical people the block chain has. If it is truly decentralized how would you know. Code update and code development.
I can recall looking at this a year r two ago when we were on the other block chain and when certain developers left it changed the ranking. On Hive we have literally hundreds of developers all working on different apps and behind the scenes stuff.
My question is why is Hive still not ranked on this list if it is a true assessment of what is happening in the blockchain world. There is so much development taking place on here compared to say another chain ranked in 17th sandwiched between XRP and NULS.
Out of the 37 Blockchains listed on the rankings it would be hard to ay with an exact definite where we should be ranked but surely with what we have to offer a top 5 would be fair. Once we have all the additions from Leo Finance and 3Speak plus Dlux.io coming when it does surely we have enough for them to stop ignoring us as we would be a serious contender to be near the very top of their list.
I believe a place like Hive wouldn't be featured on their list as it is not something they would like to promote. We have seen how they have blocked the majority of sites from the west and Hive would be on that list. The problem is we are decentralised and therefore is seen as a danger for their security and government as we cannot be controlled by any entity.
I am not bothered if Hive makes the rankings as the crypto world knows about Hive and if they don't they soon will via Leo and all the other nice things being added constantly.
Posted Using LeoFinance Beta
---
---