Win This Gold Foil NFT Card For Splinterlands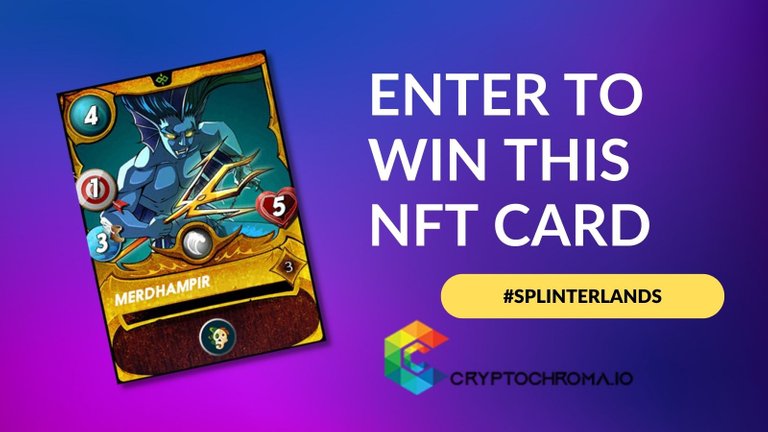 We actully had a higher turn out which might be because of the hype coming back to Splinterlands again after the layoffs. Emotions at first where like this game is over with but in reality it's a positive for the company and allows for less expenses and more profits to be made by the game giving it a longer runway of operation. Those tips in comments(🍕 PIZZA , 🍺 BEER, 🎮 PGM, ❤️ LUV , 🍷 WINE, 😆 LOLZ, 👫 ENGAGE, ❤️ ALIVE, etc.) and upvotes greatly help as well to be able to run bigger giveaways in the future.

What's Up For Grabs This Week
This is one awesome card to have. Not only is it a raged card with decent health but it also has life leech which increases it's health every time it does damage. By the end of the round this card could have a huge HP tank.

Proof of Winner and Prize Sent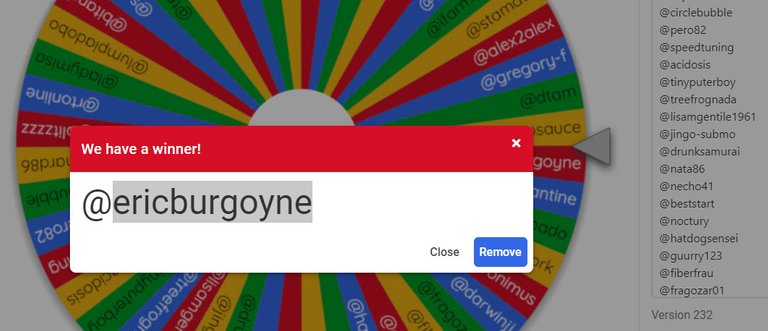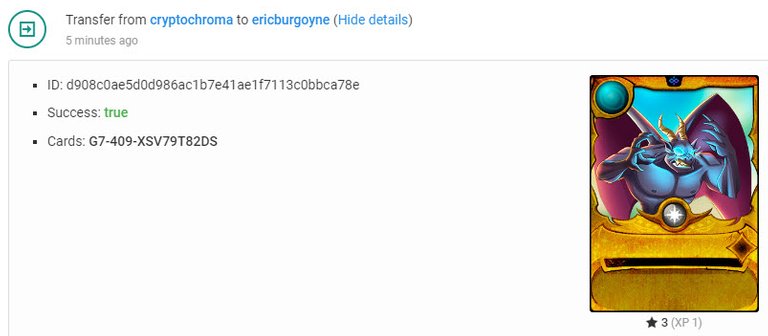 How To Enter
Required
Must be following @cryptochroma

Drop a comment with your IGN for Splinterlands
If you don't have a Splinterlands account yet feel free to join here Join Splinterlands
Optional: Drop any size upvote on the post (This helps us provide better prizes and reach more people as we grow
Optional: Share this post with others
Optional: Drop comment tips such as 🍕 PIZZA , 🍺 BEER, 🎮 PGM, ❤️ LUV , 🍷 WINE, 😆 LOLZ, 👫 ENGAGE, ❤️ ALIVE, etc. these also help us grow our reach and prizes.

Tagging Previous Entries
@darwinjj
@ieronimus
@mirroredspork
@pirulito.zoado
@ianballantine
@ericburgoyne
@pregosauce
@dtam
@gregory-f
@alex2alex
@stamato
@ifarmgirl-leo
@yokosama
@jfang003
@hoosie
@henruc
@engilhramn
@monsterbuster
@olaf.gui
@bechibenner
@jdike
@gs1
@imfarhad
@tengolotodo
@scfather
@bitandi
@lumpiadobo
@ladymisa
@rtonline
@blitzzzz
@vaynard86
@circlebubble
@pero82
@speedtuning
@acidosis
@tinyputerboy
@treefrognada
@lisamgentile1961
@jingo-submo
@drunksamurai
@nata86
@necho41
@beststart
@noctury
@hatdogsensei
@guurry123
@fiberfrau
@fragozar01
---
---