Wild FunFair Ride (Entry and Exit Points) + Potential CTP Burn
Hey guys! Just posting a follow up on the FunFair post a week ago where I pointed out the new partnership FunFair had with Freebitco.in.
Disclaimer: there are referral links in this post, I currently have 0 liquid holdings of FunFair tokens plus a very small amount locked up (under $100) and lastly, please treat this post as information only, not financial advice.
Rollercoaster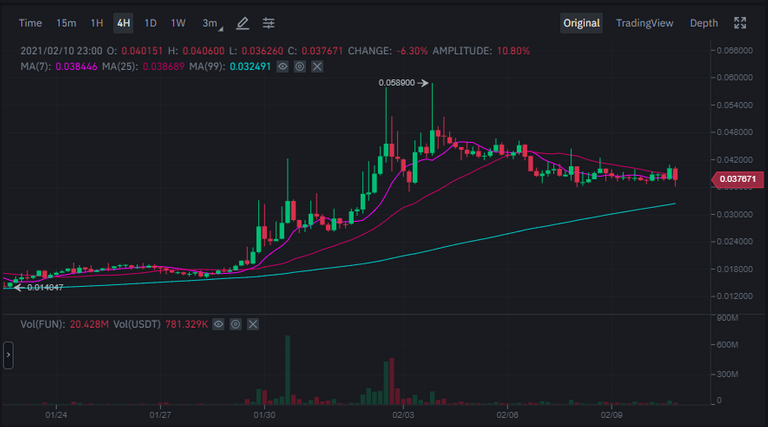 After buying in around $0.031 each, the coin flew up to a massive $0.058 within about 1 day but sadly, my 50% sell orders at $0.062 was not hit. I saw the token price crash all the way down to around $0.034 before deciding to just set a stop loss at $0.031 and move on. However, before I knew it the coin was above $0.04 again and briefly reached $0.0589 (which of course I did not sell at).
After a long cooling off period from the peak I decided to sell 90% at $0.043, then my last 10% was sold at $0.041.
Reason For Selling
Simply put, I believe this was a massive case of insider trading or a pump and dump.
At the intersection of the two lines is where I believe the news first came out, but as you can see the token has been pumping massively for weeks beforehand already, in fact it was already up 10 times from the lows back in October. Due to this, I decided to stay away from this token, at least for now.
Final Thoughts + Potential CTP Burn
Apart from the almost definite insider trading of this token, I believe the fundamentals of the FunFair token is actually still quite strong. They are shaping up to be positioned as an industry leader in online gambling, if they can deliver on some of their roadmap targets. It will be very exciting once they become cashflow positive. I may buy into this again once the price goes down (significantly), or if FunFair releases more news about their token.
To see what value Freebitco.in adds to the FunFair ecosystem, please have a read of this article I posted last week.
Lastly, Freebitco.in is currently having a referrals promotion for the top 10 highest token sale referrer! So, if you are still interested in this token after this article, please sign up with this link and if I end up on the top 10 leaderboard, I will convert 100% of the winnings from the leaderboard into Hive then into CTP, which will be burnt. Please note purchasing from this website will lock your tokens until March 15th, but this will be the only way to start start accruing the holding period required to activate the bonuses on Freebitco.in.
Please feel free to leave any thoughts and comments below!
---
---