Six Diamond Chests to Open - Splinterlands Focus Giveaway (Win Free Card) - Round #1186
Hello, Splinterpeeps!
Welcome to the 1186th round of Splinterlands giveaway! Today, I was watching one YouTuber who is an experienced Splinterlands player and I got the confirmation for my doubts... In the last couple of days, I couldn't collect more than 3 chests per day as I was losing more than winning... And the guy from the video confirmed that as he had similar results... I suppose that it has something with banning bots in the Modern Ranked, but also banning "helpers"... So, we need some time for things to settle down and it SHOULD be better... Until then, we need to struggle a bit more...
Also, it is true that the battling was harder in the middle of the season and it's getting better as we will be closer to the second part... For example, today's loot wasn't as bad as before... I collected 6 chests in total... The content of the chests could be better, but 11 Dumacke Orc cards and 48.7 SPS tokens aren't bad at all...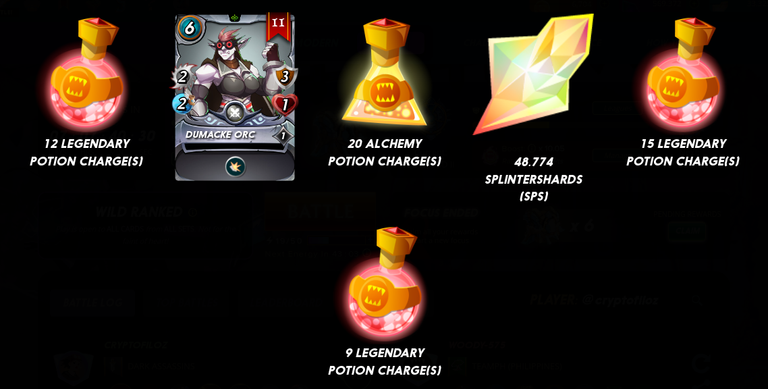 The other rewards that you can see below are my yesterday's loot where I got only 3 chests, from which I got only 2 cards and less than 5 SPS tokens...

---
The idea of the giveaway is that I would like to give every day for free (or every second day, depending on my free time for playing the game and getting rewards) one of my cards! You just have to pick up which one you like most!
Today's options to choose from (PICK BETWEEN THESE TWO CARDS):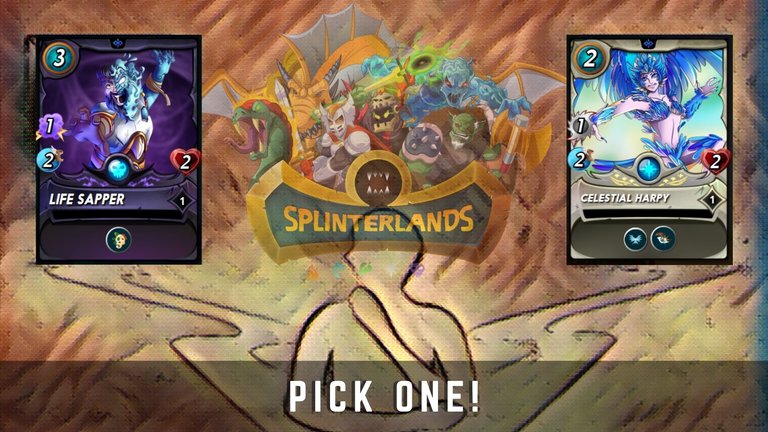 The lucky winner will receive 1 Splinterlands card of his choice!!!
Rules for Splinterlands quest giveaway:
1. Comment on this post what card (only card!) you want from offered ones
2. Put your Splinterlands username in the comment (if it is not the same as here).
::. You can also tag your friends in comments to invite them to join the giveaway .::
3. Play fair and don't enter multiple comments with the same game username... All winners are checked before rewarding...
NO Upvote, NO Follow, and NO Reblog required!!! But it would be appreciated if done.
The winner will be chosen by a random comment picker (filoz.info/picker) and he/she will receive the chosen card in level 1.
The game will last at least 23-24 hours, or until this post has a minimum of 5 valid comments (except bots, spam comments, etc.).
Results of Splinterlands giveaway No: 1185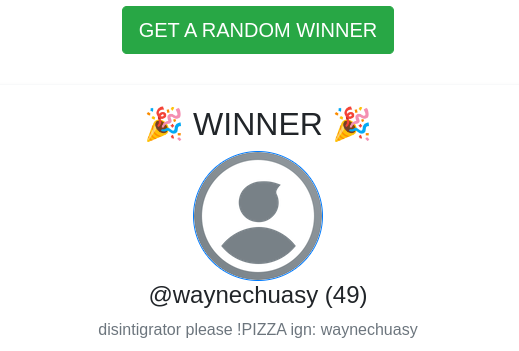 The card goes to ------- >>> @waynechuasy
Congratulations!!!
For non-winners, I hope you have better luck in the next round of the #splinterlands giveaway!

+:+:+:+:+:+:+:+:+:+:+:+:+:+:+:+:+:+:+:+:+:+:+:+:+:+:+:+:+:+:+:+:+:+

Do you want to be always up-to-date about SplinterLands?
Don't forget to follow, reblog and browse on HIVE and LBRY

+:+:+:+:+:+:+:+:+:+:+:+:+:+:+:+:+:+:+:+:+:+:+:+:+:+:+:+:+:+:+:+:+:+

---
---