Jumping in Mortal Judgement extension!
Hi Gods Unchained players,
I have finally jumped in the new extension... I will go slower than for the previous ones but I must say, they got me once again!
This time I will buy a very little amount of packs.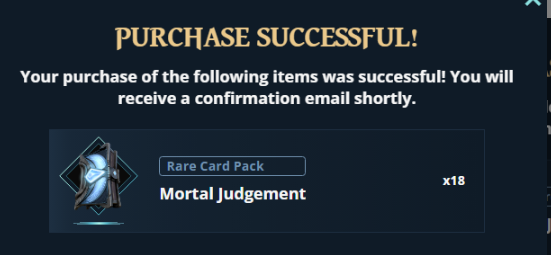 I have not made the profit expected on ToG and now to be competitive I need some Mortal Judgement cards. I also need to farm some New Core cards and it is annoying me to be honest...
It takes a lot of time and until I get most of them, I won't be competitive.
Also, when will daily quests be implemented? Because until now, we buy packs and we have some very low return on all our assets.
There is no rental market or bonus for HODLing a big collection. I hope all of this will happen once the Mobile App is out.
First 5 Packs





I have been quite lucky with these first 5 packs with 1 Legendary, 2 Epic and 2 shadow cards! Hopefully this will continue.
Have fun until then!
---
---