Dapper NFTs Search Engine & Wallet Creation

Introduction
This morning I look around the website of Dapper to know more about the project. It is a popular wallet that you can access and interact with NFTs and decentralized applications on the Flow blockchain. Without a wallet, you cannot have fun owning collectibles or playing awesome web3 games.
Right on their page, they have implemented a beta search engine to discover and browse cool NFTs.

You can browse in different categories and those are:
Avatar
Music
News
Marketplace
PFP
Gaming
Sports
A good starting point to find gems and impressive collectibles on the blockchain!
The account creation process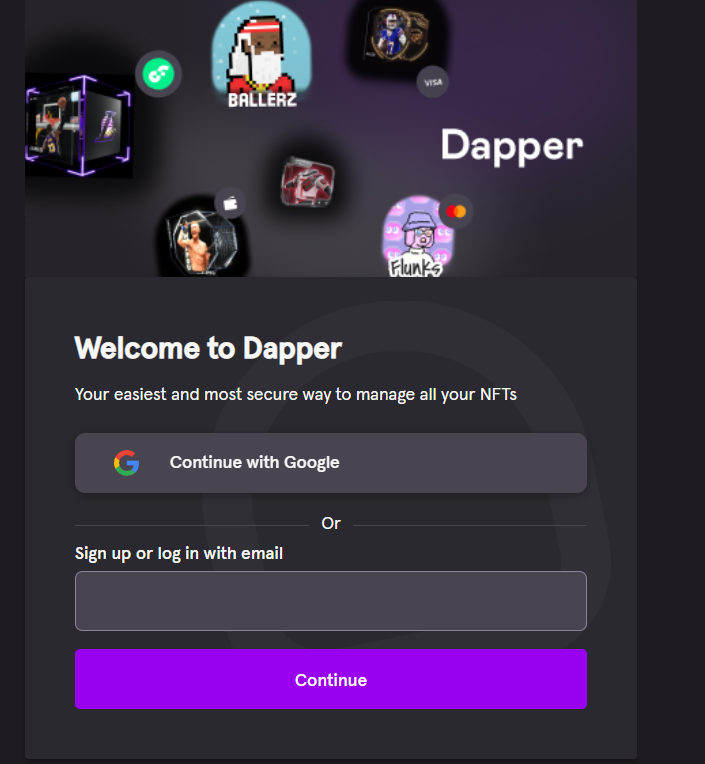 On the website at the right corner of the page, you have a sign-in section where you can log in or create an account. Seamless and easy to find your way easily. Don't worry, you will remember clearly how to come back as fast as a cheetah!
You have two options: to log in with your Google account or simply choose your personal email. I chose the path of using my Google account for simplicity and to explore what Dapper offers under the hood. As well, using an existing account, you don't need to have another password to remember or store in a safe place.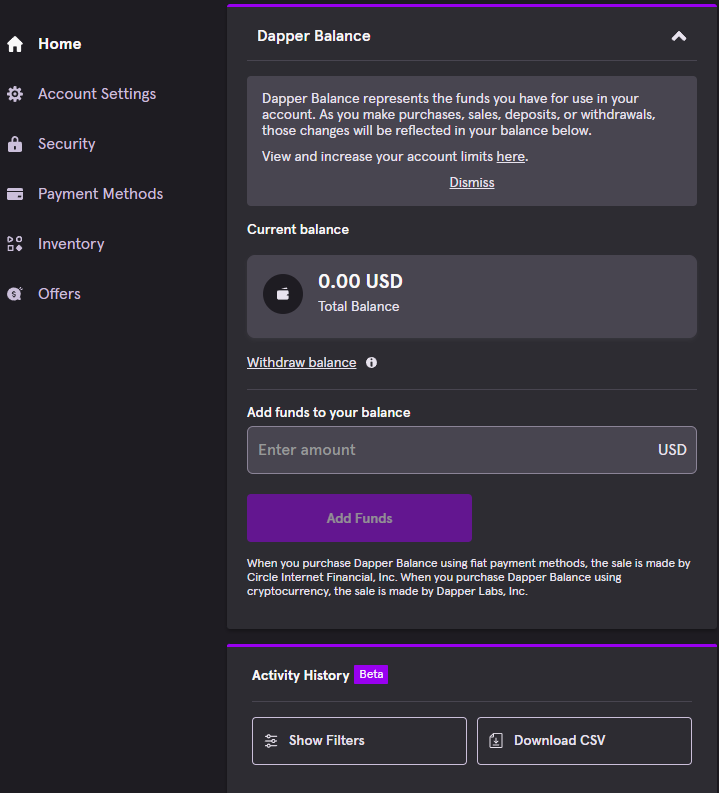 When you log in for the first time, your Dapper wallet has a balance of $0. I hoped maybe to have a goodie or a free NTF for an incentive to join the Flow blockchain. You know, from a marketing standpoint; it is cool to implement a scheme like that. Anyway, I am completely poor and need to receive a few NFTs for free while exploring awesome projects there. I am optimistic it is possible!
An important fact, when you are using the Dapper interface. You cannot change the password because to log in you already use the one from Google. This makes the process smooth for anyone interested to have an account on the Flow blockchain. It is vital for a lot of folks who know nothing about blockchain technology.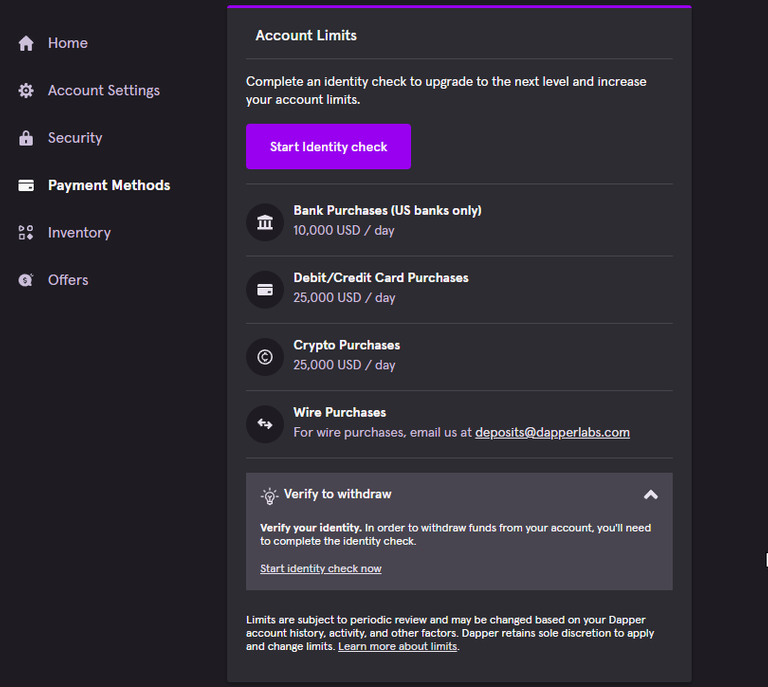 Something I don't like right away is you need to validate your account for increasing your limit and withdraw externally from the wallet. I don't mind, but forcing you is against the philosophy of crypto and decentralization. It is a sight the Flow blockchain might be centralized.
When you validate your account, you can have the following requirements implemented in your Dapper wallet:
Bank purchase of $10000 daily.
Purchase $25000 on debit and credit cards daily.
Purchase $25000 daily with crypto.
Most folks will never purchase that amount daily! Realistically, most people will make a purchase once in a while with a small amount of money, like $25 to $500, for example. I believe is not worth your time to do the KYC requirement in the beginning because you need to explore if you really enjoy the ecosystem. Otherwise, you provide your personal information and increase your risk. It is always important to take your time and never rush!
Conclusion
I have created my Flow blockchain account with the Google option. I believe is a smooth process and worth it if you already have one. In that case, you don't need to remember another password and this is just perfect.
The only thing I don't like is you need to field your personal information for increasing and withdrawing from the Dapper wallet. In my case, I will wait before doing this process because I want to dig deeper into the projects on the Flow blockchain. I hope to receive a few NFTs freely. I don't mind if I cannot withdraw from my current stage of exploration.
In the next article, I will speak about the inventory and offer sections of the Dapper wallet. Enjoy a wonderful day until then on your crypto journey!
---
---