STOP THE STEEM DRAMA / Bitcoin Time Time Time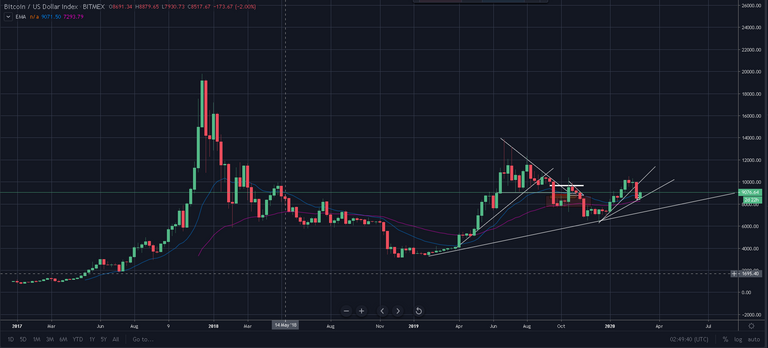 I have put down some cash on Bitcoin adding to my long term stash, if we look at this chart we can see the similar pattern since the all time high on December 2017, it has been almost three years since then and price hasn't change much, but I'm starting to think that a reversal is coming, there is strong support from 6k to 7k and right now its very similar the pattern that Bitcoin is starting to form
On a shorter term Bitcoin seems to be repeating the patterns ever since then, as we can see blow top at 20k then crash to 3k, form a round bottom and then went up to 14k then form a round bottom and went to 10k and now we may see another round bottom were we can revisit the 6k mark or even lower depending on several situations around the world like for example the stock market, Im not saying they are correlated but its obvious that if ppl are scare to invest they wont go to Bitcoin, at least not now but thats the mind set of most ppl invested on Bitcoin.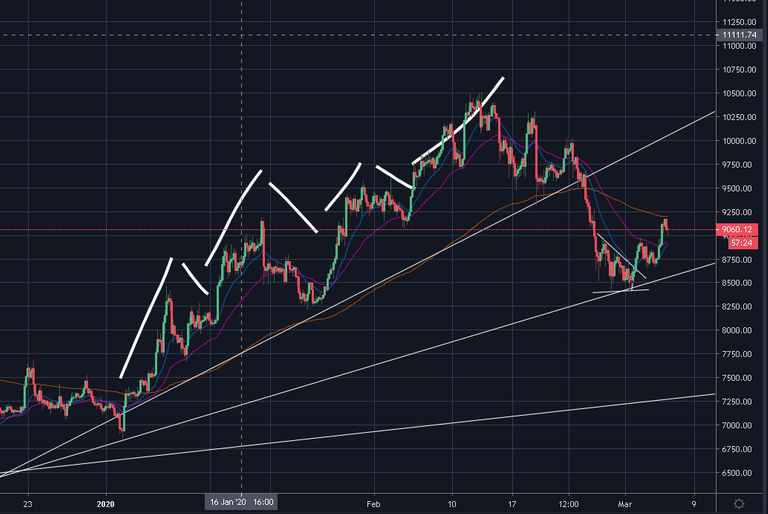 To backup my current thoughts we can see that the upward pattern is temporary broken, price would have to brake the 10k mark again and stay above it for Bitcoin to keep going up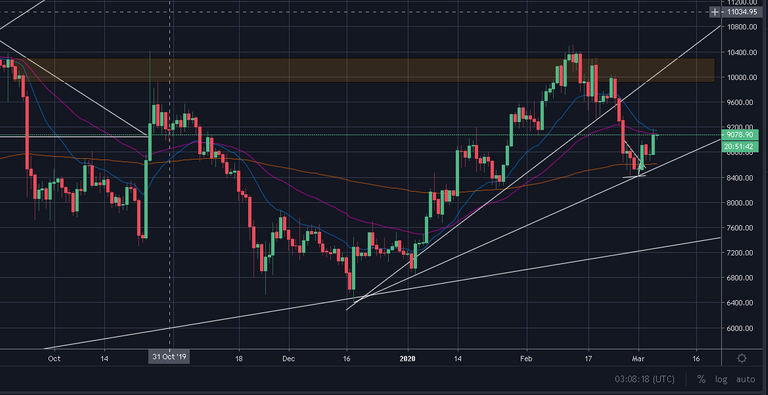 In the short term for me Bitcoin seems a bit bearish for now and since we just fill a gap at 8k and the price is bouncing there is still in play a dead cat bounce before going back to that 6k to 7k mark to fill that gap and then start going up as I mention at the top of my post, Bitcoin may go down to form another round bottom before starting another short term rally just before halving that is about 79 days
DISCLAIMER: The information Cryptoxicate.com or its media channels not limited to Twitter, Telegram, Discord, Instagram, Facebook, or any upgcomming social media platform or internet search engine results is not financial advice. This information is for informational and entertainment purposes only. Any information provided are only and simple thoughts and opinions, you must not follow any of this thoughts and look for a profesional financial advisor since we are not any type of advisors. Dont not get into crypto currencies since its a high risk investment if you do not have the proper guidance and any investment that you made is your own responsability and no one else.
---
---