Get a regular income in CTP tokens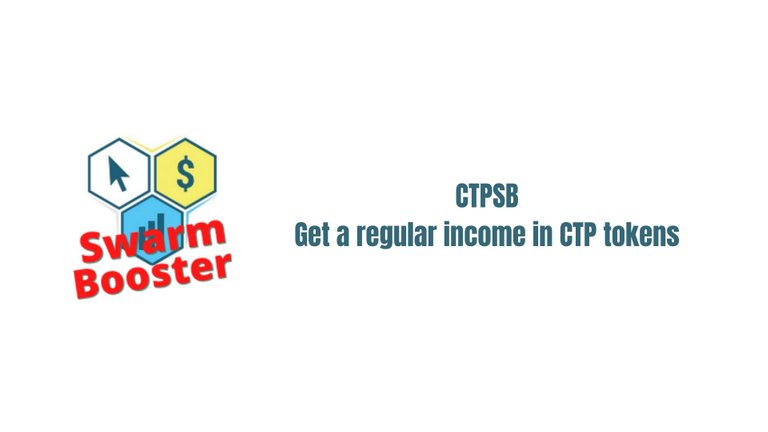 Sometimes I have the feeling that there is not much to tell about the @ctpsb project because I know everything about the project. Recently, I made a post with my personal account and I promoted this post over listnerds. The idea of this post was to show ways how to improve the income from Listnerds.
One of the tips that I proposed was to delegate hive power to @ctpsb and get paid weekly dividends in the form of CTP tokens. I was surprised to see how many people weren't aware of that. This shows that we often aren't aware how other see a project and what they know about it.
Earn CTP tokens every week and profit in many ways
When people delegate hive power to the @ctpsb account, they will get weekly dividends in the form of CTP tokens paid to them normally on Sundays. The return on these delegations is around 9.2% APR at the moment. When you look at the APR for curating with your own hive power, you will see that the APR is very similar at the moment.
However this is not the only advantage that you get by delegating Hive Power to @ctpsb. Because the CTPSB project is a community project that aims to support people in the CTP community. Every month, we select the top 60 active authors and support them with powerful upvotes. What matters is the number of CTP tokens that are staked on the blockchain. If you delegate hive power to @ctpsb and have a nice number of staked CTP tokens, you might get powerful upvotes on your posts!
If in addition you own CTPSB tokens that are traded on hive-engine, you will become a part owner of the hive power that is owned by the @ctpsb account. All the curation rewards that are generated by the account go into the value of the token and it's price increases constantly.
Delegating Hive Power to @ctpsb brings three potential advantages:
weekly dividends in CTP tokens
more powerful upvotes on your own posts if you are in the top 60
quicker price evolution of the CTPSB token if you earn some of these tokens
The numbers of this week
At the moment, the project grows at a slow stable pace. Here the numbers of this week: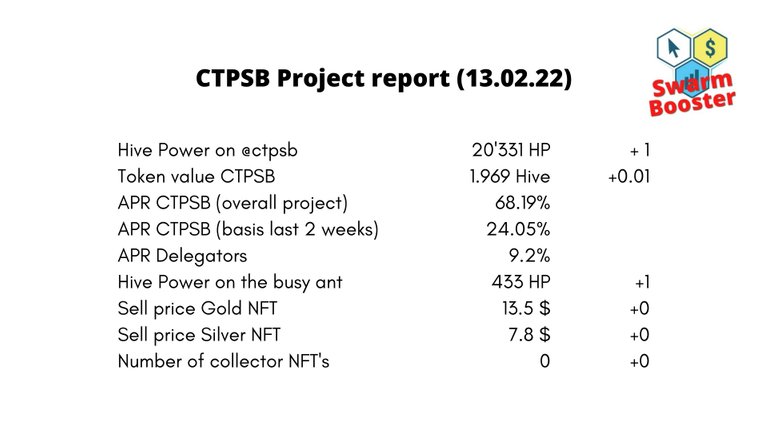 ---
Learn more about the CTP Swarm Booster:
---
---