Improving the market maker for CTPSB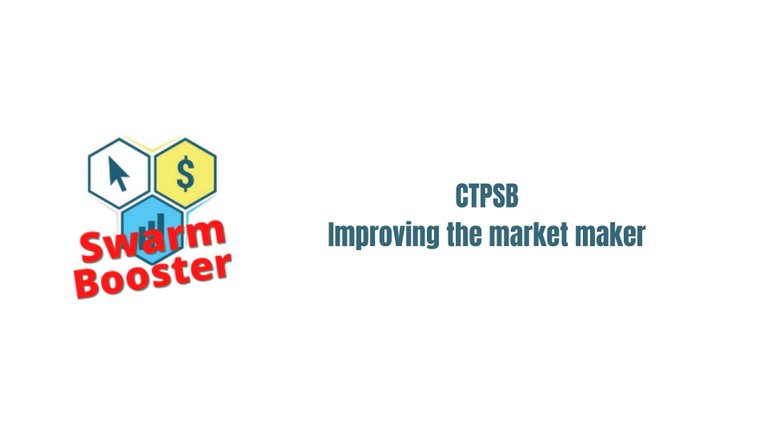 When we started the project, we had created a market maker that would reproduce the value of the CTPSB token with buy and sell orders on the hive-engine market. To avoid that people speculate with the token, we set a spread of 2% for buy and 2% for sell orders around the value of the token. This means that there was always a spread of 4% between buy and sell prices.
With the token growing at a rate of 70% APR, people needed to keep the token for 20 days just to break even. This kind of discouraged people from investing into CTPSB.
CTPSB a token to invest in hive without needing to stake it!
We want to position the CTPSB token as a way to invest into hive without needing to stake our tokens. If there is a very long break even time, this advantage is kind of moot. Therefore we want to reduce the spread between buy and sell prices.
How we will proceed
Since the value of the token is growing constantly, we will keep the sell price at the same level and increase the buy price at the same speed that the token grows in value. We will do that until we reach a spread of a total of 1%. This will take some time.
What to expect?
You will be able to purchase the CTPSB tokens at a same price for the coming weeks. It will stay at around 1.948 Hive.
The token value will continue to grow at a rate close to 70% APR.
The price at which you will be able to sell the token, will grow faster so that there is always the same spread between buy and sell around the token value.
We will do this until the spread of 1% has been reached. Once this is the case, buy prices and sell prices will grow at the rate of the token value.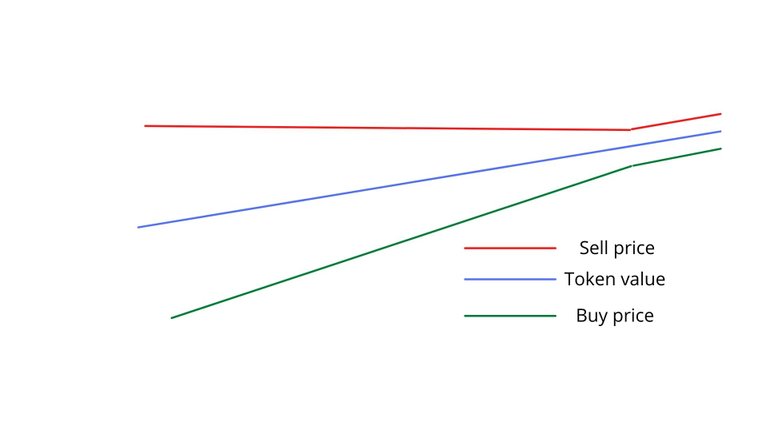 Evolution of the prices during the phase in which we will decrease the spread for the market maker from 4% to 1%
Why doing this?
By reducing the spread to 1% it will take people roughly 5-6 days until they break even after buying the token. This means that after that they will be able to profit from the nice APR of CTPSB. We hope that this will encourage more people to invest in the token. More investors means more voting power and more value for the CTP community.
Dividends paid
We have paid a new record amount of CTP tokens to the delegators of the project. With 2850 CTP tokens distributed, this was the highest amount ever. Again we have managed to distribute more than 9% APR to the delegators.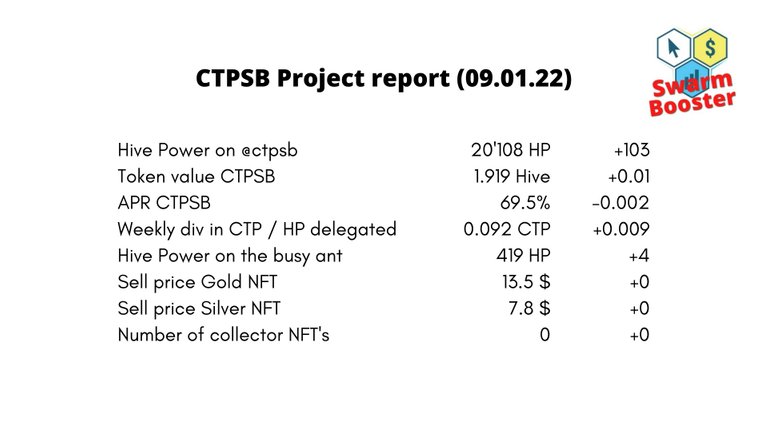 Numbers of the project for this week
---
Learn more about the CTP Swarm Booster:
---
---