Start of the 7th edition of the CTP Power Up Challenge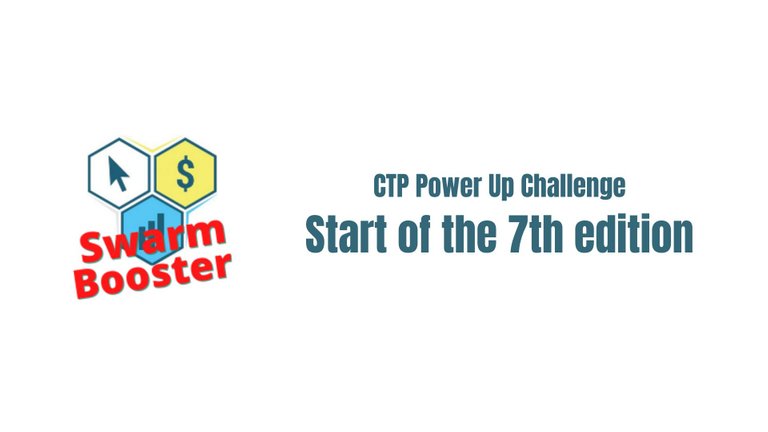 I invite you to take part in this 7th edition of the CTP Power Up Challenge.
What is the CTP Power Up Challenge?
The idea of this challenge is to encourage to create posts on ctptalk to earn ctp tokens but also to buy tokens on the market and create some volume there and to stabilize the price of the token.
Another way to generate CTP tokens is to delegate Hive to the @ctpsb account. You will get weekly dividends in the form of CTP tokens.
The challenge will be won by the person who stakes the most CTP tokens during the duration of this contest.
How to take part?
It's very easy to take part in this challenge. Write a comment below this post with a screenshot of your staked CTP tokens today. You can find your stake in several places:
on ctptalk under wallet
on ctp richlist
on leodex
on hive-engine/tribaldex under wallet
Make sure that the stake is clearly visible on the screenshot.
The screenshot will define your starting level. At the end of the challenge we will simply calculate the difference in your stake. The person who will have staked the most tokens will win the challenge!
To take part you need to write a comment below this post with a screenshot of the CTP stake of today. The earlier you take part, the longer you will have to build your stake.
How long will this challenge last?
This challenge ist starting with the publication of this post and will finish on Friday 3.3.2023 at 11h00 CET. At that time, we will take a snapshot of all the CTP token holders and calculate the increase of CTP Power for each participants.
What can you win?
At the end of the challenge, we will distribute some prizes in the form of CTPSB tokens. The number of tokens that will be distributed isn't defined yet. Everybody who takes part in the challenge, will get a prize. The more CTP tokens you stake, the bigger your prize.
The best stakers will also get some CTPSB NFT's. If you collect enough of these NFT's, you will be able to get a passive income from them. Learn more about our NFT's here.
I wish you happy staking!
---
Learn more about the CTP Swarm Booster:
---
---