The CTPSB ranking update for March 2022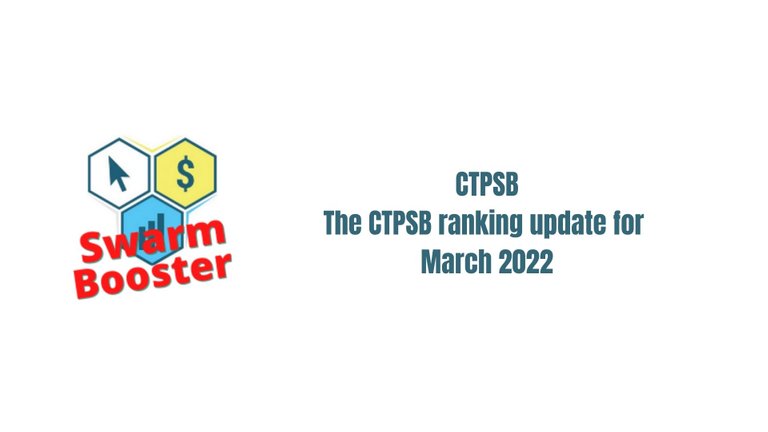 Today we finally updated the CTPSB ranking which defines the authors supported by the project
How is this ranking established ?
To be able to placed in this ranking, it is required that at least one post carrying the CTP tag has been posted in the last 30 days. It is also necessary that the CTP tag was in the five first positions and showed on ctptalk.com. I checked for every account whether a post was visible on ctptalk.com during the last 30 days.
Among all the qualified accounts, I then took the CTP stake richlist. After many considerations we found that the size of the ctp stake defined best the involvement with the CTP community.
The people listed in the top 40 of this ranking will get full support from @ctpsb. The people from rank 41 to 60 get support but not at full level. The idea is to motivate these people to stake more CTP tokens to get into the top 40.
How does the support look like?
The supported people will get up to one vote from the @ctpsb account every 24 hours as long as the post is of sufficient quality and also if the voting power of @ctpsb is above 90%. Since the activity is not constant on the platform, we are obliged to put this limit to avoid that voting power is draining out.
How can you support this project?
The CTPSB project is a community project. The @ctpsb account belongs to all the holders of the CTPSB tokens on Hive-Engine. The Hive Power hold by the account is divided by the number of tokens in circulation to define the value of the CTPSB token. By buying CTPSB tokens you increase the amount of hive power on the account which increases the vote value to the community and at the same time you profit from the organic value increase of the account.
You can also delegate hive power to @ctpsb and get weekly dividends in the form of CTP tokens.
The ranking
---
Learn more about the CTP Swarm Booster:
---
---