We have a Winner !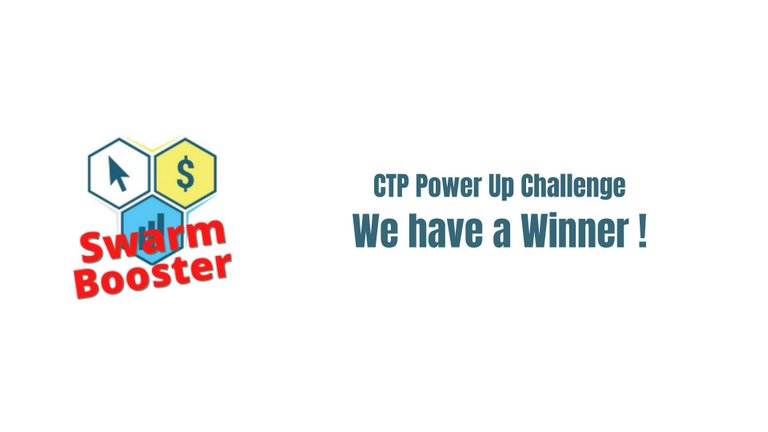 At 11:00 am CET today, we took a snapshot of the CTP stake of all the participants of the CTP Power Up Challenge, edition 7. With this snapshot we then calculate how many tokens have been staked since the participants submitted their entry for this challenge.
A total of 104'802 tokens staked
In the last day of the challenge, almost 37'000 CTP tokens were staked which is amazing. Over the whole duration of the challenge (from 19.2 to 3.3.2023) the participants staked a combined amount of 104'802 CTP tokens. This is is about 8700 tokens staked every day of the challenge. Taking into account that around 3800 new tokens are minted every day, just the participants of this challenge staked twice the whole daily supply during this challenge!
The prizes
NFT's
The top 3 stakers will win CTPSB gold NFT's, the next 6 ranked will get CTPSB silver NFT's. These NFT's are on the WAX blockchain and in order to be able to transfer them, your hive and wax accounts need to be linked. You can check here if this is already the case.
If your accounts are not linked, you can create a free Wax account and then write your wax username in a comment below this post. I will then link them and send you the NFT.
If you want to know about what use case these NFT's have, check out our website
CTPSB tokens
To define the total prize pot of 8.16 CTPSB tokens, we have added the future calculated income of the pot account (@ctpsb.cut) and have added the tokens accordingly. Each participant that has staked at least 100 tokens, will get a part of this pot. The more you staked, the bigger your part of the pot will be.
The final ranking (03.03.23 11:00 am)
A big thanks to all the people who took part in this challenge. We hope to see you in the next challenge again!
---
Learn more about the CTP Swarm Booster:
---
---