Firesale on CUB? CUB at $0.20 — Who Keeps Dumping It?
Seems like there may have never been a better time to buy into CUB.
I happened to be watching "live" when something suddenly happened to CUB. I thought it might have been a glitch, so I double checked.
I a matter of moments, we went from THIS: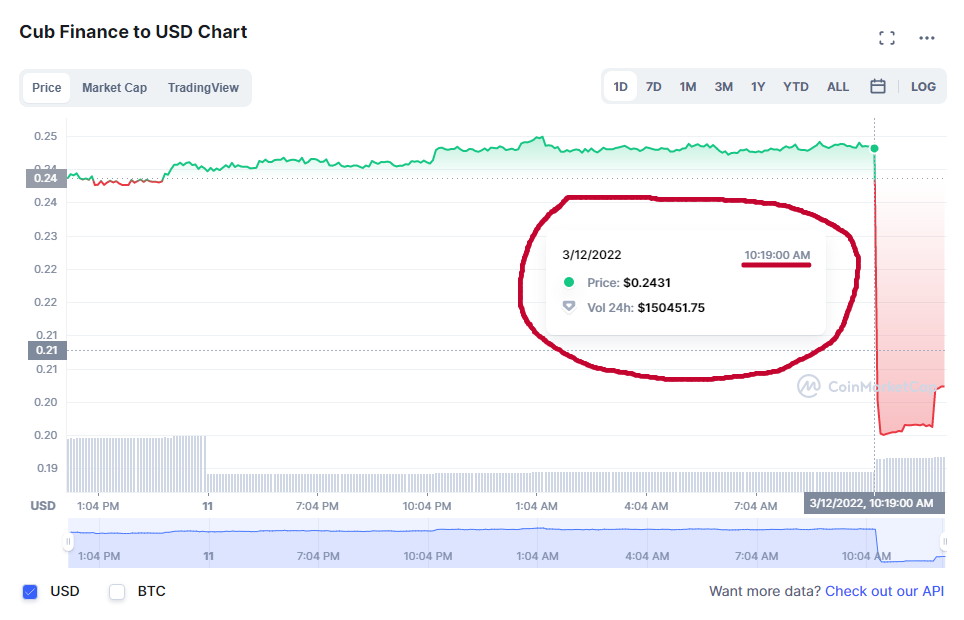 (Source: Screen shot from Coinmarketcap)
And then it was this: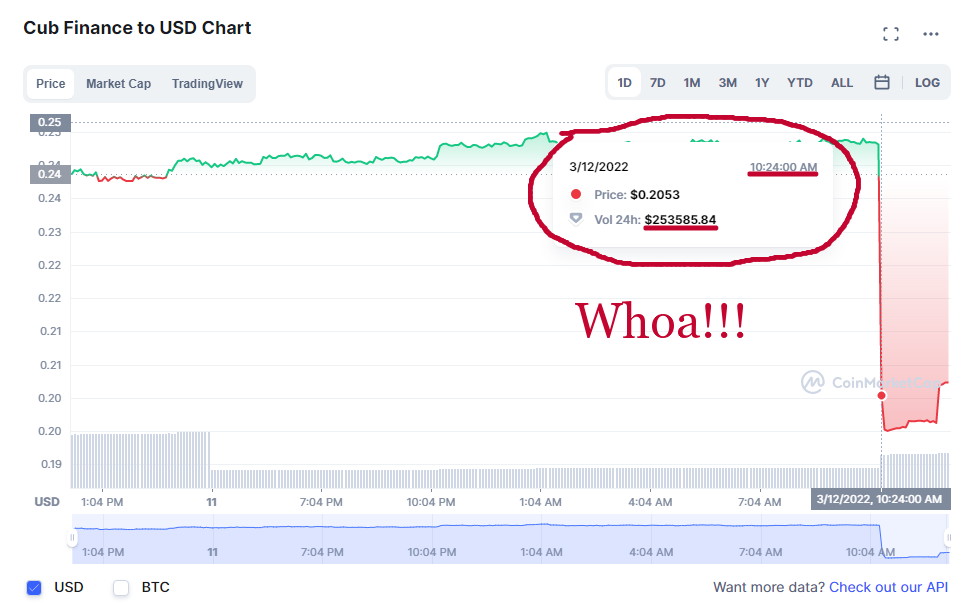 (Source: Screen shot from Coinmarketcap)
From the looks of things, some "whale" just dumped about 100,000 USD worth of CUB in a single transaction.
Profit Taking? Hardly...
Since this represents a new all-time low for CUB, I'd hardly call this "profit taking," so much as simply a "dump."
Which leaves the lingering question of whether this is a great opportunity to snatch up some CUB at "firesale prices," or an alarming sign that someone with a large stake "knows something" the rest of us don't.
I'm also pondering whether this is a long term HODLer calling it quits, or someone who bought in during the recent run-up ahead of the POLYCUB release.
Really trying to make sense of it... by bailing out of — give or take — 400,000+ CUB, this individual is also bailing out of a substantial chunk of the POLYCUB airdrop, probably close to the tune of about US $85K or more.
Just opening this one up for discussion! Or... should the seller want to fess up... what's you're line of reasoning, here?
Thanks for reading, and have a great remainder of your weekend!
=^..^=
CuratorCat 12-MAR-2022
Posted Using LeoFinance Beta
---
---