Is the Elon Musk Really the OWNER of Twitter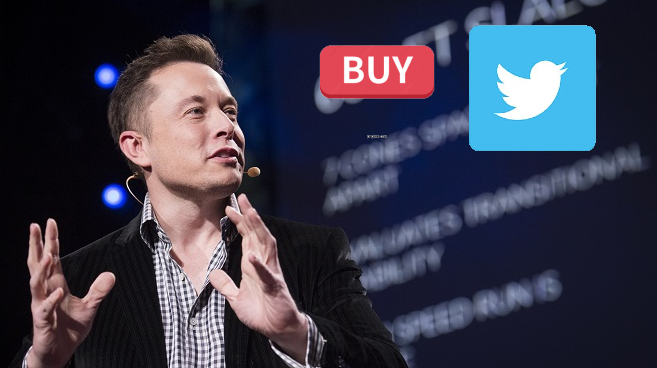 From the last month, there is so much heat in the social media platform. Especially Twitter.
But the cause of whom?
Yeah It's Elon Musk
Other than being the richest person in the world, he is also known for his crazy tweets on Twitter.
He likes to be on the news and tweets some controversial statements.
His following is so influential that he can change the prices of crypto which just his tweets. His followers invest blindly in whatever he says directly or indirectly.
Let's see what just happened recently
The Beginning
If you follow Elon Musk's tweets he has been talking about freedom and censorship happening on the social media platform. Many times he was asked whether he would build his own social media platform. But recently he was taking this decision seriously.
So exactly on April 4th 2022. We heard the news of Elon Musk buying the major stake which is 9.1 percent of Twitter. This was a surprise to everyone
After hearing the news the stock price of Twitter suddenly started to rise as many people follow Elon Musk. The Elon Followers were happy with this news, but the employees and board of Twitter was not too happy with this news. Elon holds the largest stake in Twitter which means he has more control over the Twitter platform and employees weren't so happy as no one likes being controlled in the working environment.
The new CEO of Twitter Parag Agarwal has appointed Elon Musk as Board Member and added
"I'm excited to share that we're appointing
Elon Musk to our board! Through conversations with Elon in recent weeks, it became clear to us that he would bring great value to our Board."
Being on Board Member allows them to take decisions in the company and gives some power to that members along with Bret Taylor, Parag Agrawal, Mimi Alemayehou, and Jack Dorsey.
Jack Dorsey is the former CEO and second-largest individual shareholder.
But after this invitationParag in his tweets revealed after some conversation with Elon Musk that he will no longer be joining Twitter. Elon Musk changed his decision for not to become the Board of Directors.
Reason:
Mostly reason might be being the Board of Directors of twitter the Individual cannot but shares of Twitter more than 15%.
Change Of Plans :
After changing his decision not to join the Board of Directors, as he could only buy 15% of the stake. But Elon Musk has got bigger plans than this He wanted to buy the whole platform and take it private which would give him total control over Twitter.
Chaos Begins
On April 14 Elon Musk Bids to buy the whole Twitter platform i.e 100% shares for 43 Billion Dollars.
and Twitter this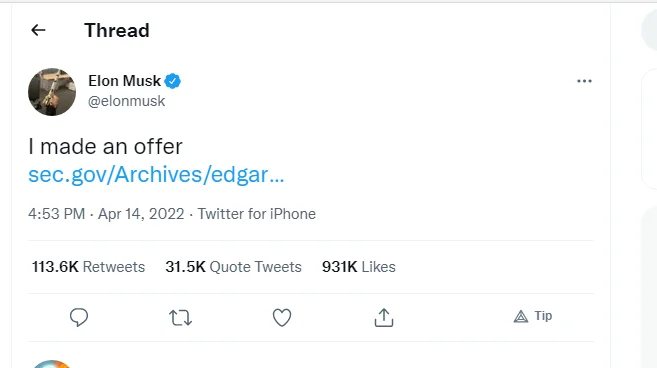 But the Board of directors and largest shareholders, which were speculative from Saudi Arabia were not very happy with this offer and were defensive about selling their shares.
After hearing this news we thought this deal will not proceed further.
But after some meetings with the Board of Directors, they changed their decision to sell 100% of the shares to Twitter. As Elon Musk offers 44 Billion Dollars for the platform.
This might have changed their decision as Elon Musk was giving more than the share price in the market. i.e 54.20/share
After some rumors and all the news, It was confirmed he is going to buy and a deal was made.
After buying the whole Twitter, the audience went crazy and Elon Musk tweeted about the developments on the platform, should you remove the features or add some. Should you be able to edit polls etc.
Jack Dorsey said Elon Musk will bring a great future for Twitter and would be the best person for it with great vision. the same reason he selected Parag Agarwal.
There were some decisions with which Parag might not be fully vocal but disagree with Elon Musk.
Incompatible
I think Elon and Parag Argawal don't go along together, Even though both of their vision is to do good for Twitter.
SO recently after Elon Musk bought the Twitter there as been rumors that he is going to Change the CEO
Day after day the rumors were beginning to get strong and seems Parag Agarwal might get replaced as CEO by another.
Reason for Buying Twitter.
Elon Musk always raised the issue of censorship and says he wants the user to give freedom of speech. As twitter deletes accounts and deleted some fake and controversial news. Elon Musk is not very happy with that and he wanted to change. So instead of creating a new platform, he had gone buying the most famous social media platform Twitter. (Also some people say he did it so he could bring back the Trump) Haha.
Change of Plans
Everything was clear and we believed Elon Musk had bought Twitter also he was trying to improve twitter with some new features.
But this was a surprise to us when it was revealed that Elon Musk Twitter deal was on Hold and he didn't yet buy Twitter.
Reason Elon Musk saying he will not continue with deal with 44 Billion dollars as the platform contains fake and spam accounts which are not great for their deal.
Parag Twitted the spam accounts are less than 5% of total users still Elon Musk is not convinced and feels there are more spam and fake accounts.
So Elon Musk had changed of plans and now he wants to Buy Twitter at a lower price. So the deal is on hold and further news is to come about the deal. According to the news if the Deal is canceled there will be some penalty to Elon Musk
My Opinion
Elon Musk always wants to be in the Public Eye. There he always does something controversial. Be it controlling the crypto market or talking about some controversial topics. So Buying Twitter might be a big deal instead of building a new platform.
Now in the flow, he had offered 44 Billion dollars as Investors rejected selling earlier but now when the time came to accept a deal he is feeling maybe he is paying more than he should and could get it for less.
So he is finding some criticism like fake accounts etc to deny the deal and change the offer.
This isn't the first time Elon Musk says something and fails to do that.
In the End, You have to understand Elon Musk wouldn't buy Twitter for $44 Billion just for us so that he can give us freedom of speech. Of course, he wants profits after such a huge investment and will take it from us. everyone has their own agenda no one is doing anything for free.
So here is the whole story I hope you enjoyed it.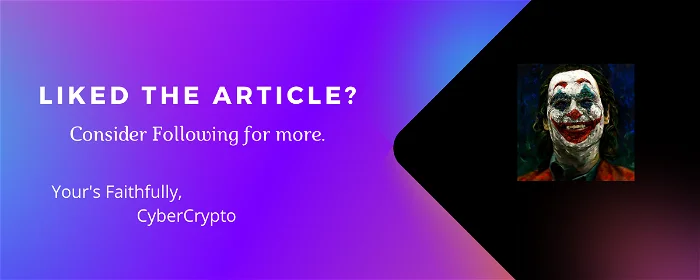 Posted Using LeoFinance Beta
---
---