Rising Star Progress Report and 3 Cards Pack Openings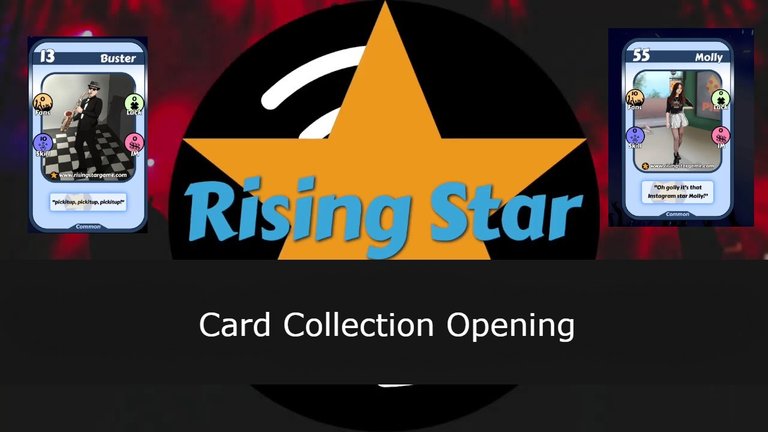 https://www.risingstargame.com?referrer=cybercrypt0
It's been a while since I posted my Rising Star Progress Report. But to say in short I have been progressing pretty well now. And enjoying the game better than before.
Earlier I have unlocked a new map Local Gig Circuit, well that didn't go as planned, and didn't complete those missions very much. I am stuck on Radio Interview as I didn't have enough fans earlier to start the mission, but even now If I complete the mission, I needed 500 fans to start the next mission
So I kept focusing on getting more starbits so I can buy a new Card Collection and increase my Skills, fans, luck, etc.
So mainly I have been only doing Saturday Headline and Saturday Support in the Home Town. Ego is the big problem there but still it seems fair to complete those as we are getting the high rewards.
In a week I had around 8,000 starbits with me. A friend of mine said it's better to keep a Pizza Box with use to store the pizza. So instead of buying card deck I had used them to buy Pizza BOX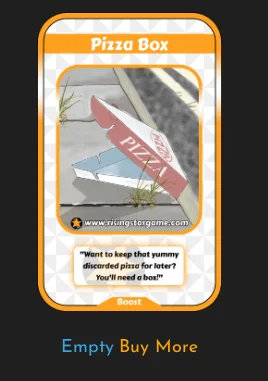 This was a good decision as after sometime I got a lot of pizzas and I had BOX to store it. I have been using it to complete my Saturday Headline Mission as it required 100% energy. It is a very helpful decision and I started to gain more starbits quicker than earlier. In about a week I had bought a card pack.
Let's Open it.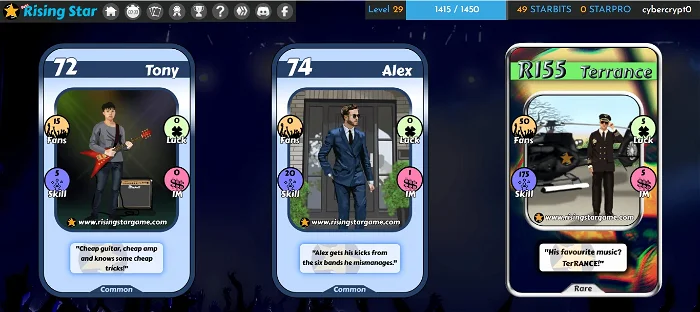 TONY - just a common card with 15 Fans and 5 Skills nothing much
Alex - Only Skills i.e 20 cool at least it will help me with ego
Terrance - Yes !! a good rare card now. You see I got skills 175, and Fans 50. Luck 5 and 5 IM
Well, I needed more fans but I think that was a good card as I got skills now and I don't have to worry about ego for some time. this gave me a boost for some time. So i was completing more missions than Music lessons.
Now with this Now within a week, I could able to gain 10,000 starbits much faster than earlier I used to. As I have been completing the big mission.
So In a week bought the new PACK lets go and Open it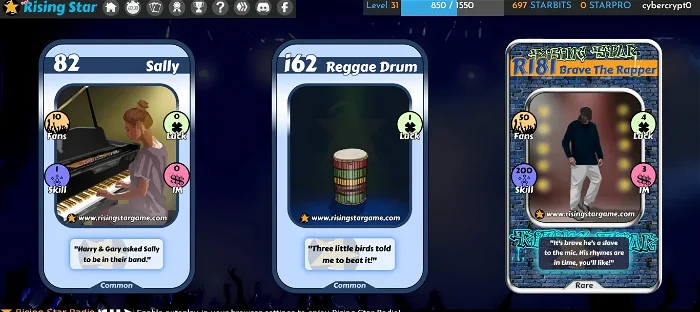 Here also 2 common and 1 Rare, its good that at least we get one rare in pack forget about epic and legendary.
Well here you can see, both common cards Sally and Reggae Drum aren't worth it.
But
Card R181 Brave the Rapper
Here you can see it is a good one with 200 skills, 50 Fans, 4 Luck, and 3 IM.
It's always good to have more skills than Fans. Yet I am in need of fans still its not the other way around which would cost me.
Overall I'm happy with my results and my ego percentage has gone to 0 now.
With these new cards, This week was on total fire, as I was getting Pizza one after another, and I had been using them on Saturday headline, and guess what. Within 4 days I had reached my goal of 10,000 starbits.
I was feeling should I cash out or reinvest in the game. Then decided well lets reinvest in-game and gamble purchasing another card pack.
Bought it and here it is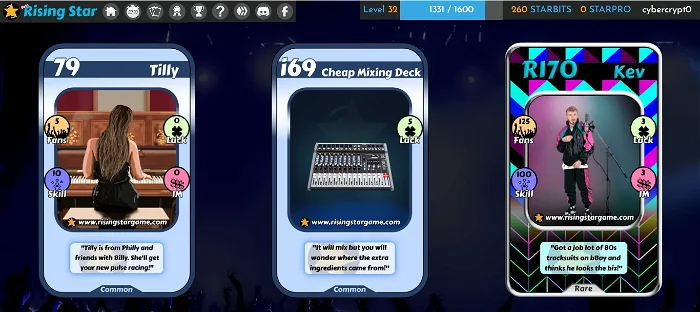 Well, not every time you get the best cards this is an average one compared to others but still will help me.
With all these now I am at
Level 32
And Own 20 Cards solely from my rising star earnings.
I hope to perform well and one day become a Rising Star Millionaire. I proceed in that direction.
I think @risingstargame is one of the best and easiest games ever made. Without putting so much effort and without losing the game essence it covers all the things we need. It is an ideal P2E game.
So this was m journey till now and will often report more progress whenever it happens Stay tuned.
If you want to play and Earn with this game visit this link
https://www.risingstargame.com?referrer=cybercrypt0
Its totally free to start.
CYBERCRYPTO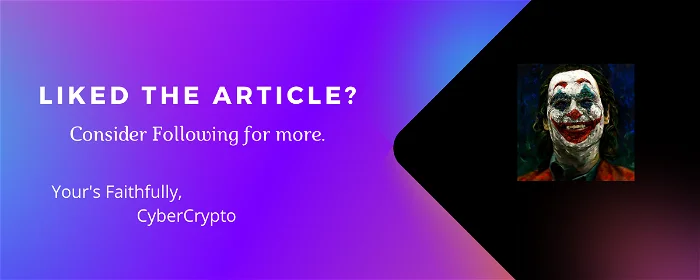 Posted Using LeoFinance Beta
---
---