My Inattentional Blindness & 63 Vruz 🎮
We're just about to finish 1 of coolest airdrops of Splinterlands. It's sort of an airdrop - sort of a sale.
Long terms investors are rewarded
SPS gets another use
Voucher sink!
Marketing Buzz!!! 🐝
These are just few stuff that comes to mind.
These Are My Vruz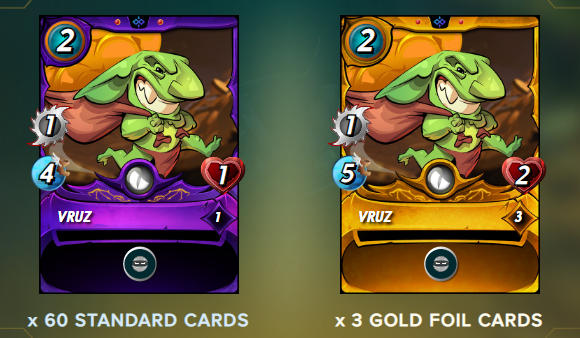 Gold went to rent. 60 regulars became a level 5. Here's the fun part! I noticed Martyr ability. I had i in my mind. But you know.... I forgot it's got Sneak there! I figured it exist in middle of a battle. I had to check if its the rule set!
Inattentional Blindness
Inattentional blindness is when people fail to notice something unexpected because their brain can only focus on one thing at a time. This can lead to dangerous situations, such as not seeing a pedestrian crossing the street. It can also occur in everyday life when people don't notice changes in their environment. I did this with Sneak. I just missed out it's there 😵
Still Not Over 🎲

There's only few minutes left! At least check if you've got any spots available. After this - there's no plans for more Vruz!
If you wanna see more airdrops like this - get some SPS to stake. 1st of all sign up to Splinterlands. It's best with Hive account 😃
1 in 25 is Gold 💛
Only applicable when getting 25 at once. If you like Vruz - it's also available on market. This isn't soul bound. It's pretty good for Mana cost & dollar cost. Hope you have a good time on Web 3 🕸️ 🎮
Posted Using LeoFinance Beta
---
---