Face and Overcome your Challenges @dadoyen2

In every aspect of life, human will face a strong challenge that Will screen or shield people from reaching their goals if not properly faced.
It can come in different aspects, it can be a direct, indirect , physical or spiritual challenge. No matter the condition you are, either being the most healthy, most richest or the most successful person, you will still have one or two challenges that you will be battling with.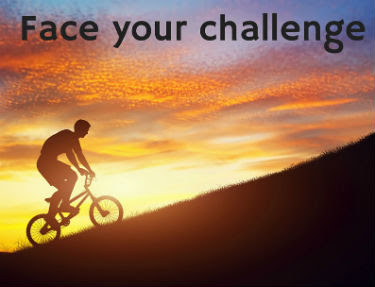 Inability to overcome this challenge will actually deter alot of things ahead. Thomas edison who invented bulb light tried many times before he could achieve his goal. Hadn't been he had quited during the process, he wouldn't have gained such an enormous reward and recognition today. We should know that no matter the challenges that cross apart, there's always a way to overcome it. No problem without a solution but the solution can be a latent one that will take a lot of time, motivation hardworking, consistency before it can be reviewed.
One of the things that can help us to tackle our challenges is 'motivation' . Motivation is actually a force that will will trigger the hidden secret in human. Without motivation, The tendency to achieve anything will be diminished. For example, people usually work to earn income(money) so that they can cater for food, shelter and other things. The Money that's involved is actually the factor that motivate us to work.
If you are struggle to achieve anything, tell yourself that "Yes ,I can do it". Be motivated, with hardworking and consistency, you will surely achieve it.
Furthermore, If what you are struggling to achieve has been achieved by someone else either in the past or present, try to make friends with them, mingle with them , talk to them so that they can share their experience with you.
Lastly, be good and help others. You don't know who can actually help you. If you have done something bad to a person in the past and the person fortunately be the one that can help you to achieve your goals, you know what it means. It will take God's mercy for the person to render help. Be good to everyone now so that they can render assistance in the time of difficulty. Anything can happen
Thank you
---
Posted via proofofbrain.io
---
---